Has Covid-19 taught us the importance of heart health?
September 16, 2021 | Contributed by Dr Kulbhushan S Dagar
As we approach another World Heart Day on 29th September, against the back drop of the COVID-19 crisis, there is an incessant need to introspect and possibly recognize the urgent need to find different and innovative ways to connect people to heart health. Working for children towards treatment for Congenital Heart Defects (CHD), I can see the effect of the pandemic, especially in low resource communities.
Covid-19 impact on CHD
As a consequence of travel restrictions and increasing financial constraints, there is a large, vulnerable and at-risk population, that have missed medical appointments and care. Most cases are emergency treatment for Congenital Heart Defects, as innumerable families are unable to/or unwilling to travel to specialized cardiac centers unless the child is extremely unwell. But as doctors, only we know how thin the line, between elective to emergency surgery is.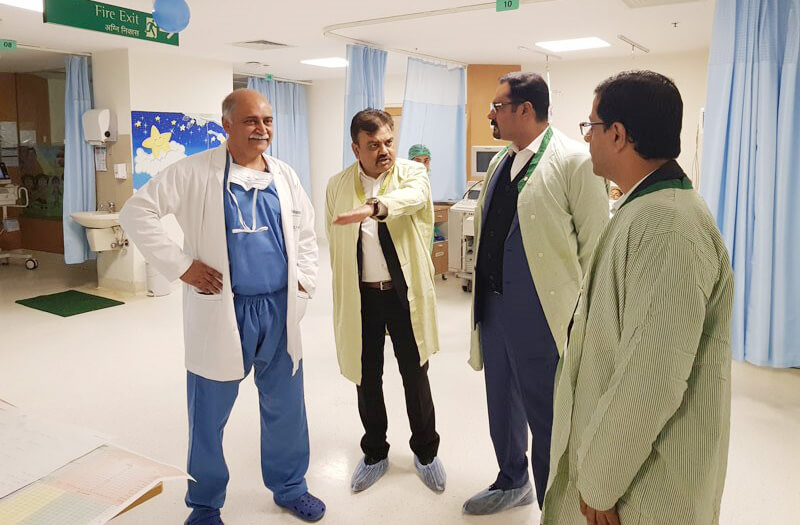 Dr K S Dagarwith Vipin Pungalia and Vinu Cheriyan from Sennheiser, our CSR partner,at Max Hospital, Delhi
To add to that, multi-system inflammatory syndrome in children (MIS-C) is a serious condition that appears to be linked to the prevailing coronavirus. Usually occurring weeks after a COVID-19 infection,it can be considered insidious. And without early diagnosis and appropriate management, it can lead to severe problems with vital organs such as heart, lung or kidney. The heart can rapidly fail to pump blood, and extracorporeal membrane oxygenation (ECMO) using a machine to do the work of the heart and lung may be required.
There is a real concern that these cases may stretch to a tipping point, a system that is already struggling to cope with the burden of CHD.
Covid-19 Impact on Heart Health
Previously only families of children with heart defects, and adults with cardio-vascular diseases were conscious about their heart health. But the last one and a half years in India has been an awakening for everyone with the spread of Covid-19 virus as patients with comorbidities have more deteriorating outcomes compared to patients without. And research points that Cardiovascular diseases (CVDs) have now become the leading cause of mortality in India. In fact, a quarter of all mortality is attributable to it.
How can we improve?
The same way as it has been established that vaccination and precautions for avoiding exposure to Coronavirus is the key to prevention, heart health needs to be dealt with equal severity.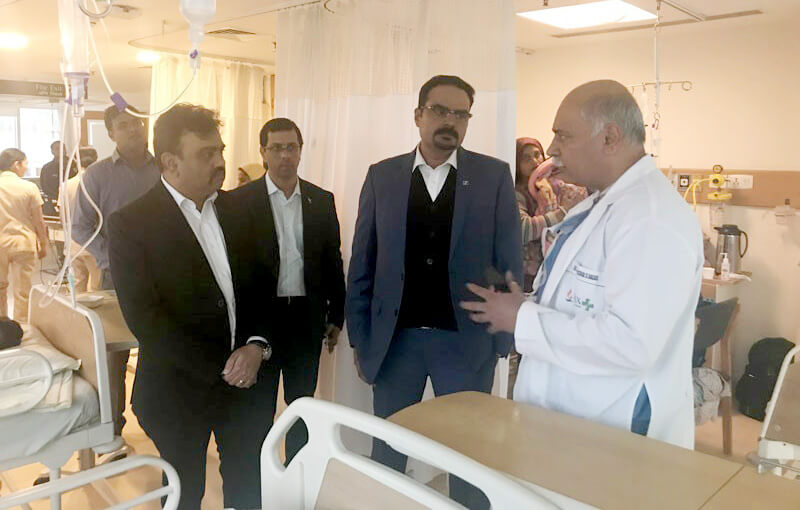 Dr K S Dagar explaining how an Echocardiography test works to Vipin Pungalia and Vinu Cheriyan from Sennheiser, our CSR partner, and R Srivatsan from our Foundation at Max Hospital, Delhi
Technology and data, telemedicine, will help us bridge the gap and do it fast. It will enable everyone everywhere to gain access to digital tools for better diagnosis and care, and possibility prevention of heart related conditions.
As the challenges for the care of heart patients are increasing by an irony of fate, the financial resources and contribution from the public and private agencies are rapidly dwindling. If there is a time to regroup and recommit ourselves to the care of children with heart disease it is now more than ever before.
Quoting the World Heart Federation- "Not all hearts are equal. But they should be." If this dream is to be realized in today's world, the role of NGO's and private players become even more important. I am confident that withstanding the challenges that we face with the right resolve we can, and shall prevail.
Dr Kulbhushan S Dagar has been in the field of cardiac surgery for over 21 years now. Part of our Medical Board for the Foundation, he is the Principal Director, Chief Surgeon & Head – Neonatal & Congenital Heart Surgery at Max Hospital, Saket.