The Joy of Giving and Online Partnerships
October 13, 2022 | Contributed by Prachi Pandya
"When we give cheerfully and accept gratefully, everyone is blessed." – Maya Angelou
Your generosity, in whatever form it takes, contributes to the world.  Whether it brightens someone's day, helps to smooth their path, or simply makes them smile, you've given something of yourself that is worth more than money. Most times people are looking for avenues to contribute meaningfully to the world. However, now people are finding it difficult to donate or volunteer in person and at the same time, they are unable to find the right and verified paths to donate online.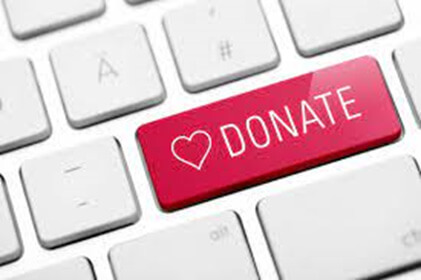 Technology can also be used for the greater good of humankind and that allows all of us to contribute with ease. Although there have been questions regarding the concept and the best way to proceed, the objective is more than only business. Some people are looking for appropriate channels to donate because there is a perception that donating online leaves them in a closet about where and how their money is being spent and therefore reliable online partnerships for donation can be a platform for an opportunity to bridge the gap and eliminate the difficulty of donating. Such online platforms can further bring out kindness in people and spreading it to people in need and can completely change the face of donations for the better.
The entire process with online partnerships becomes smoother and the procedure is more transparent. It connects the kind-hearted with the needy in a much better way because it is a nurturing transaction. This entire process is more personal and thus more joyful. Give, an online donation platform was established in 2000. It comprises the largest and most trusted giving platform in India and enables individuals and organizations to raise and donate funds conveniently to any cause they care about. Genesis Foundation, an NGO working for congenital heart disease  in children, partnered with Give to expand it's reach of supporters and facilitate easy giving options through online partnerships. Genesis Foundation is currently participating in Give's grand annual Fundraising event '100 Heroes'.  The funds generated through this campaign will be used to support free heart surgery in India, of children who are suffering from critical heart defects.  They are focused on engaging everyone because #EveryHeartCounts, individuals can donate before 20th November 2022. This partnership goes beyond just raising funds, it aims at building awareness about congenital heart defects.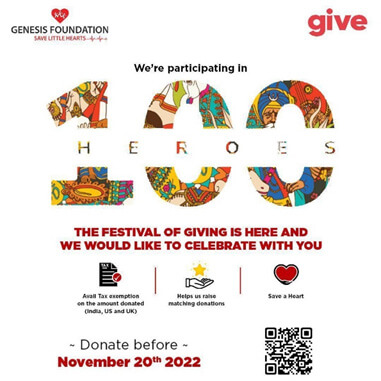 Free heart surgery for child in India is a big challenge. There is usually long waiting for the treatment of congenital heart defects and the cost of treatment in private hospitals is very high. In this situation, NGOs working for congenital heart disease, such as Genesis Foundation, have been as playing a critical role in raising funds to support children whose families would not have been able to afford the cost of treatment for the same. The funds raised by Genesis Foundation are used to support free heart surgery for child in India. 100 Heroes in an example of an online partnership, where a NGO working for Congenital Heart disease in India is collaborating with a fundraising platform to save little hearts. '100 Heroes' is based on the idea that when you give, you are the one who saves a heart and a child, and that power of giving and gratification is entirely yours. It is also to instil sufficient trust in the donors. Genesis Foundation and Give India have collaborated to support a cause that is in line with their values and mission. Donating to a charity like Genesis Foundation also helps to save tax.
True gifts are those that we give! A new study has found that the happiness levels of people who give are much higher than those who receive. And we couldn't agree more! Receiving is a fleeting joy but giving is limitless. It makes you realise your contribution to someone's happiness, and in our case, your contribution to saving a heart and a child. Giving prevails according to research in psychological science, those who choose to donate their winnings are happier for days after they won than those who keep their winnings.
To experience this jot of giving click here  https://give.do/nonprofits/genesis-foundation.