The Healer's Journal: A Pediatric Cardiology Journey Filled with Purpose
August 1, 2023 | Contributed by Dr Prashant Patil
"Man is made by his belief, so he is." – Bhagwat Geeta
My medical journey started in 1998 from Grant Medical College, Mumbai. I hailed from a small town in the remote village of Latur district. Transitioning from a village to the biggest metropolitan city had many struggles to conquer, and it took some time to adjust. During my MBBS days, I started developing an interest in Pediatrics.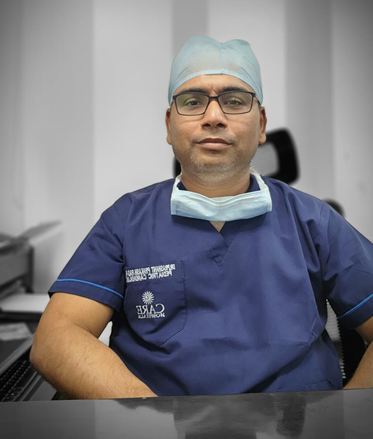 My cousin was my inspiration to pursue pediatric cardiology
I was amazed to see how these tiny tots would bring a smile to their mother's face despite undergoing so much pain. The turning point in my career came during my internship when my cousin was diagnosed with cyanotic congenital heart disease at birth. I was clueless about where to take her for diagnosis, the congenital heart defect treatment required and further management as, though Mumbai is the economic capital of India, it didn't have a single pediatric cardiac centre.
We took my extremely blue sister to Narayana Hrudhayala, Bengaluru. There I saw the magic of seeing my little sister turn pink from blue. She underwent glenn shunt for Tricuspid atresia by Senior CTVS surgeon Dr. Rajesh Sharma.
I saw many patients come from different parts of the world for a congenital heart defect treatment just to see their baby smile back. In my stay as a patient's relative at Narayana Hrudhayalaya, I learned the sufferings and agonies children and their parents endured and the smile on their faces after the child was treated for the illness. Somewhere in my unconscious mind, I started developing an interest in pediatric cardiology.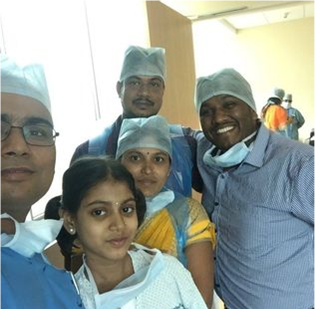 Dr. Prashant clicking a selfie with a patient.
"And, when you want something, all the universe conspires in helping you to achieve it."
I got into MD Pediatrics at Grant Medical College. As a tertiary healthcare centre, we used to get a lot of referrals from the periphery of Maharashtra for congenital heart disease. As students, it was fun to tally our differential diagnosis based on clinical examination with echocardiography reports.
However, it saddened me to see many of them succumb without proper treatment and care. So as a first step, I joined as an Observer at Glennmark Cardiac Centre under Dr. Bharat Dalvi, where he encouraged me to pursue Pediatric Cardiology at Narayana Hrudayalaya. With the help of my esteemed teachers Dr. P. V. Suresh and Dr. Sunita Maheshwari, I learned lessons in pediatric cardiology.
"I have learned more from the streets than in any classroom."
After finishing my fellowship, I had a chance to stay back in Bangalore or Mumbai, but I wanted to serve my underdeveloped region of Marathwada.  So, I started searching for places where pediatric cardiology facilities were available.
Unfortunately, the area lacked even pediatric and neonatal services. As facilities were not available, I joined Lotus Hospital, Hyderabad, as a Consultant Pediatric Cardiologist. But it was a different battle altogether. New place, new language, and so much to learn.
Transitioning from trainee to consultant is a difficult task as you are directly related to the patient. Slowly and steadily, you master skills. The first thing I did after coming to Hyderabad was to start camps in remote areas of Maharashtra, Karnataka, Telangana, and Andhra Pradesh.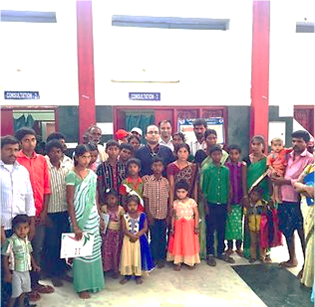 Dr Prashant during one of the screening camps
We screened thousands of patients with the help of the Rasthriya Bal Swasthya Karyakram program and NGOs like the Children Heart Foundation and Genesis Foundation. We brought them to Hyderabad and treated them under schemes or with the help of the NGOs. We started conducting workshops for cardiologists and pediatricians. During these years, I worked at Continental Hospital and Care Hospital.
I am presently working as a Senior Interventional Pediatric Cardiologist at Care Hospital, Hyderabad. The journey has not been without its challenges, especially during the COVID-19 pandemic. We realized that many poor patients were suffering due to a lack of knowledge and resources. This realization deepened our sense of responsibility towards society, which has given us the opportunity to treat these tiny hearts.
In response, we initiated our own child heart foundation called "Prerana Hrudhaya Foundation" in honor of my cousin, who inspired me to pursue pediatric cardiology. Through our foundation, we strive to create awareness about Congenital Heart Defects (CHD) in society, conduct medical camps, and provide assistance to financially disadvantaged patients.
Additionally, we have maintained a longstanding association with the Genesis Foundation, an organization that has been instrumental in supporting several centers across India for the treatment of critical neonates with correctable CHDs.
Genesis Foundation is also actively involved in raising awareness about Pediatric Cardiology in India, which is an area that requires significant attention. Unfortunately, many parts of the country still lack adequate pediatric cardiac services, making the support of NGOs like Genesis Foundation crucial.
My dream of bringing smiles to the faces of children with Congenital Heart Defects continues to drive me forward. I am determined to expand access to quality Congenital Heart Defect treatment and care, particularly in underprivileged regions. With the support of organizations like the Genesis Foundation and the unwavering belief that "man is made by his belief," I strive to make a lasting impact on the lives of these tiny hearts, one smile at a time.
Dr Prashant Patil
Head Pediatric Cardiology
Care Hospitals, Hyderabad