Status of Heart Care for Children in India
February 18, 2022 | Contributed by Dr R Krishna Kumar
Approximately more than 200,000 children are born each year in India with Congenital Heart Defects (CHD). From these, over 70,000 children have critical CHD, that needs to be addressed in the first year of life and they require Congenital Heart Disease treatment.
Current situation of pediatric diseases in India
In fact, CHD is among one of the leading causes of infant mortality in many parts of India like Kerala, Tamil Nadu, Goa, Maharashtra etc. Additionally, in the states with relatively poorer health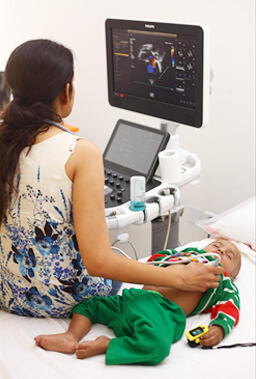 indices, such as Bihar, Jharkhand, Orissa, Madhya Pradesh, UP, rheumatic heart disease continues to be a major public health problem.
Moreover, there is a significant burden of other pediatric diseases such as cardiomyopathy, Kawasaki disease and myocarditis simply because of the size of the pediatric population. In a rapidly urbanizing India, with dramatic changes in lifestyle among children, life style related conditions are becoming increasingly significant.  These conditions include hypertension and obesity.
Even the ongoing Covid-19 pandemic has not spared children, and a substantial number of them have been affected with late complications of the virus. The specific entity that has caused considerable sickness and some mortality is called Multi-System Inflammation Syndrome in Children (MIS-C). A large number of Indian children have been affected by this. The pandemic has also affected the care of patients with established heart disease who have been unable to reach pediatric heart centers because of lockdown and other travel restrictions.
Resources for CHD in India
These challenges have further stretched the already thin resources available for children with heart disease in India. The care of children with heart defects is resource intensive and needs a high level of expertise among care providers and advanced equipment together with quality infrastructure and robust systems. It is also essential that the care providers work cohesively. The team is generally constituted by highly qualified health professionals that include pediatric heart surgeons, pediatric cardiologists, intensive care experts and, specially trained nurses. The most vulnerable group, newborns and infants, require the maximum resources and expertise for heart defect treatment.
The total numbers of centers with the capability of delivering comprehensive pediatric cardiac care is less than 10% of what is required. These centres are largely clustered in the southern parts of India and metro cities. Large parts of northern and eastern India have no access to pediatric cardiac available for several hundred kilometers. This means that 90% of children remain unattended, they either die prematurely or become inoperable with severe pulmonary hypertension and other disabling consequences of uncorrected congenital heart disease.  Children with rheumatic heart disease develop permanent damage to the heart muscle and their life expectancy is shortened considerably.
Congenital Heart Disease treatment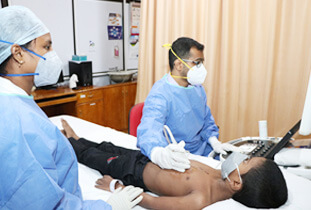 Until recently, most families of children with congenital heart disease had to pay 'out-of-pocket' and is still the case in many parts of the country. In 2012, the Government of India started the Rashtriya Bal Swasthya Karyakram (RBSK), a national child health initiative for screening and treatment of childhood diseases and disabilities, including CHD. This program administered by the National Health Mission (within the Ministry of Health and Family Welfare) provides funding and technical assistance to individual states. A growing number of states are also now looking to provide comprehensive care for pediatric heart disease through government sponsored schemes.
For example, the Government of Kerala has developed a unique dedicated program to address the CHD burden in the state. This program is named "Hridyam—for little hearts,". The program seeks to look at the entire life course of CHD from screening to identification to referral, surgery and follow up rather than providing for the surgery alone. This is in keeping with the vision of the RBSK program of the government of India.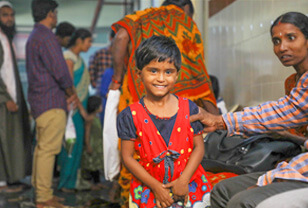 In India have a long way to go before we reach the standards of heart defect treatment care delivered in most advanced industrialized nations where every child with heart disease can expect to receive timely attention and comprehensive care. However, collective efforts from committed individuals, organizations, doctors and the government have already started to make a real difference to the lives of many babies with heart ailments.  We need to persevere with our efforts and work together for the sake of our children and the future of our country.
Dr R Krishna Kumar is presently the Clinical Professor and Head of the Department of Paediatric Cardiology at the Amrita Institute of Medical Sciences and Research Center, Cochin. His chief research interests relate to epidemiology of heart disease in the developing world and developing cost effective clinical strategies for diagnosis and treatment of paediatric heart disease in developing countries. He has published over 100 indexed original and review articles.