Celebrating Our Work – Celebrating us
March 11, 2023 | Contributed by Preeti Kumar
This month, as we near the end of the financial year, we review our accomplishments and analyse the challenges we faced. We also take the opportunity to acknowledge the work we have been able achieve as a team to provide congenital heart defect treatment to hundreds of children and to celebrate ourselves.
2022-23 was a great year in many ways. Like the rest of the world, we were able to finally cross the roadblocks imposed by the COVID pandemic and go full throttle towards working on our mission to save little hearts. We are not a very large team and yet were able to give life a chance to over 450 children across the country and conduct 3 screening camps – one in Shrirampur, one in Kargil and one in Guwahati.
We also were able to form partnerships with new hospitals that in turn expand the pillars of care that in turn help is provide heart disorder treatment to children across the country.
But most importantly, we were able to come back into office and celebrate the power of the human connection.
As Simran Sagar, our Operations Director beautifully puts it:
"Despite the changes that can sometimes rattle the system, as a team we have always been aligned on saving as many children as possible and we are able to accomplish that regardless of any hurdle.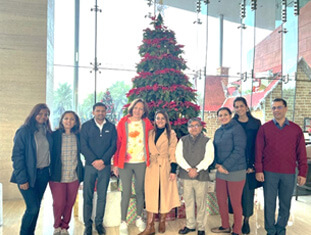 Nothing beats the power of the human connection in working together
We resumed screening camps – which after COVID has been amazing and hospital visits, a complete breath of fresh air. Consistency and safety in coming back to work after Work from home has honestly been the biggest highlight. How human connection and collaboration is so key… yes we have realized that we can work from home and that we are not required to come in and work can be done remotely from anywhere… but still, nothing beats coming in and working with colleagues everyday."
We also celebrate and honour the fact that not only could we come back to working with each other but actually get back into the hospitals and feel the pulse and the vibrations with the families that we work with. As Geeta Mahajan, Manager Program Support and Administration says, "This year we started our hospital visits to meet and see the children and the families of the children.  It gives so much strength from inside to see those smiling face."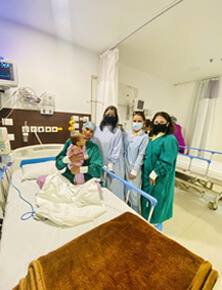 Meeting the children we support is something we always look forward to
When we say that we have given life a chance to over 4000 children, there is lot that goes on behind the scenes for us to make that happen. From collaborating with the right hospitals that have proper pediatric cardiac care facilities to ensuring that no deserving family that needs a congenital heart defect treatment for their child is turned away due to inadequate understanding or documentation, we are constantly trying to push the boundaries. From building and spreading awareness about congenital heart defects to counselling families on why they should go through the full course of the heart disorder treatment for their child, we are grateful that so many families have placed their trust in us.
We honour and cherish the inspiration that brings each one of us to work every day.  "My parents, the Founder Trustees and how everything I get to experience at the Foundation is so vast in terms of experience that there are learnings on multiple levels without even knowing it that too in areas where I always doubted myself and thought I could never possibly do this" says Simran Sagar. Speaking about the one thing that pushes her to lead the organisation, she says, "To be able to provide to families a basic right…. Money should never be a reason to not have access to a basic human right."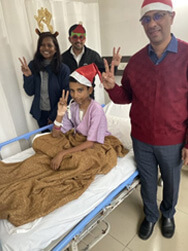 Working to save as many little hearts is our biggest inspiration
For Dolly Malvai too, the vision of our founder Trustees Prema and Jyoti Sagar is what inspires her to come back and work at the Foundation.
For me personally, it is the hope that a family gets, of being able to save their child, of knowing that the heart in their little baby will continue dedication, our resolve, where we come back each day to work single minded towards our mission of saving little hearts. Today we pause, and pat ourselves for the hard work that we put in to ensure that we are able to reach as many children as possible in different parts of the country with a chance at life.
We honour and celebrate ourselves as sometimes it is good to acknowledge the work we put in as a team to support as many children as possible as #HarDilDhakanaChahe.