Caring for infants with Congenital Heart Disease and their families
May 16, 2022 | Contributed by Heer Patel
The question that most often arises is, is it possible for children who have undergone Congenital Heart Disease treatment to survive?
With the right care for infants suffering from congenital heart disease, the answer is yes.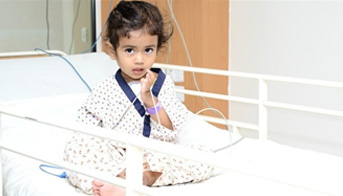 The reported incidence of congenital heart disease is over 200,000 every year in India, which can be grouped as acyanotic and cyanotic heart disease. Congestive heart failure is more commonly seen in acyanotic heart disease and hypoxia in cyanotic lesions are the presenting problems. The immune system of these infants is weak, and caring and support poses emotional and stressful situations for the parents too.
The most important step to ensure that we are able to build an India devoid of CHD-related deaths is to screen these defects. Almost 30-60 % of the heart defects are detected prenatally. Transvaginal fetal echocardiography provides an image of the fetal heart, where it becomes possible to detect the cardiac anomaly. It is highly indicative when the pregnancy poses the risk of the fetus developing CHD. Even genetic screening, and echocardiography can help screen for CHD. Some cases of mild heart defects are diagnosed when the child is older. Some of these defects resolve on their own as the child grows up, while some require surgical treatment.
In infants, difficulty in feeding is a common complaint, associated with tachypnea, sweating, and subcostal retraction. On examination, the presence of heart murmurs rales help in diagnosis but it's not always reliable. After diagnosing the issue, a treatment plan is decided on the age of the patient and the type of defect and follow-up treatment is the key.
How can one take care of the infant at home?
Make sure that the baby has received up-to-date vaccines, and flu shots to strengthen the weakened immune system, and proper care while feeding the infant. It becomes important for the baby to have a steady and uniform weight gain. One way this can be achieved is, by fortification of breast milk with the doctor's recommendation. For infants who aren't compliant with oral feeding, for them, nasogastric tubes or gastrostomy tubes come in handy. During 'Tet spells', which give a bluish hint to the skin, calming the baby, bringing the knees up to the chest helps.
In Congenital Heart Disease treatment, giving medications alone or giving them with heart procedures is the next important phase of treatment. These include cardiac catheterization, heart surgery, fetal cardiac interventions etc. and there are a few types of heart defects, where the child might require lifelong follow-up.
How are parents affected?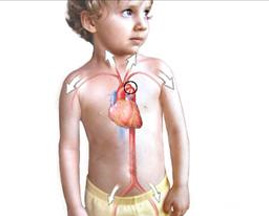 Firstly, when an infant is born with a heart defect, the parents may experience a lot of psychological stress including shock, denial, guilt, anger, despair, or confusion on learning that their infant has a cardiac defect. Even greater stress arises when they learn that their child requires surgical intervention and the child's heart treatment would come at a certain cost. With a large chunk of the Indian population having no access to medical insurance, it is much more difficult for families with a poor socio-economic status. Information and support groups are helpful for in these situations who are able to access it.
It is important that the physical, psychological, emotional, and economic needs of the family in providing for the child's heart treatment are recognized. For underprivileged families, several nonprofits and crowdfunding platforms help raise funds.
References:
https://www.aafp.org/afp/1999/0401/p1857.html
https://myhealth.alberta.ca/Health/aftercareinformation/pages/conditions.aspx?hwid=uf8657
https://publications.aap.org/pediatrics/article/140/5/e20172607/37782/The-Care-of-Children-With-Congenital-Heart-Disease
https://familydoctor.org/how-to-care-for-your-baby-and-yourself/