76 years and beyond: the Unfinished Agenda of our Independence Day
August 14, 2023 | Contributed by Kiran Mehta
Raju: Papa why do children fly kites on 15th August?
Papa: To mark the Independence Day, when India got freedom from the British rule 76 years back.
Raju: Does it mean that I am not free, because I cannot fly a kite?
Papa: No son, it's not like this, but you have a weak heart, therefore you cannot fly a kite. But don't worry, by next year I will have enough money to get your surgery, then you will be able to fly kites!
In the last 76 years, India has made numerous strides in fields like agriculture, Science & technology, Industrial growth, Education and many more. Today it is recognised as one of the emerging big economies of the world. But the sad part is, that the difference between the haves and have not's has only increased day by day, and the benefits of the growth seem to percolate only to the rich.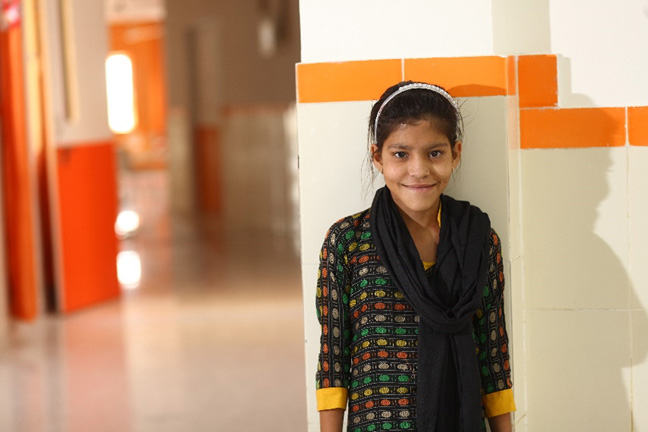 Only 25% of the 70,000 children born with a congenital heart defect are able to get the treatment
Even after 76 years, India has a long way to go, for getting freedom from poverty, disease, and inequality. India also happens to be one of the countries, having highest rate of child mortality, and Congenital Heart Defect (CHD) is the second biggest cause of it. With more than 200,000 children born with CHD every year, only 25% of them manage to get treated. Others lead a very unproductive life or die before they can reach adulthood. The emotional and financial burden of managing these children can be well imagined.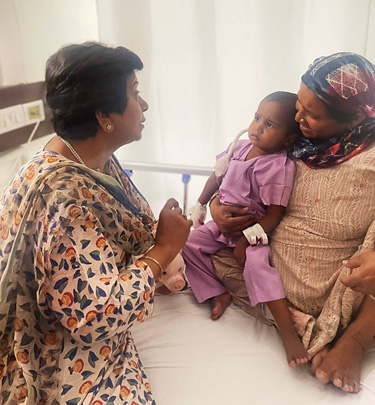 With a child treated at our partner hospital for his congenital heart defect
Although science has progressed and today even in India, we have much better outcomes of CHD surgeries in the centres offering Pediatric Cardiology services, they are still far and few to cater to all the children, especially to the ones living in the hinterlands of the country. The main reasons for this situation are lack of Attention (by the agencies involved) lack of Awareness (of the prevention and availability of treatment) and lack of Affordability (paying capacity of the economically weaker section). Raising money for child surgery, remains a big challenge for many of these families.
After getting freedom, young India was raring to go, as the world had progressed so much, how could India be left behind? It had to quickly achieve what the world had achieved in the last 200 years. The educated middle-classes started producing Engineers and Doctors, while the business classes went on to amass wealth like there was not tomorrow. But what as a nation we ignored was the parallel welfare of the common masses, the peripheral communities, and the vulnerable poor people. Lack of equitable health care and health seeking behaviour of the vulnerable under served and under privileged people did not let them enjoy the fruits of growth. As they were constantly struggling to fill their stomachs, they remained untouched by the medical advances made by the country.
Very recently a Minister of Parliament from Jharkhand shared data on the condition of children and women's health and nutrition in his region. He quoted from NFHS-5 and IFPRI studies, that out of 38 lakh children under 5 years of age, more than 23 lakhs are anaemic, 15 lakhs are stunted, and 8 lakhs are weak. About women, he stated that 26 lakh women were found underweight, and even more disheartening is that 57% of pregnant women are anaemic. His question was that how India can make progress unless Health and Nutrition was not made a priority!  (Lagatar News 01/08/2023)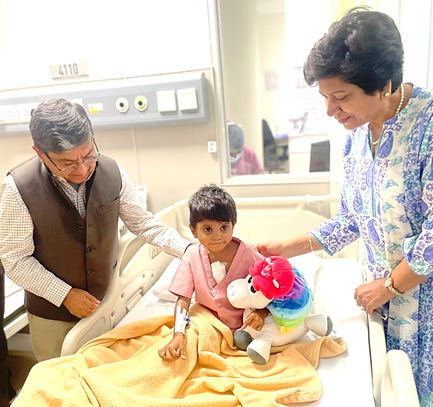 Visited this brave survivor with the Founder Trustee of the Foundation Jyoti Sagar
This highlights the lack of medical resources and infrastructure where it is needed the most, and highly expensive treatment making it only a distant dream for the parents of the children suffering in silence. Sometimes the hapless parents of these young children make rounds of several hospitals in hope of affordable treatment and in the bargain come under stupendous financial strain. Many of these parents spend hours in raising money for child surgery, some are successful, and some are not. There are many such untold stories which need to be addressed.
Next time you see kites flying in the air on the Independence Day, spare a thought for thousands of Rajus of our country who are still not free to go out on their own and fly kites, as they wait for a benefactor who will help them get treated.
We at Genesis Foundation are committed to bring down the Child mortality rate of our country, by supporting free treatment of children suffering from CHD, because every child deserves to be free of disease, live a normal life, and be able to dream, just like you and me!