The Power of the Human Connection
November 29, 2022 | Contributed by Simran Sagar
In our line of work, our core focus is our beneficiaries, their children, our children, India's children.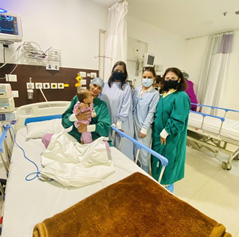 During COVID-19 when everyone was couped behind four walls and in front of some screen or the other, the novelty of working from home didn't last too long because no matter what anyone says or how work-life has changed as people now know that "working from home is also a possibility". However, NOTHING beats a human connection. For us, meeting families, children when they get admitted into hospitals, when they come out of surgeries, going with our doctors for screening camps – is the core of our work. It keeps us connected, it keeps our donors connected to the wholesome work they are doing, that WE are doing together in fighting heart disease in children.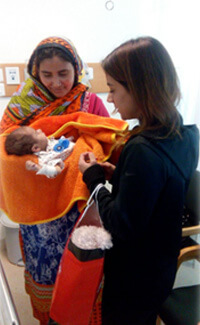 Each new family we meet at the hospital, brings a fresh perspective and a completely different level of gratitude, for everything we have, for everything we have been able to create even in 'our line of work' as a Foundation that supports free heart surgery for children in India.
How mothers clutch onto their babies, how fathers cry as their hearts well up with gratitude. For them, the Doctors, the hospital, the support is equivalent to a Higher Power, without which the existence of their little one would be under threat.
Being a mother myself, I can only imagine how much strength it takes to watch your little one surrounded in a world of tubes. The families camp out in hospital lobbies or on the floor, wherever they get space, because they can't afford a hotel room. But think for a minute, the dire circumstances they have to endure from start to finish…….and yet they remain focused on fighting heart disease in children – their child, their hope. I recently visited one of our partner hospitals in Gurugram where I met with a mother and her daughter after a long while of not doing any hospital visits, as work suddenly became about the computer screen and less about the core of our cause – our children.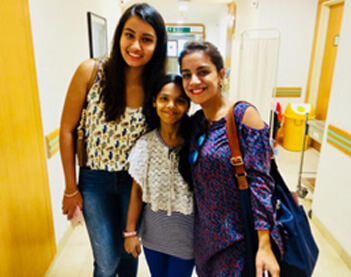 So, I promised myself every two weeks to visit a family, thank them for trusting us, our hospitals and to spread the message that NGOs like us that support free heart surgery for children in India exist, that having a Congenital Heart Defect is not a curse be it a girl child, or boy, it is treatable in most instances, especially if diagnosed on time. Having a scar from surgery does not mean that the girl will not find a suitable boy to be married off to, her heart will be whole, her life would be saved – what could be more important than that?
Each family leaves the hospital… that much more aware, that much more trusting in the importance of quality healthcare. Because let's face it – due to lack of awareness in our country – a surgery can be a ticket of no-return in the mindset of the less aware.
There are many ways that you too can experience this magic of a heart healing, of a child going home to live his/her dreams, of life being given a chance of everything.
Here are ways you can volunteer with us and fill your heart with gratitude…
• Hospital visits: you can contact us on +91 9650603438 and we can arrange a hospital visit to see a GF little heart at any partner hospital closest to you, we have a PAN-INDIA presence, so this is a possibility regardless of geography!
• Write for us at [email protected]
• Take photos at our partner hospitals
• Spread the message, follow our social handles and share our posts
There are 200,000-250,000 children born every year in our India with a congenital heart defect. Yes, our work is about fundraising and supporting free heart surgery in India so we can support the maximum number of children in a year as we envision an India devoid of congenital heart defect related deaths.
It will take time, but it is not impossible. Every stride, no matter big or small, is a stride in the right direction…
Join us, have a heart-to-heart with one of our little hearts.
#SaveLittleHearts
#VolunteerNow