The Power of a Mother's Prayer: Meeting a Young Braveheart and Her Strong Mother
December 22, 2022 | Contributed by Geeta Verma
Last month I visited a hospital to meet a child supported by our children's heart foundation after many months. The visit like a lot of the other times I have met families reinstated my belief in what I am doing at the Foundation but this time my heart was overwhelmed with gratitude. Gratitude for the many blessings in my life, gratitude for the child who fought so many challenges to have her heart healed and gratitude for the child's family which went through so many obstacles, but did not give up on their little girl, not even once. Gratitude for a beautiful girl who had been given a chance at life.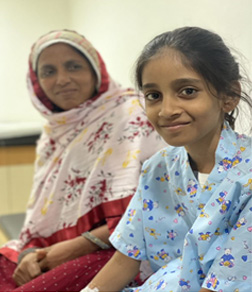 The young braveheart with her mother
I had the honour to meet a woman whose sheer strength and determination had saved her 12 year old daughter from dying of a congenital heart defect. Working with a children's heart foundation, I get to meet many families, but some of them take a big place in your heart.
The little girl was 7 years old, when the mother found that all was not right with her angel. She noticed that her daughter was not able to stand or walk properly. At first, she thought that this was due to weakness, but when she noticed her fingers and lips turning blue and her eyes turning red like the colour of blood, she got worried and started running to different doctors to understand what was going on. From then on, the family ran from pillar from post to get a diagnosis and treatment for their child. Since they lived in a village in Bihar, they visited several local hospitals in Bihar and Gorakhpur but found no help. This strong mother, then decided that she needed to do more and got her daughter along with an older son to a government hospital in Delhi. They once stood in line at the hospital for 2 days a night and on the 3rd day, when finally the turn did come, the doctors said that nothing could be done as too much time had been lost. They told her to take their daughter home.
While listening to her I could not even imagine what she would have gone through. With tears that would not stop she kept telling us how often sat up at night wondering why this had to happen with her and her daughter?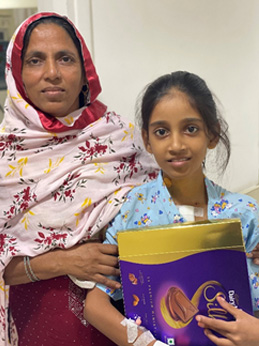 The strong mother with her little angel
The hospital gave up, the doctors gave up,  but this strong woman did not. She continued to look for another hospital, a children's heart foundation or a NGO for child heart surgery that could support her daughter's treatment. Finally, she came across this hospital in Gurugram where the doctor agreed to do the surgery but since it was a private hospital the cost would be high. She then heard of our children's heart Foundation. Being a NGO for child heart surgery, we could support the medical treatment of the little girl and her surgery was scheduled.
On the day of surgery, when she saw her daughter going into the Operation Theatre, she thought that this would be the last time she was possibly seeing little girl. With the past experiences she had gone through, she was not sure of whether her daughter would come out alive. She told us that as she waved her goodbye, hugged her and told her how much she loved her – thinking that this was the end of the road for both of them. The long hours that the surgery went on for this iron woman was praying to her God to make some miracle happen and save her child.
And the miracle did happen.
When she met her daughter after the surgery she could not believe that she had a successful surgery and that now her little girl had been healed.  She could not stop thanking every single Doctor and nurse who had worked on their case. The Doctor to her was a God. When she saw us she could not stop kissing our hands, thanking us for saving her daughter's life.
While she thanked us and cried, we all said a big silent thank you to the force above for healing this girl, for saving a life and giving her the chance to go live her dreams.
She has gone back to her village happy that her daughter has been saved, grateful that she can now live a normal life, triumphant of the battle she won and the challenges she overcame and hopeful to share this story with everyone in her village so that more lives can be saved and more hearts can be healed. She mentioned that she would tell people back in her village that there are NGOs for child heart surgery and children's heart foundations to ensure that money never comes between a child and his/her life.
Moments like these make me thank God for all the blessings we have and motivate me to do my best in paying my part in the stories of many such happy endings.