The Healer's Journal: The Dream of Improving Congenital Heart Defect Treatment in India
October 10, 2022 | Contributed by Dr. Nageshwar Rao
I was born and brought up in a small remote village of Andhra Pradesh. During early childhood I used to see villagers suffering from various diseases and the hardships they encountered in getting proper medical care.  It was then that I decided to pursue Medicine as a carrier and become a doctor as and when I grow up. My father and elder sister also inspired me to pursue a medical degree.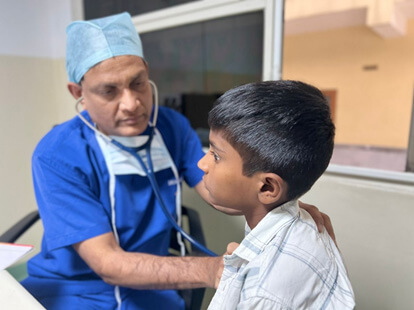 I joined Sri Venkateswara Medical College and graduated in the year 1989. In my third year of Medical College, I decided to pursue Pediatrics for my post graduation and joined MD pediatrics at Kurnool Medical College in 1994.  I used to see many underprivileged children come for congenital heart defect treatment during my post graduation training. In those days pediatric cardiology was not a developed branch of medicine in India. I used to feel very sad to see the families and the children as there was nothing much, we could offer them.  In those days there were only handful of hospitals in India who used to offer congenital heart defect treatment and these were mainly in Chennai or Delhi. There was also very little information regarding Congenital Heart Defect (CHD) prevention in children.
Looking at the number of children suffering from heart defects and the lack of treatment facilities in India, I was determined to pursue a specialization course in Cardiology and joined Sree Chitra Tirunal Institute for Medical Sciences and Technology in Trivandrum. I joined the DM Cardiology program there. My mentor Professor J M Tarakan recommended me to do a fellowship in Pediatric Cardiology from Children's Hospital, Westmead, Sydney in Australia.
After returning to India, I started a Pediatric Cardiology Department at Care Hospital in Hyderabad. I also set up the fetal echocardiography program at Care Hospital. While it was satisfying that we could diagnose children with CHD accurately, it was equally disheartening to see that many of the families could not afford the congenital heart defect treatment. Many times, the families used to borrow money or sell their land or jewelry and raise money for the treatment of their children. There were few individual donors and few charity organizations who would support us with some surgeries. Many times, I and my colleagues used to pay from our pocket for the surgeries of these children.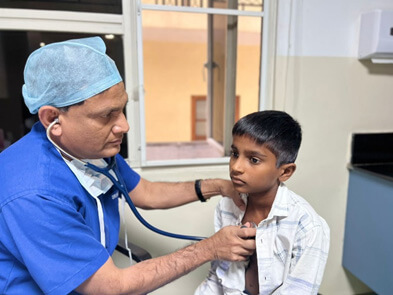 I performed the first fetal aortic valvotomy for critical Aortic Stenosis in 2014. Post that I have performed close to twenty fetal procedures. It is amazing to see technology progress so fast.  Now we can offer congenital heart defect treatment which is at par with what is available in the developed countries.
My areas of interest include Cardiac Embryology and Interventional Cardiology. During transcatheter device closures I noticed that there were some lacune with the existing devices. Generally small children after device closure for VSD were prone for heart blocks. Similarly, there was no single device which could be used for multiple defects (like PDA, AP Window and VSD some of the defects which can be closed with devices in Cath Lab). I started doing research in this area. My research was conducted between 2013 and 2018 with help of Lifetech Scientific in China.  I used to travel to China and work in their labs with their scientists. In 2018 Konar MF (Multifunctional Occluder) was developed. This device is now available in 75 countries worldwide. It was extremely joyful and emotional moment for me that I was part of a team that did path breaking research in Pediatric Cardiology.
I have performed more than 10,000 procedures and mentored many young doctors in Pediatric Cardiology.  I am also keen about photography.
I have come across very few charities like Genesis Foundation. They are transparent and quick. They are playing a very important role in making congenital heart defect treatment available to children who do not have adequate resources for the same. The Foundation is also creating awareness about Pediatric Cardiology in India which is lacking in a big way.
Currently I am working as Head of Department Pediatric Cardiology, Rainbow Children's Heart Institute Hyderabad, unit of Rainbow Children's Hospital.