The Healer's Journal: Pediatric Cardiology is not an attractive profession
March 23, 2022 | Contributed by Dr M Kalyanasundaram
I have been practicing as a pediatric cardiologist since the last 36 years, and have completed more than 6500+ procedures, but let me tell you about why I chose this field of children heart treatment.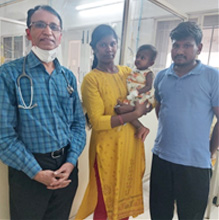 Dr Kalyansundaram with a
recovered patient's family
Pediatric Cardiology is not considered an attractive profession, in terms of the complexity of the disease, its management, high risk patient subset and a low paying capacity. But what attracted me to the field of pediatric cardiology is that most of these are Congenital Heart Diseases, which are curable, if treated timely. So, instead of specializing in adult cardiology where most care is palliative, I chose this, wherein most cases, one surgery is enough to give the child a chance at a healthy life. With the advanced technology that we work with nowadays, most children are able to lead a near normal life.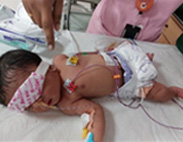 One-day-old child withsevere aortic stenosis
The only downside is that the cost of these treatments are expensive for a majority of the population in India, and parents are unable to get their children treated in time due to financial issues. But with support from congenital heart foundation like Genesis Foundation, NGOs, Rotary Clubs and philanthropists, one by one, we're making way for each child's treatment.
For children heart treatment, from open-heart surgeries to non-surgical interventions like device closure of ASD, VSD, and PDA, balloon valvotomy, stenting of Coarctation of aorta and pulmonary stenosis etc., I've been doing these surgeries for over 19 years now.

Balloon aortic valvotomy procedure to open a critically narrow heart valve
One such case that is unforgettable for me, is one-day-old Jay (name changed). Just after his birth, he had symptoms of heart failure and cardiac evaluation showed severe aortic valve stenosis with left ventricular dysfunction. This child needed an emergency aortic valvotomy procedure which opens the critically narrowed heart valve, to save his life. A non-surgical intervention, he was only required to stay in the hospital for two days before getting discharged. Jay had a speedy recovery and was discharged from the hospital soon afterwards.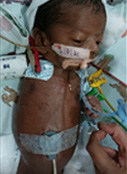 45 days old premature Aditi with PDA
Another surgery that is a personal milestone for me is that of a 45-days-old premature little girl who had heart failure symptoms and was on ventilator support, a machine that supports breathing. Her parents were already very worried with her early arrival and with a heart defect, they pinned all their hope on me. Aditi (name changed) had a large patent ductus arteriosus, which is a tubular connection from blood vessel supplying the body to the blood vessel supplying the lungs. She required closure of the patent ductus arteriosus (PDA) to come off ventilator support.
By placing a PDA device, through a non-surgical intervention, she had a successful device closure of PDA. The little girl recovered well and through this one surgery, I was able to give the family a chance to make a lifetime of memories with their daughter.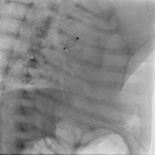 A PDA device implantation
Seeing children like these grow up to lead a healthy life, is a reminder why pediatric cardiology might not be the most attractive profession, but surely, it's the most impactful and fulfilling one. Like they say, with great power comes greater responsibility, that thought resonates with me for all the children I have intervened for until now.
I feel a great sense of pride to be associated with a congenital heart foundation like Genesis Foundation as they ensure that underprivileged children with cardiac ailments get an equal chance at life, irrespective of which financial background they're from.
Dr M Kalyanasundaram is a pediatric cardiologist at our partner hospital GKNM in Coimbatore with over 36 years of experience. He has participated many free medical camps to pick up children with cardiac diseases and counsel their families to get treatment done. He has 9 publications to his credit.