The Healer's Journal: Pediatric Cardiology and Me
January 7, 2022 | Contributed by Dr Swati Garekar
Children Heart Foundation, Children Heart Treatment
It's funny that I am writing this blog, just after I read a comment by a senior doctor on social media, that the truly fulfilled doctors are those who give their everything at work; who leave their family behind in their "mission".
I respectfully disagree.
Be kind and read on to know why.
The Good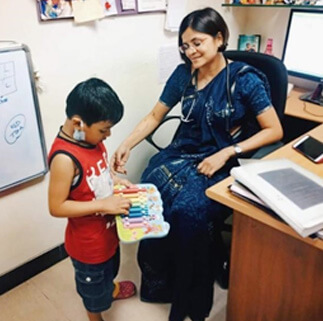 With a patient in the consulting room
I am one of those truly happy human beings, because I get to come to work each day (alright, most days) with a spring in my step and look forward to using my training and experience to help with children heart treatment. I adore the cute babies I see, the little girls and boys running around in the OPD complex, being chased by their parents.
I derive strength from these parents and their trust in our team- trust that we will do right by their child. There is nothing else I'd rather do at work than press that echo probe on a baby's chest and decipher the images it reveals to me, because children heart treatment is my mission.
The Bad
Then comes the counselling, telling a couple that their new-born has a serious heart defect but with one corrective heart surgery, our surgeons can ensure that the child has a healthy life; or telling an expecting couple what their options are with the diagnosis of a heart defect in their unborn baby.
The Worst
I also have days when nothing seems to go right. The patient in the ICU crashes or the cute couple with their first pregnancy has a fetus with a devastating diagnosis or there is a heart failure in a patient long after surgery.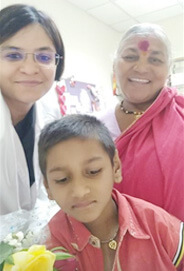 With a patient and his mother
Sometimes, patients die as well and yes, that too is part of my work-life.
So many whys, and agonizing what-ifs, and buts and if only…for the most part, remain unanswered. Nothing hurts more than losing a child. One doesn't have to go through that experience to empathise. One can feel those painful glances exchanged between team members, that calm efficiency of our charge nurse and her staff in hand-holding the bereaved family members, the exhausted intensivist whose shift is now over but who now must stay back and document each act done to save the child's life till the very end, it leaves an imprint on me.
Unlike most people, mourning for us isn't leaving the workplace and taking time off to heal at home. No, it means staying right there and continuing work in the OPD and other wards with a dull ache inside you. Not just that, my team members and I have to go back to our homes and be happy for our families waiting for us.
Let me clarify that, we want to be happy for our own sake too, we want to forget the pain we felt at work and all of us have learnt to do that. To cope, we hug our loved ones just a little tighter at bedtime and whisper a silent prayer to God, but that's it, no more mourning beyond that. Because me and my team members know, the redemption we will receive at work will only be by being happy again. By reenergizing, we can best help the next gasping little one who comes to our OPD and the next and the next.
The Best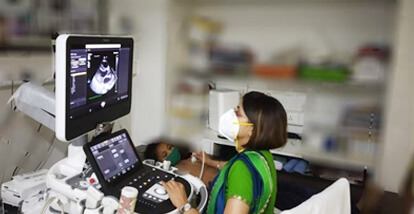 My first love
Now let me tell you what's the best part about being a pediatric cardiologist.
The joy I receive when patients who have been operated on long ago for heart defects come to me for counselling. It is all about if their child can take up Karate classes, if they can dance as much as they want, if they can swim, if they can cycle, if they can go for an overnight class picnic, it's a long list of cans. And quite recently, a parent asked me if their child can participate in the Olympics javelin throw (this one's new for me as well, clearly Neeraj Chopra's gold medal is doing wonders for inspiration!). And therein lies the reward for me, as I tell these parents, in most cases, that their child is free to lead a healthy life.
I am grateful for being in a position to give life a chance for so many babies and to be a part of so many families in a way that other professionals can't even fathom. And being associated with this children heart Foundation opens even greater opportunities for so many underprivileged families.
Like all of my teammates, I too wear multiple hats: doctor, mother, wife, daughter, teacher, friend. Over the years, I have learnt to wear one hat one moment, and the other at the next, and this jugglery is life for me and I love it. With God's grace I have beautiful work and home families who enable me to bring out the best in both settings.
Dr Swati Garekar is a Consultant Pediatric Cardiologist at our partner hospital Fortis Hospital, Mulund in Maharashtra. An American Board Certified doctor with years of expertise, her areas of interest are fetal echocardiography and ventricular function evaluation by echocardiography. In addition to that, she also has various publications to her credit.