The Healer's Journal: Pediatric Cardiology – A Journey of Many Challenges, Rewards and Blessings
September 19, 2022 | Contributed by Dr. K.S. Dagar
"Two roads diverged in a wood and I……………. I took the one less travelled by and that has made all the difference."- Robert Frost
As I reminiscence about my journey of becoming a Pediatric Cardiac Surgeon, I realize that it is as much a journey of being in the right place at the wrong time as it is a testament to my innate nature of being a rebel and a maverick travelling along the path less traversed.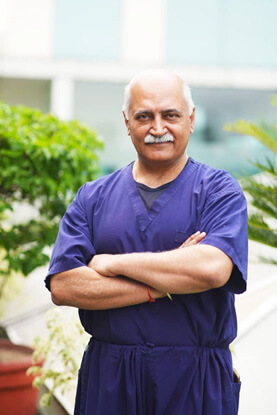 Let me explain. Post my M. ch Training in cardiac surgery, I joined Escorts Heart and Research Institute, Delhi (EHIRC) as a Registrar. For those not in the know, EHIRC was the jewel in the cardiac crown and was definitely the RIGHT PLACE to be in. Life was on a roll, and I got the chance to perform several coronary bypass surgeries and other challenging adult cardiac work. Pediatric cardiac surgery was nowhere on the horizon. Around the same time, the Pediatric Cardiac Programme under the able stewardship of Dr. S. Shrivastava, Dr. K S Iyer and Dr. P. Iyer was maturing at EHIRC. From the beginning, the Pediatrics Cardiac Programme was understaffed and soon enough, being the Junior most surgeon on the adult Programme I was given the marching orders to report to the Pediatric Unit. I distinctly remember that I lamented at this change of fortune. I cribbed and prayed for a reversal in the decision. I even contemplated changing hospitals to continue an Adult Programme. WRONG TIMING as there were no jobs. It was with much trepidation that I reported to the Unit. All credit to my mentors that they took a rather reluctant and somewhere rebellious greenhorn under their wings and instilled a love and passion for the Specialty in me. Thank you for putting me on the path less travelled.  Many people have contributed to this journey and none more than the present Team that I work with at the Max Super Specialty Hospital.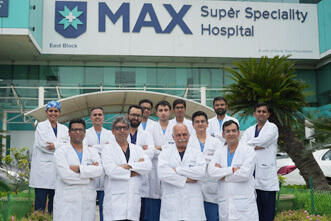 Pediatric cardiac surgery is just as much, if not more, an art as it is a science. My formative years at EHIRC had just the right blend of both and it soon became amply clear to me that much against my wishes I had hit upon the proverbial pot of gold at the end of the rainbow.
In 1999 under Dr. Iyer's guidance, I applied for and got a position of specialist registrar at the Great Ormond Street Hospital for Children (GOSH), London- The Mecca for Pediatric Cardiac Surgery in Europe. It was an Alice in Wonderland kind of experience for me, being awe inspiring and exhilarating at the same time. Working shoulder to shoulder with the Doyens of Pediatric cardiac surgery, Prof Marc de Leval and Prof J. Stark, was a dream come true.  Imbibing their skill sets and more importantly the thought process behind a decision would hold me in good stead along my journey.
Even under the most challenging of circumstances there was always such an air of ease at GOSH that it all seemed magical. On deeper enquiry it became abundantly clear that this was possible due to every member of the team knowing exactly what to do when it was needed. The unflinching adherence to guidelines along with mentoring and team building was the MANTRA for the magic. This was empowering in the sense that whereas Magic is ethereal and intangible guidelines and standard operating procedures can be replicated. The seed to be back home and replicate the excellence   at GOSH was sown.
It was way more difficult than what I could have ever imagined in my wildest of dreams. It would take me two failed attempts and nearly a decade of deprivation, blood, sweat and tears before the dream would fructify. Even so the lessons learnt were invaluable and I would not trade them for anything in this world and beyond. In some ways I have seen and experienced more than I can forget. Some good, some bad.
Notwithstanding the challenges and setbacks, the management of congenital heart disease (CHD) in India has made   tremendous strides bearing testament to the girt, persevere and never say die spirit of each and every one of us who has walked this path. Many competent pediatric cardiologists, world-class hospitals and some child heart foundations have been a part of this process.
Today one can deliver world class care for even the most complex cardiac surgical procedure with outcomes comparable to the western world at a fraction of the cost. The system however, is plagued with a PARADOX in that even though excellent care is available it's scale continues to be limited and skewered and its affordability beyond the reach of the overwhelming majority requiring intervention. There is a need to support free heart surgery for children in India, so that more families can get timely intervention for their children.
With better advocacy the government is stepping in to try and bridge this gap with a flurry of schemes. The chasm is huge, and I must compliment child heart foundations Like GENESIS FOUNDATION for taking it upon themselves to help those on the fringe. Their commitment and zeal are exemplary. They are truly the unsung heroes for the children with CHD. The Foundation has helped facilitate several free heart surgeries for children in India.
To say the least, the journey off the beaten track has been an enchanting one if not magical. A tapestry of large swathes of back breaking labour, sleepless nights, deprivation, immense sacrifices on the personal front, frustrations, self-doubts and benumbing loss. All of this, however, pales into insignificance in the wake of the exhilarating highs of lives saved and numerous challenges being overcome. The immense fulfillment with every success. A promise kept. Hope bequeathed. The alchemy of a blue baby turning pink. A cherubic smile. The cup doeth overflow…..
Let me assure you that no one can understand what we do without walking in our shoes. Being a Pediatric Cardiac Surgeon is more than a calling…. It's an absolute privilege, honor and blessing that is bestowed on a few chosen ones. May the enchanting story continue to unfold…..