The Healer's Journal – My Journey of Saving Little Lives
April 4, 2023 | Contributed by Dr Deepak Thakur
I am Dr Deepak Thakur, Senior consultant Pediatric Cardiology Paras Hospitals, Gurgaon. I always remember and follow the sayings of my father: "Hard work and courage is what we have to sustain, success will follow you even if you don't aspire it".
My journey of being a Pediatric Cardiologist begins from a small town in Punjab where I have seen my father practising medicine with ethics and always with a smile on his face encouraging and cracking jokes with the suffering patients.
"Treating congenital heart defects in infants and children is my passion"- Dr Deepak Thakur
This was the beginning of my medical carrier following footprints of my beau ide 'al (my father) to be not just a doctor but the real human being.
After completing my MBBS I desired and had an inclination to be a Pediatrician as I always felt it as a challenging branch; dealing with neonates and kids who can't express their pain and suffering but you have to treat them by applying all the medical skills to diagnose their sufferings. So, I did my Post graduation in Pediatrics from GMSH, Chandigarh. During my tenure as a Pediatric resident, I developed my passion in pediatric cardiology as congenital heart defects in infants was something that really interested me. I was always fascinated by listening to heart sounds and making a diagnosis by listening to murmurs; then running to the echo room full of chaos and rush standing far behind to see my patient getting echocardiography done and get all excited and jubilant to share with my colleagues that my diagnosis was correct. But unfortunately like many centres in our country we had no definitive treatment to offer (cardiac surgery or Intervention). Many children had to suffer due to a lack of super specialists to treat them. This thankfully is beginning to change due to a collaborative effort of the government, a team of capable pediatric cardiologists, surgeons and heart care foundation in India.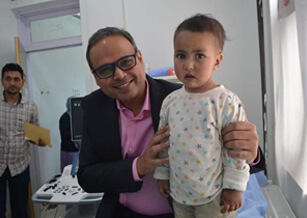 Dr Deepak Thakur with one of the children he treated
During my Post Graduate training I learnt that a onetime surgery or intervention can be lifesaving for most of the congenital heart defects in infants and children. I therefore chose to be a Pediatric cardiologist and started my journey after clearing my all-India entrance examination from Apollo Hospital, Chennai.
That world has added so many values and skills in my life.  I still bow to all my Mentors and remember them whenever I enter a Cath lab for doing High Adrenaline Pediatric cardiac interventions. During my Pediatric cardiology training, I not just learned the skills and technology to treat patients but also about the value of a human life, the art of managing your teammates, utilising the limited resource for the best outcome, dealing with parent's emotions, holding your nerves during complications and mortalities.  Working as a Consultant at Paras Hospitals I thank my teachers for inculcating such values and giving us such exposure that I feel confident in giving best of the diagnosis and treatment to all my Pediatric cardiac patients and protecting the parents through all the emotional turmoil they face when discovering their babies heart condition.
Unfortunately, still in our country there is a big disparity between the skilled centres offering treatment for Pediatric cardiac disease and the population suffering from congenital heart disease. Adding further to the grim situation, many of the children belong to the low socio-economic strata who can't afford the treatment for their kids. Another challenge is to be able to convince parents to go for a definitive treatment as most of them still live in remote areas of country were Congenital Heart disease babies are considered as hoodoo for the family and society.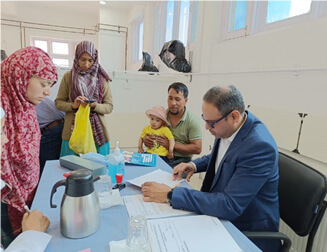 Dr Thakur at a screening camp in Kargil
As educated and qualified citizens of the nation we can always contribute our part of responsibility helping these babies in the best way we can. We can help our government and nation in dealing with this huge number of cases effecting our health care system.
Genesis foundation, a heart care Foundation in India is indeed doing a commendable job; not just financially supporting these babies but also working towards teaching programs, organising camps, and adopting a scientific approach of looking at the impact of their programme on society and families, taking regular feed back of patients health.  Their programme is indeed a lead which I feel should be taken up as a guide to establish and support many more by the Government of India.
Dr. Deepak Thakur
Senior Consultant
Interventional Pediatric cardiology
Paras Hospital
Gurgaon, India.