The Healer's Journal – My Journey of Saving Little Hearts
January 15, 2023 | Contributed by Dr Nidhi Rawal
"Be the change you wish to see in the World"- Mahatma Gandhi
I work as a Paediatric Cardiologist at Artemis Hospital, Gurgaon and have been practicing here for the past 12 years.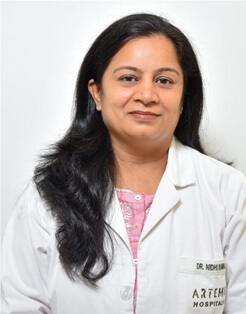 My journey in Pediatric Cardiology started back in 2004, after finishing my post-graduation in Pediatrics.  During my post-graduation, I saw that heart disorder treatment for children was a huge challenge both for parents and doctors. In those days, there was a stigma attached to the diagnosis of a heart disease in children, and there were not many options for heart disorder treatment. The diagnosis of a congenital heart disorder was like a death sentence. There was no awareness of the Pediatric heart problem.  Pediactric cardiac care centers providing heart disorder treatment were also not available in many places. Many families were not able to reach the right place and at the right time. Either the heart disorder treatment was not available, or it was out of their reach. In those years, there also little support offered by the Government and there were very heart foundations in India, providing financial support to families that needed the help. Not having many options, these children usually succumbed to some infection or became inoperable, waiting for surgery.  That was the turning point of my life.
I decided to pursue my career in Pediatric Cardiology and help children born with a heart disorder get timely management. I joined a fellowship program in Paediatric Cardiology at Madras Medical Mission (MMM), Chennai.
MMM gave me a very enriching experience in Pediatric Cardiology. It taught me a lot about compassionate care along with providing me with the in-depth technical knowledge of Pediatric cardiac care. After finishing my cardiology training, I joined PGIMER, Chandigarh as a Pool officer (Senior research Associate).  The PGI faculty gave me full support in fulfilling my dream. Chandigarh caters to the population from Haryana, Punjab and Jammu. Many underprivileged kids from these places were provided with heart disorder treatment both through surgeries and through other non-surgical interventions.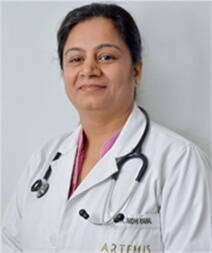 From Chandigarh, I decided to shift to Gurgaon. Gurgaon is a medical hub and many patients from all parts of the world come here to seek treatment for multiple issues. I joined as a consultant in Artemis Hospital. Along with excellent surgical team, we are able to provide treatment for heart disease in children  not only to national but also international patients. We have also conducted various camps ad OPDs in hard to reach areas with little access to medical facilities with the vision to reach as many needy kids as possible.
I am really thankful to all my teachers and family in helping me pursue my dream. I am also grateful to lot of Government programmes, Heart Foundations in India, especially Genesis Foundation in assisting these kids to receive the right treatment, at the right time and bringing it within their reach.
Dr Nidhi Rawal
Head, Pediatric Cardiology
Artemis Hospitals
Gurugram