The Healer's Journal – My Dream to Work for the Treatment for Congenital Heart Defects
December 27, 2022 | Contributed by Dr Sudeep Verma
My early days were spent in Indore in Madhya Pradesh, in Central India. While there were some good hospitals in Indore, healthcare was not much developed in the villages of Central India. During one such visit to a village during a school trip, I saw the people waiting endlessly in ques at a government hospital. I was in the 9th standard at that time, and I made up my mind that I would become a doctor in the future.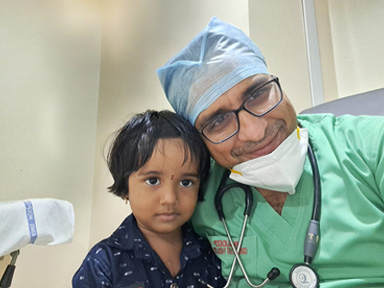 Dr Sudeep Verma with a child he has treated
After my 12th board exams, I got enrolled in a MBBS course in Mahatma Gandhi Memorial (MGM) Medical College in Indore in the year 1997.  During the third year of MMBS I decided to pursue post graduation in Pediatrics. After completion of MBBS in 2003, I got qualified for MD Pediatrics in Maharaja Yashwanth Rao (MYH) Hospital, Chacha Nehru Bal Chikatsalya (CNBC) in Indore.
Though we studied general Pediatrics, I could see some cases of children coming to the hospital for the treatment for Congenital Heart Defects. I remember one case particularly. One young couple married recently came with their newborn child in middle of night. The child was having severe breathlessness and was bule.  I could do a basic echo and knew that the child had some complex congenital heart defect. Some how we managed to stabilise the baby. Beyond that was a big question mark? We asked the parents to take the child to Chennai or Mumbai for a congenital heart disease treatment. The young couple could not understand as to why the child needed be treated in the hospital. Finally, they left. I did not know what happened to the child. Whole night I could not sleep, thinking about the child, what would have happened. That day, I decided that I will become a Pediatric Cardiologist and specialise in congenital heart disease treatment and not just be satisfied with a degree in general Pediatrics.
I qualified for a fellowship in Pediatric Cardiology in 2009 in Chennai. I graduated in 2011. The two years were an eye opener for me. I understood what Pediatric Cardiology not only from the point of view of medicine, but also from the social aspect. Many of the families could not afford the cost of treatment. The awareness was low amongst the general population. The government support was minimal. Many times, parents would taken loan, sell of their land parcels and raise money for the treatment of their children. It was a shocker for me.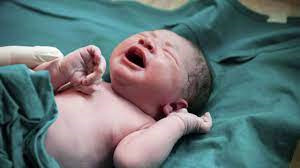 After completing the fellowship, I joined CARE Hospitals in Hyderabad under Dr Nageswar Rao Koneti and started working for the treatment for Congenital Heart Defects. I continued there for four and half years till November 2015. During my tenure in CARE Hospitals, I got hands on experience on doing complex Catheter Based Interventions. I had performed percutaneous PDA Device closure in two of the smallest preterm babies in India using Piccolo Occluder. I also got significant exposure in Fetal Echocardiography and was a member of the team that performed the first fetal balloon valvotomy in India.
From November 2015, I joined Krishna Institute of Medical Sciences in Hyderabad. Currently I am working as a full time Interventional Pediatric and Fetal Cardiologist there. I have performed more than 3000 Cath Lab procedures in children including neonates and infants. I had also neonatal portosystemic shunt closure in India.
I like teaching young pediatric cardiologists. My area of interest is Pediatric Cardiac Radiology – radiographic interpretation in congenital and structural heart diseases.
As mentioned above, Pediatric Cardiology is not just about medicine, there is component of social element also. Many families cannot afford the cost for the  treatment for congenital heart defects. In this regard, I would like to thank Genesis Foundation for supporting Congenital Heart Defects treatment for many children throughout India. There are very few NGOs in this field who support neonates and infants with complex CHD, Genesis Foundation being one of them.
Dr Sudeep Verma is a Consultant Pediatric Cariologist at the Krishna Institute of Medical Sciences, Hyderabad