The Healer's Journal: Learning is the only constant
February 4, 2022 | Contributed by Dr Dhananjay Malankar
The ancient Egyptians believed that, 'heart is the seat of the soul'.
No other organ in the human body is as vibrant, and as symbolic of life as the beating Heart. Since ancient history, mankind has been captivated by the structure, and the function of the human heart. Many scientists, researchers and artists have studied the intricacies and the minutest details of the heart and have recorded it in scriptures and drawings, but it is still the most elusive and the most fascinating organ in the human body. It has been observed that the human heart is one of the most efficient pumps seen in nature pumping close to 7000 litres of blood and beating 100,000 times every single day and this it does for the entire life of the human being.
Why cardiac surgery?
I personally feel cardiac surgery is the most satisfying field because the results are right there in front of our eyes, as soon as the surgery is over. If the surgery is successfully done, the patient gets discharged and goes home in the shortest amount of time, back on their feet.
But like they say, the greater the rewards, higher are the stakes; any small mistake and the heart can be unforgiving like no other organ in the body. Extreme focus is required during the surgery, a stitch wide apart can lead to bleeding and even 20-30 ml of blood loss could be a matter of life and death for a neonate weighing 2-3 kg.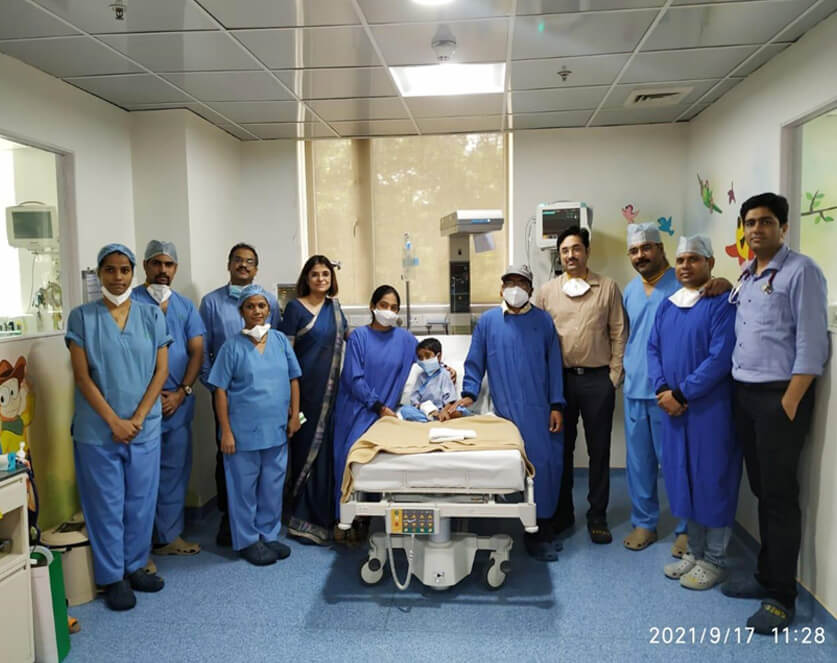 With a recovered patient and family, post-surgery.
"Pediatric cardiac surgery is the specialty which separates the men from the boys" – Dr Christian Barnard, a pioneer of cardiac transplantation had once said.  Adult cardiac surgery is more finite, more predictable, and lacks the variety encountered in child heart treatment. Pediatric cardiac surgeries are arduous and much more demanding, and are followed by the necessary recovery period in the intensive care unit, which can be very intimidating. Prolonged hospital stays are not uncommon and hence likely to be less profitable, even a financial loss, for the hospital management.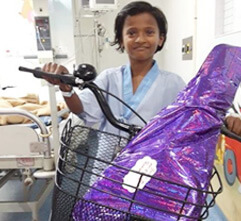 A recovering child from a heart defect surgery
Pediatric cardiac surgery deals with all types of congenital heart defects and there are about 18-20 different types, varying from simple defects like atrial/ ventricular septal defects to complex conditions like transposition of great arteries or total anomalous pulmonary venous connection which need heart defect treatment within the first few days/weeks of life. It's a field which is very challenging and requires utmost dedication and hard work to achieve good results. But it's impossible without a good team, between a pediatric cardiologist, pediatric cardiac anaesthetists and intensivists. Post-operative care is an important aspect of heart defect treatment and the nurses have to be trained not only about the general nursing of the babies but also about the cardiac physiology of specific cardiac defects in order to anticipate the changes in the hemodynamics after the surgery.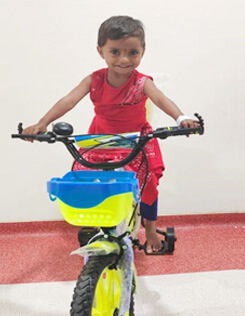 Another recovered child from a heart defect surgery, looking unrecognizably healthy
In the field of child heart treatment, we are lucky to witness little miracles. A lot of babies get discharged after a long stay in the ICU and when they come back for a follow-up after a couple of months, they are unrecognizable, as they have come back as healthy kids with good weight gain. Some kids, who suffer a cardiac arrest and their heart stops working in the ICU, do well after CPR and are discharged as if nothing has happened.
But the most devastating is losing a child, and every centre practicing pediatric cardiac surgery has witnessed it. It requires a lot of courage to introspect and analyse the mistakes made and prevent them from happening again, and to move on and not let your previous failures affect your future patients. Learning in pediatric cardiac surgery is a continuum. In the eyes of the outside world, training gets over when a surgeon becomes an independent consultant. In reality he remains a trainee forever. The quest to achieve perfection is infinite and till you achieve perfection you remain, to yourself, a trainee.
Dr. Dhananjay Malankar is a Cardiothoracic Surgeon at our partner hospital, Fortis Hospital, Mulund. With over 12 years of experience in the field of cardiac surgery, he is an alumnus of the prestigious All India Institute of Medical Sciences, New Delhi. He has experience of complex cardiac and heart failure surgeries like LVAD insertion, ECMO and heart transplant from Cleveland Clinic, USA.