The Healer's Journal – Healing the Tiny Tender Hearts…Serving the Unserved
February 22, 2023 | Contributed by Dr Mahendra Singh Parihar
Like any middle-class family's dream, my parents always wanted me to become a successful person and they inspired me to become a doctor so that I could take care of other people suffering with various health conditions.
Family background:
Dr Mahendra Singh Parihar
My father, the son of a farmer worked as an office superintendent in a private college and my mother was a home maker. Although they could barely manage the monthly expenses my parents sent me to a private convent school and ensured that I got the best facilities to prosper in life.
My journey as a medical professional 
As most 12th standard student's dream, I got through the entrance exam for medicine in the first attempt at the prestigious Indira Gandhi Government Medical College Nagpur, and the proud smile I saw on my parent's face is still fresh in my mind. I was the first in generations from my family and the native village to do so. However, getting an admission was just the beginning, it transformed me into a true professional and introduced me to a whole new world of the harsh realities that people have to face. In the last year of under graduation I got interested in the many illnesses that children suffer from, and this inspired me to become someone who could take care of the little ones.
I continued in my medical professional journey and received a prestigious scholarship which took me to Germany and France to represent our nation as an International Fellow. This was a great experience as it exposed me to the European standards of medical care and made me realize how far we are from that.  After returning to India, I completed my post-graduation in Pediatrics from the town of Latur.  During those days, I was exposed to the lack of pediatric super specialty care, especially in the remote parts of the country  such as Marathwada.  There was no facility for treating conditions like heart disorders in children. There was nothing even for a basic pediatric echocardiography for nearly 100 kms radius and this was the situation in most of the regions in the country.
This motivated me to complete my pediatric super specialization in pediatric cardiology so that I could provide care for heart disorders in children.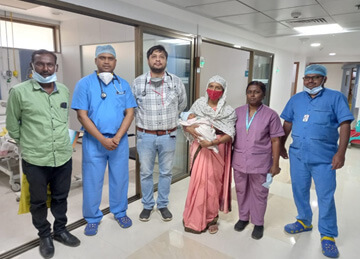 Dr Parihar and the team at Kamalnayan Bajaj Hospital with a child they treated
The best part of being a pediatric cardiologist is that we can help these children and give them a healthy life. After completing my basic training from Indraprastha Apollo Hospital under the guidance of Dr Manisha Chakrabarti, I worked with Sri Satya Sanjeevani Trust Hospital and evolved my skills as an interventional pediatric cardiologist under the leadership of Dr Muneesh Tomar and Dr Yogesh Sathe. The experience at Sri Satya Sai Sanjeevani Hospital exposed me to the hardship through which the families of the children with congenital heart defect suffer in raising money for child surgery.
Setting up first pediatric and congenital cardiac services in the region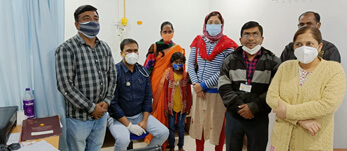 The team treating children post Covid
After acquiring the required expertise, I decided to move back and settle in the city of Aurangabad in the heart of Maharashtra (known for Ellora and Ajanta Caves). Aurangabad was the main source of medical interventions for all surrounding regions of Marathwada, Khandesh and Western Vidarbha; the most underprivileged area with great lack of pediatric super specialty services. The people in this region really lack knowledge of medical advances and still consider heart disorders in children as taboo and in-operable.
I was fortunate to find the able guidance of Dr Ajit Bhagwat  under which we took a challenge to set up a first dedicated unit for pediatric and congenital cardiac services at Kamalnayan Bajaj Hospital. As we know the pediatric and congenital cardiac unit stands on four pillars, the Pediatric Interventional Cardiologist, Pediatric Cardiac Surgeon, Pediatric Cardiac Anesthetist and Pediatric Intensivist. However, getting all things organised in our region was very difficult. But when we dream together for a  better world there is always a way, after great struggle and initial hurdles we were successful to find our pillars. All four pillars play a pivotal role to keep the unit moving forward for great results and provide the best care.
After the initial set back during Covid, we were able to continue our work and were able to perform about 400 cardiac surgeries and interventions. The Kamalnayan Bajaj Hospital is the only hospital in the region to have such a diverse team and offers a complete range of facilities required for managing congenital heart defects.
The unit serves the underprivileged people from central Maharashtra. As a result many of these families do not need to travel to the cities anymore.
The Congenital heart team at the Kamalnayan Bajaj Hospital serves the adjoining 15 districts of central Maharashtra. The hospital makes every effort to cure the tiny little hearts with all possible resources like Government health schemes and NGO support. We are extremely lucky to have been able to work with Genesis Foundation which helps us in raising money for child surgery.
Dr Mahendra Singh Parihar
Pediatric Cardiologist
Kamalnayan Bajaj Hospital, Aurangabad