The Healer's Journal: Childhood experiences shape who we are
April 19, 2022 | Contributed by Dr Praneet Lale
As an adult now, I can look back and easily say that our childhood has a massive impact on who we grow up to be. It determines a lot of choices that we make because our early experiences shape our belief about ourselves, others, and the world.
My childhood

Ours was a full house amongst us three siblings, with me being the youngest between my elder sisters. Me and my elder sister used to play around the house, but our eldest sister was not able to because she would turn breathless just by taking a few steps. And she was a different kind of beautiful, because she had blue lips which really amazed me as a child.
As much as I like to remember the good, I have a lot of memories of being left at my Aunt's place for days altogether because she was often hospitalised as well. As I grew up, I came to know that she had a heart defect. To simplify, it was a heart ailment and she required surgery.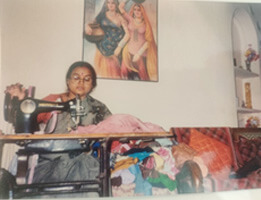 Dr Praneet's mother working
on her sewing machine
My father was a clerk in the government sector and my mother was a ladies' tailor. We used to live in a small house with two rooms. I still remember my mother used to sew clothes all through the night and our lullaby was the sewing machine's paddling voice. Although my father's income was sufficient to get us two times bread, but it was not enough for the expensive cardiac surgery of my sister, so my mother tried to chip in whatever way was possible for her. In the early 90's, neither was there enough awareness about Congenital Heart Disease in children, nor was Nagpur city that advanced to have hospitals where pediatric cardiac surgery was being performed.
So with great difficulty, my parents had collected a sufficient amount of thirty thousand rupees which was required for surgery at KEM Hospital, Mumbai.
My sister's surgery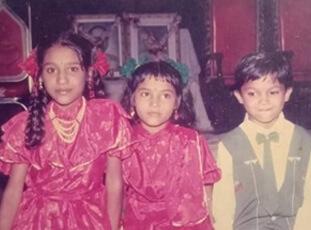 Dr Praneet's eldest sister born with
a heart defect, on the extreme left
In 1991, when I was only eight years old, we went to Mumbai for her cardiac surgery. By then, she was already 14 years old and had spent most of her childhood just sitting in the chair, seeing other children jumping and dancing.
We spent almost one month in KEM hospital Mumbai. We used to sleep on the floor of the Hospital, awaiting surgery like many others from all over Maharashtra. Then finally the day arrived, and before surgery she underwent cardiac catheterization. She was operated on by Dr Tendulkar and Dr Patwardhan. With God's grace her surgery was a success, she recovered well and became absolutely fine.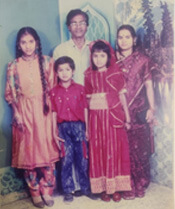 Dr Praneet's family photo, after
his sister's surgery and recovery
For us, it was nothing less than a miracle. After surgery, even her face had a pinkish glow that had been hidden because of the blueness (due to the lack of oxygen) under her skin. In fact, she changed completely because her breathlessness was gone too. She was able to play, run and do all the other activities without difficulty. Looking at the doctors in that Hospital, how my parents wished that one of their children could also become one and serve humanity.
Becoming a Pediatric Cardiologist
As a young child, I had never thought that I'd become a doctor, let alone a pediatric cardiologist.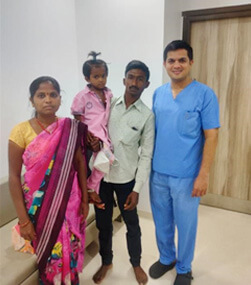 Dr Praneet Lale with one of his
recovered patients
But my sister's transformation into leading a normal healthy life became an inspiration in wanting to become a medical professional as I grew up.
Although I was not the topper in my class or a brilliant student like that, but my strength was being a hard worker. I worked hard to achieve my aim and was admitted to the medical school in Nagpur. Then I specialised in Pediatrics and later did my super speciality in Pediatric cardiology. I got training from one of the best in Pediatric cardiac sciences i.e. Fortis Escorts Heart Institute, Delhi. It is one of the oldest centres in North India providing comprehensive care to children with heart diseases. I was fortunate to be trained under the pioneers in pediatric cardiology, Dr Savitri Shrivastava and Dr Radhakrishnan.
Congenital Heart Disease is a disease of the poor

During my training, I realised that congenital heart disease in children is a disease of the poor people. With the advancement in medical technology, most of the complex heart lesions are diagnosed in-utero with the help of fetal echocardiography and are terminated accordingly. But, people from poor socio-economic status are refrained from such facilities because of their lack of awareness and poverty. Adding to that, is the lack of advanced facilities in these remote areas.
So, I decided to become a child heart specialist and fulfil my dream of serving the people of central India. I came back to Nagpur with the aim that no poor patient suffering from Congenital Heart disease should have to travel to a metro city like Mumbai or Hyderabad. Luckily, I was fortunate enough to become a part of Kingsway Hospital, Nagpur which trusted me gave me the chance to help patients here.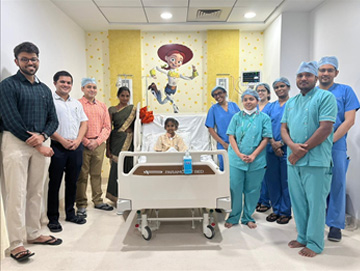 Dr Praneet Lale with the entire team of pediatric cardiac surgery with a patient
Pediatric cardiac surgery is a game of teamwork. It consists of a Pediatric Cardiac Surgeon, a Pediatric Cardiologist, a Pediatric Cardiac Anesthetist, Pediatric Cardiac Intensivists and Pediatric Cardiac Perfusionist. Our team at Kingsway Hospital is highly skillful and supports each other in ensuring every child gets the best chance at life possible!
Unfortunately, a lot of our patients are unable to afford treatment for heart disease. To help these low-income families we take support from the children's heart Foundation, and are also attached to a few Government and Non-Government schemes. The role of the children's heart Foundation like Genesis Foundation, cannot be emphasised enough, because it gives families the hope that irrespective of whether they have the money or not, their child will get the best treatment at a an outstanding cardiac care facility.
With over 16 years of experience, Dr Praneet Lale is a Pediatric Cardiologist at our hospital partner, Kingsway Hospital, Nagpur. His expertise includes invasive paediatric and neonatal cardiology; non-invasive paediatric and neonatal cardiology; fetal cardiology.