Overcoming Covid-19 & Congenital Heart Defect: Baby of Bhuvaneswari
June 22, 2021 | Contributed by R Srivatsan
The last few months of Covid-19 in India have been distressful to innumerable families over the country. We have been grappling with a deadly second wave, and as much as we cannot forget about those who did not win the fight against COVID-19, there were some who did, and one such bundle of strength who is only six months old.
Baby of Bhuvaneswari is one such child, whose journey to a healthy beating heart wasn't just obstructed by undergoing congenital heart defect treatment but contracting Covid-19 as well.
Born on 3rd December 2020 to Bhuvaneswari and Arunachalam Myilsamy, her parents were ecstatic because the birth of a girl child meant an auspicious occasion in their family. Arunachalam was a tailor by profession at a private company during the day, but his daughter's personal stylist otherwise, stitching beautiful dresses for his little girl.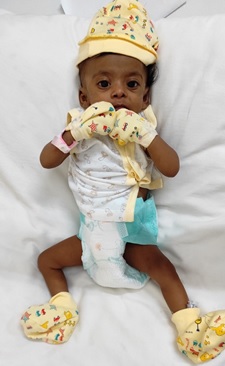 Baby of Bhuvaneswari before her surgery
But in April, she developed a high grade fever with breathlessness. Naturally worried, her parents took her to the Tiruppur government hospital, where doctors admitted the child.Arunachalam being the sole bread earner in the family, could not afford leave from work. So, he left Bhuvaneswari and his daughter at the hospital and visited morning and evening, before leaving for work and after coming back. Though she was admitted for a week, her fever was persistent and the doctors suggested that she's taken to a bigger hospital with better facilities.
Travelling between the second wave of Covid-19 in India was nothing short of risk. But their daughter's condition had not improved at all, so they left for the Coimbatore government hospital. Fortunately, the hospital had a dormitory with free food for Bhuvaneswari, while Arunachalam stayed with a relative and visited every day. Over the course of 3 weeks that Baby of Bhuvaneswari was admitted, there were days of very high fever, while some normal and her condition improved only marginally. The consulting doctors could not ascertain the cause for her condition, so they asked the parents to take their daughter to a private hospitaland get an Echocardiography test done.
It was then that Baby of Bhuvaneswari was diagnosed with a congenital heart defect called Total Anomalous Pulmonary Venous Connection with Atrial Septal Defect. In this condition, the Pulmonary Veins from the lungs carrying the pure blood get terminated at the right atrium instead of the left atrium. Thus, more blood flows to the right atrium, leading to an increase in the lung pressure. Also,less oxygenated blood was pumped to the body, resulting in less saturation. Moreover, there was also a hole in between the upper chambers of the heart as well.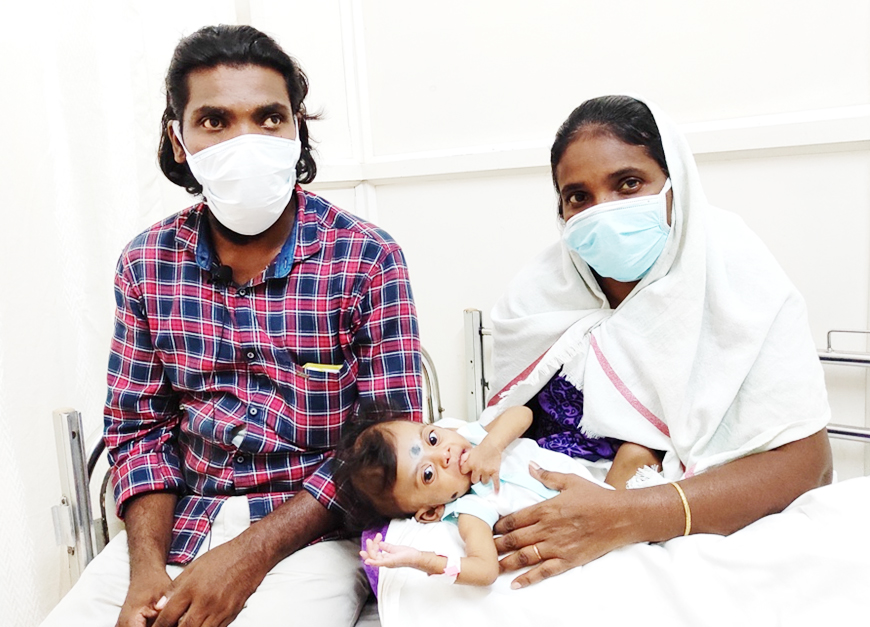 Bhuvaneswari and Arunachalam with their daughter after the surgery
It was the most tragic information for her parents because they could not believe that their little angel required an open-heart surgery. And add to that, she tested positive for Covid-19 as well. Both Bhuvaneswari and Arunachalam were asked to take their daughter home because there was a shortage of bed at the government hospital due to the rising Coronavirus cases. Even though her parents were negative, all of them were asked to come back after completing the mandatory two week quarantine.
One of Arunachalam's friends knew about Dr Vijayakumar at GKNM Hospital, Coimbatore and suggested they consult him for Baby of Bhuvaneswari. So he spoke to Dr Vijayakumar over the phone and shared his daughter's echo report. Dr Vijayakumar told them that she would require an open-heart surgery and it was the only way forward.
However, considering the financial burden of congenital heart defect treatment in India, the surgery was beyond the means of the parents. But since GKNM Hospital is a partner hospital of our Foundation, the case was brought to our attention. We were able to extend our support all thanks to our CSR partnership with HDFC Ergo. After Baby of Bhuvaneswari tested negative for Covid-19, on the 7thof June, she was operated and the surgery lasted for four hours.Afterwards, she was discharged within a few days.
As per Bhuvaneswari and Arunachalam's family tradition babies are named 9 months after the birth of the child. So, we're still waiting for an update on this brave little heart's name as we follow-up with her progress and recovery.