Multisystem Inflammatory Syndrome in Children (MIS-C) and COVID-19
December 10, 2021 | Contributed by Dr Neeraj Awasthy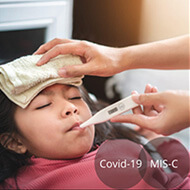 Until now it has been seen that most children who become infected with the COVID-19 virus have only a mild illness. But in children who go on to develop Multisystem Inflammatory Syndrome or more commonly known as MIS-C, some organs and tissues — such as the heart, lungs, blood vessels, kidneys, digestive system, brain, skin or eyes — become severely inflamed. First identified in April 2020, it may or may not have a definite history of COVID-19 in the past. Research is still ongoing on the role it plays in treatment for Congenital Heart Defects.
Symptoms of MIS-C
Signs and symptoms of MIS-C depend on which areas of the body are affected. Some common ones are below, though not all children have the same symptoms:
Fever that lasts 24 hours or longer
Gastrointestinal symptoms like vomiting, diarrhoea, pain in the stomach
Skin rash
Feeling unusually tired
Fast heartbeat
Rapid breathing
Red eyes
Redness or swelling of the lips and tongue
Redness or swelling of the hands or feet
Headache, dizziness or light-headedness
Enlarged lymph nodes
There are some emergency warning signs of MIS-C too, which should not be taken lightly by parents or caretakers:
Severe stomach pain
Difficulty in breathing
Pale, grey or blue-colored skin, lips, or nail beds — depending on skin tone
New confusion
Inability to wake up or stay awake
Inflammation of the heart
Kidney injury
One of the most dangerous symptoms of MIS-C is swelling of the coronary arteries, which is why prompt diagnosis and treatment of the illness is vital, similar to steps taken during congenital heart defect treatment.
Steps for Prevention

Keep hands clean
Make sure you, as well as your child, washes hands often with soap and water for at least 20 seconds. In case that isn't available, use a hand sanitizer that contains at least 60% alcohol.
Avoid people who are sick
In particular, avoid people who are coughing, sneezing or showing other signs that indicate their illness might be contagious.
Practice social distancing
This means that you and your child should stay at least 6 feet (2 meters) from other people when outside of your home.
Wear face masks in public
When in indoor public places or outdoors where there is a high risk of Covid-19 transmission, such as a crowded event or a large gathering, both you and your child — if he or she is at least 2 years old — should wear face masks that cover the nose and mouth. Further mask guidance differs depending on whether you are fully vaccinated or unvaccinated.
Avoid touching your face
Not touching your nose, eyes and mouth encourages the child also to follow the parents' lead and avoid touching his or her face.
Covering the mouth while sneezing
One should use a tissue when sneezing or coughing to avoid spreading germs.
Cleanliness and disinfection
Highly-touched surfaces should be cleaned every day. This includes areas such as doorknobs, light switches, remotes, handles, countertops, tables, chairs, desks, keyboards, faucets, sinks and toilets etc.
Wash clothing and other items
Maintaining hygiene, it's important that children's clothes and other items like plush toys are washed regularly.
Detection of MIS-C
In addition to antibody testing and a clinical assessment, doctors may order some of these tests to look for inflammation and other signs of MIS-C:
Lab tests, such as blood and urine tests, including tests that look for an abnormal level of inflammatory markers in the blood
Imaging tests, such as a chest X-ray, an echocardiogram, an abdominal ultrasound or a CT scan
Other tests, depending on signs and symptoms
Treatment of MIS-C
The treatment is best taken under the care of the pediatrician, who may also seek the support of a paediatric cardiologist who specialises in congenital heart defect treatment. Echocardiography during the episode, and during follow up is important supportive investigation to tailor the therapy to be provided to the child.
Supportive care may include:
Fluids, if levels are too low (dehydration)
Oxygen to help with breathing
Blood pressure medications to normalize low blood pressure related to shock or to help with heart function
A breathing machine (ventilator)
Medications that reduce the risk of blood clots, such as aspirin or heparin
In very rare cases, extracorporeal membrane oxygenation (ECMO) using a machine that does the work of the heart and lungs
Until now, there is no evidence that suggests that MIS-C is contagious. It is important that a regular follow-up with a pediatric cardiologist who specializes in treatment for Congenital Heart Defects is sought to tailor therapy in the interest of the child's wellbeing.
Dr Neeraj Awasthy is the Principal Consultant & In-charge of the Paediatric Cardiology department at our partner hospital – Max Hospital, Saket. With over 18 years of experience, he has corrected various types of Congenital Heart Defects.