How Your Contributions Have Given Life a Chance?
August 25, 2023 | Contributed by Preeti Kumar
Life precedes everything – it is only when a child has the chance to live that a child has the chance to play, the chance to grow, the chance to go to school, the chance to dream and the chance to thrive. Without a chance to live there is nothing- a straight blank.
Every child treated has a transformative impact on the family
As an NGO working for congenital heart disease, we have witnessed the lives of many children and their families transform. While the numbers of children we support stand as empirical evidence of our work, they fail to convey the multiple layers of impact that comes when a life is saved. The huge sense of gratitude and feeling of triumph the parents go through when they are told that their child can now live or go back to living a normal life, is hard to put into words. Their eyes moist with feelings of humility and joy for just having their child back and gratitude that they could find the support they needed to save their child is enough to bring tears to anyone's eyes.
Impact that Goes Beyond Treatment
When we save a life, we give the child a chance to live and grow, a chance to live to his/her full potential and work towards realizing their dreams. That is the real impact the support of an intervention makes. Behind every successful intervention is a story of transformation. I remember recently interacting with a father of a 2-year-old child from Nanded, a place in Maharashtra.
His son was born with a congenital heart defect and all doctors in the area announced their prophecy for the child- they told the father that the condition was critical, and the treatment would be extremely expensive and difficult to access and hence he should just let the child be. Not believing what he heard and doing everything he could as a parent.
He found hope when he visited the pediatric cardiologist at our partner hospital in Maharashtra who then treated this little boy. Today the child is 2 years old and his videos of playing and interacting with his mother tell a different story then what had been forecasted for him – these stories reinstate the belief that every life is precious, and every child saved restores our faith in humanity- that health care is not the privilege of a few but an equal right of every child in our country.
The support that we provide does not stop at the children. The family of every child healed goes back to their village and district to tell their story. This ripple effect helps dispel the myths and ignorance around congenital heart defects that continue to haunt many societies in our country still. Every successful story becomes a learning for another family – a testimony that their child too can be healed and treated.
In addition, as an NGO working for congenital heart disease, we also work tirelessly in building awareness, forging partnerships with other NGOs and hospitals and advocating for changes at the policy level to ensure that healthcare becomes inclusive. Thus, every donation received provides us the means to first save a life, then to work on scale to create impact at a large level and hence spotlight the inadequacies in our existing heath systems to advocate for policy changes.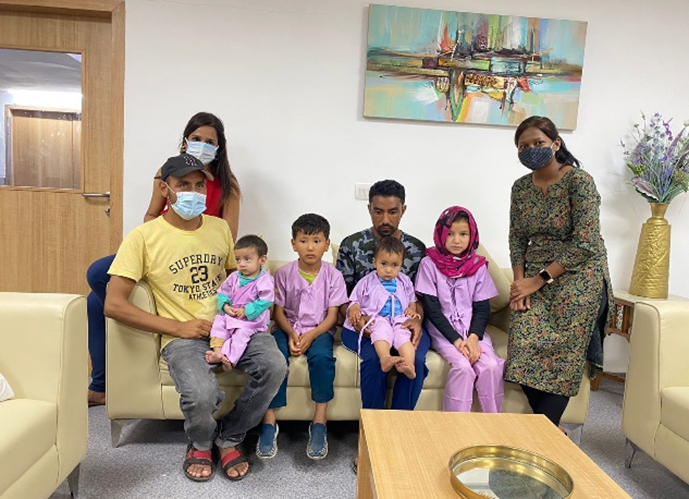 We follow up each child for upto 3 years post treatment
Each case that comes to us is carefully examined to ensure that we are rightfully supporting a family that truly needs our help – who would not be able to do this on their own. How we do it is through a stringent system of SOPs and protocols that are in place and strictly adhered to. Every enquiry that comes to us is duly examined and processed and the child given the best treatment that is available.  Our support does not stop with the treatment, we continue to measure the impact the intervention has had on the child for upto 3 years- this sheds light for us on how many kids have been rehabilitated back into life.
The results of our assessments are heartening, fulfilling and motivating – to know that so many children went back to living – living a life that would have been taken away from them only because they did not have the funds or the knowledge of what to do.
THAT is the impact of your donations – of saving the life of a child – of being the wings beneath their wings.
You too can help us save a life. Every donation has the power to treat a child differing from a congenital heart defect and the power to transform the life of an entire family.
Save a heart. Save a Life. To donateClick Here