Hearts Behind the Foundation: The Kind Quester
March 19, 2023 | Contributed by Richa Sinha
"It's the privilege to serve the mankind, for this is the worship of God. God is here, in all the human souls"- Swami Vivekananda
Being a daughter of brilliant, generous, humble, compassionate and humane Doctor, a pediatrician, I was always inspired to save lives since my childhood.
I have grown up seeing my father's dedication, determination and compassion towards saving the lives of young children suffering from various types of diseases and conditions. I could see the unconditional love he had for his patients and the feeling of contentment and happiness seeing these children recover from a particular ailment. I have always been proud of him and prouder to be the daughter of such a wonderful soul.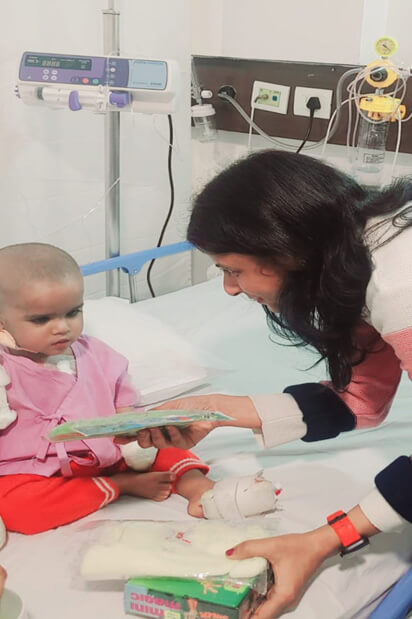 I always wanted to be like him . I have been working in healthcare organisations for the last 9 years and have had exposure to the many challenges that people have to face to access basic health care facilities in our country.  Inspite of having worked in many health organisations, joining a children heart foundation like Genesis Foundation made me realize that now I am at the right place. This was my real goal in life – to do what I can to save lives. It gives me immense pleasure and satisfaction as somewhere I have the comfort of knowing that somehow, I am extending my father's role of saving lives.
I joined the organization one and a half months back. My first day in the organization was very special. Apart from getting to know my wonderful team, I got the opportunity to visit a child whom our foundation supported. He had gone through a device closure, a heart hole treatment without surgery. I was full of gratitude and a sense of fulfillment to know that the little heart was fully recovered and that he had been given a chance at life. When I visited the child who was just one and a half years old, my eyes filled with tears of happiness and compassion towards him. The child was so cute, and he was happily sitting on the bed. I felt so happy that I don't have words to express my feelings, I just closed my eyes and said to myself "Thank God, he is saved". I felt really blessed. I talked to his family. They were so happy, satisfied and their faith and trust in humanity had been restored.  They could not stop expressing their gratitude – a feeling that no parent should ever have to go through.
This was how my first day in my journey of working with a children heart foundation started. It's been more than a month now and I feel a sense of satisfaction which grows each day. I feel grateful when each child is saved from this fatal disease and more grateful to be a part of it. In my short time here, I have seen children with critical defects who have had to go through surgical procedures and also children with milder defects whose ailment could be fixed through a heart hole treatment without surgery such as device closures and Cath Lab interventions.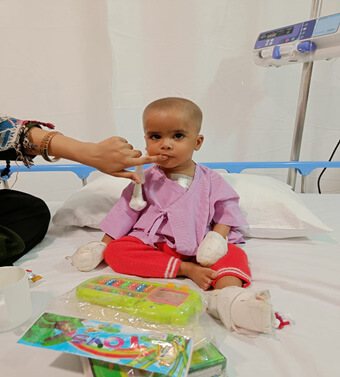 I am fortunate to be a part of a wonderful, compassionate and dedicated team working very hard to achieve the common goal of saving children from congenital heart disease. Everyone in the team is unique and generous.
And the Founder Trustees, Prema and Jyoti Sagar, are two pure souls that I have had the fortune to connect with. They are so true, compassionate and generous towards this noble work which always motivates us to work with passion and dedication towards Saving Little Hearts.
Now I feel the transformation within me towards this noble profession. My only goal in life is to reach out to as many children as I can who are suffering from congenital heart disease, those who are underprivileged and helping them get the best treatment in good hospitals by capable and qualified doctors so that they completely recover and lead happy, healthy and blessed lives.