Hearts Behind the Foundation- The Jugadu Jedi
August 12, 2023 | Contributed by Rahul Choudhary
Before I get to walk you through what motivated me to join Genesis Foundation and how I became one of the hearts behind the organization, let me quickly give a short intro about myself. My name is Rahul Choudhary, I am 25 years old, pursuing a master's in marketing from NMIMS.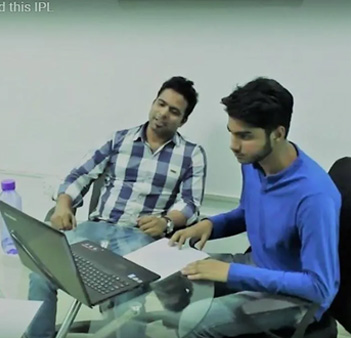 A picture of me sitting with my colleague in the first organization.
It's been more than 6 years since I started working as I started too early, and this decision turned out well. I come from a middle-class background where my father works in a company at an average payout, my mother is a homemaker, and my sisters are working on their strength to shape a better future. I was brought up in Delhi, but I originally belong to the Madhubani belt of Bihar.
I love spending time in research, and this has helped me learn the latest technologies and their use cases. Rather than spending too much time carrying out a task manually, I believe in researching and finding a smarter way to the task.  This way, you not only learn what the world is adapting to, but it also gives a push to both your work and skills. Despite content being the core of my work, I had learned search engine optimization and social media marketing and a bit of Google ads.
I always heard of NGOs but never got an opportunity to work with them. Sitting at my system working to finish the day's tasks when an email popped in and the conversation went on. An email from Simran Sagar, Operations Director at Genesis Foundation, an NGO in Haryana, explaining the work role of the job I applied for. The job description quite matched the skills and work experience I was holding.
The conversation went on, and we mutually agreed on taking the employment further. Within the first week of the interview, I joined Genesis Foundation. I did my part of the research by sneaking through LinkedIn profiles of the Founder Trustees and other team members' profiles to learn more about the people and the organization – the basic research that any candidate conducts before joining the organization. What caught my eyeballs was the statistics and the reason the organization works for-  that every year more than 200,000 children are born with congenital heart defects in India.
My First Day at Genesis Foundation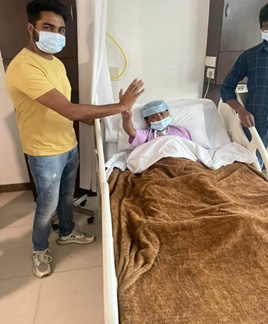 My first hospital visit at Paras, Gurgaon
A team of six or seven people, with each team member mastering their area, was quite a new thing for me as I had always worked with companies which had a large number of employees. But it was made clear that we are not a corporate house with offices full of people and departments dedicated to different service areas.
The working culture at Genesis Foundation is different from other organizations; you own your tasks, drive them, execute properly and go home. This is how simple the process has been made. I am quite happy to have Preeti Kumar as my mentor, as she was really good at guiding me through the work process.
I feel positive vibes when I enter the office. Whatever I learned throughout my experience of working at different companies, I will put my knowledge in work and get the best out of it.
My First Hospital Visit – An overwhelming experience
I went to Paras Hospital to see a child who was treated there with the support of Genesis Foundation. The reflection of gratitude on a child's parents' faces says it all. It made me feel that every hour I spent in the office was worth it. Seeing their child recover after losing all hope is the biggest happiness any parent could ever feel. As we started to talk to the parents, they almost cried, saying that they had lost hope for their children but with Genesis Foundation's timely intervention, they have got their child back.
Hearing him narrate the whole story overwhelmed me. I could see the result of the efforts we put in while sitting in the office. And it was so gratifying.
This is just the story of one parent. There are many parents in India who can't afford the expensive interventions required to save their child, and in many cases, end up losing their child. If we see the case on a larger scale, there are many who are not even aware of the situation and condition of their child. To raise awareness, Genesis Foundation conducts screening camps in partnership with hospitals to extend their support to India's most underserved areas.
Screening Camp at NUH
I was fortunate to be a part of a screening camp conducted in NUH, a district in Haryana. It was a completely new experience for me. Witnessing a large number of people coming to get their child screened, the day was totally worth it. As a marketing & communication specialist, I was given the task to collect some good photographs from the camp.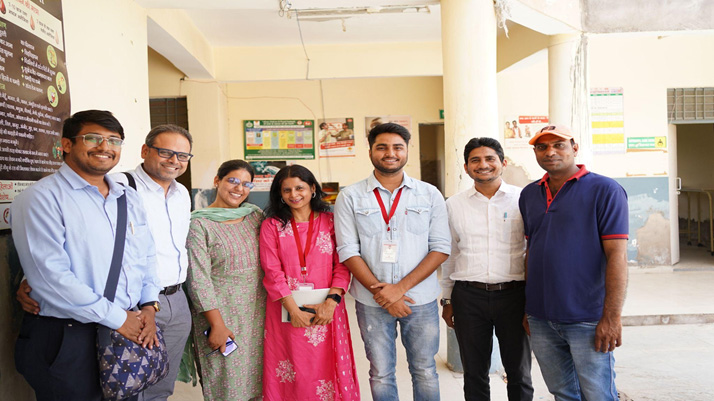 A picture from screening camp with Dr.. Deepak and his team from Paras Hospitals
Working for Genesis Foundation, an NGO in Haryana gives me satisfaction that my work somehow helps the needy ones. I am helping the team amplify the work they do on the ground and fulfill the organization's mission to save little hearts. I am a part of the good work being done to help the lesser privileged section of society.
Every time a child gets successfully treated and posts that their photos come through one of our team members' hospital visits, it simply uplifts my mood. This completes me. Nothing is more satisfying than seeing a child smiling whose parents lost hope to see him/her alive. This is just the next level. Going a step forward, I am willing to visit any NGO near me on any of the Sundays when there is a day off.
I am hoping to serve the organization for the longest period of time, and my association with the Foundation keeps evolving and positively influencing both my personal growth and the organization's success.