Healers Journal: My Heartfelt Dedication to Walking on the Path of Pediatric Cardiology
October 17, 2023 | Contributed by Dr. Gaurav Garg
Since my early childhood, I dreamt of becoming a Doctor. I don't know when and how I got inspired to take up this profession because I belong to a traditional business family, and no one in my family has ever become a Doctor. I could clear my premedical entrance with flying colors in the first attempt and entered in MBBS.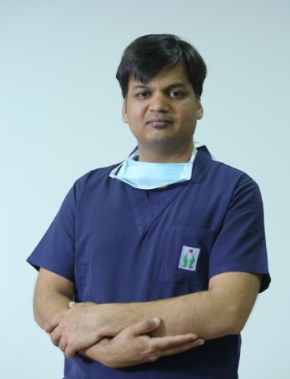 Dr. Gaurav Garg
It was a new world for me and my family because suddenly I started to notice people giving me respect more than ever. With the passage of time, I realized that my responsibilities have also gone up. At that time, I never knew that I will become a Pediatric Cardiologist someday. I didn't even know much about Pediatric Cardiology. I passed MBBS in the first attempt and cleared the postgraduate examination in the first attempt with a good rank in the All-India examination.
I was not clear about which branch to choose although I was getting almost every branch because of a good rank. I chose Pediatrics because my seniors told me that it is a terminal branch, and we don't have to pursue higher studies after that.
I started learning about pediatrics and started enjoying treating small kids. Even then I didn't have much idea about Pediatric cardiology. Cardiac patients were very hard to treat, and most of them were referred to higher institutes for further care. The treatment was expensive and free heart surgery for poor in India was not available readily.
Many of them used to die because of a lack of good treatment. After my post-graduation in Pediatrics, I realized that I was not enjoying OPD practice, and there was something in my mind that was persuading me to take up a challenging branch like Pediatric cardiology. I wanted to do something good for the kids who were not getting proper treatment because of a lack of specialists and good facilities in our country.
I came to Delhi and started working in a Pediatric Cardiac unit as a senior resident. For the first time, I saw how the kids were getting treatment and cure from their cardiac disease by surgery as well as cardiac catheterization without any cut on the body. It was so fascinating and satisfying to see those kids going home. I decided to pursue this field of Pediatric cardiology so that more and more kids can get treatment.
I cleared my DNB super-speciality exam in the first attempt and opted for Pediatric cardiology. I learned Pediatric cardiology from a very good teacher and clinician. 10 years ago, after completion of my course, I came back to Delhi and started my own unit of Pediatric cardiology in north Delhi along with Pediatric cardiac surgery. Prior to this, there was no full-fledged unit of Pediatric cardiology and cardiac surgery in north Delhi.
Though, this is not the case nowadays as there are many dedicated NGOs which are partnered with hospitals to render free heart surgery for poor in India.
We started treating children suffering from heart problems with excellent outcomes. Slowly and steadily, we could establish an excellent Pediatric cardiac centre in this part of Delhi. Children who used to die due to either lack of treatment or social taboo are now being treated and getting a cure from their illness for the whole of their life. Now, they can live like a normal person.
Till now, I have performed more than 30,000 echocardiography including Fetal Echocardiography, and I have treated more than 1,000 kids in the cath lab. If I look back into my journey as a Pediatric cardiologist, I can proudly say that I am very satisfied, and by the grace of God, I am able to treat these unwanted and unwelcomed children of our society who are now living a normal life.
Dr. Gaurav Garg
Pediatric Cardiologist
Fortis Hospital, Shalimar Bagh