Celebrating WPP India Foundation
September 9, 2022 | Contributed by Preeti Kumar
"Individually we are a drop, but together we are an ocean"
– Ryunosuke Sataro
Angels don't always wear wings – sometimes they appear in our lives, silently open doors that we thought were closed forever and walk us through them into a world that we never imagined we would see.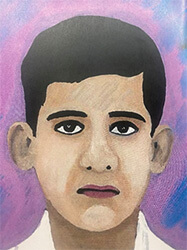 Meet Mohan (name changed), a smiling 16-year-old boy studying in the government school of his village. One look at his endearing smile and you feel that you are looking at any other teenager. However, Anshul is nothing but a miracle. A strong-willed child, he has fought many challenges. Since he was born, he faced several health issues and could barely attend school. He would have difficulty breathing, get tired easily and have frequent pneumonia. Mohan was diagnosed with an Atrial Septal Defect (ASD), a heart disease in children where there is a hole in the membrane between the two upper chambers of the heart. The diagnosis and the cost of the treatment broke the family's heart as they could not have afforded this exorbitant amount, even when it meant a life-changing intervention for their only child. However, Mohan's family finally meet their angel. With the financial support received from the WPP India Foundation, Mohan was able to go through the surgery and treatment. He is now back at school and loves to cycle and play cricket with his friends in the neighbourhood.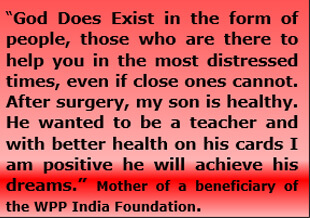 Now meet Renu (name changed), a feisty teenager studying in class 10. The youngest member in her family, she loves to make friends. Renu was born with her heart on the right side, both main arteries were arising abnormally, and her pulmonary artery was severely obstructed. To help Renu feel better meant several complicated surgeries which were both expensive and complex. She underwent two surgeries with financial support from Amritanandamayi Math and AIMS, but with time she needed another intervention.  The doctors were holding off another surgery due to the complications of her condition and the financial limitations of her family. They even looked for a heartcare foundation in India which could support them but were not successful. Eventually with the support from WPP India Foundation, the doctors were able to use a 3D printing technology to create an exact replica of her heart to study the abnormalities and devise a treatment plan. Renu has recovered and back at school and reunited with all her friends!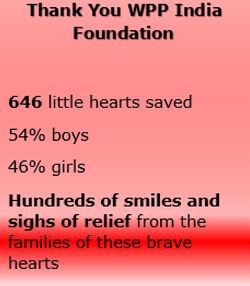 There are many such Renu's and Mohan's in remote places in different parts of the country whose lives have been transformed and they have been given a hope to live by one of our longest standing CSR partners – the WPP India Foundation. For many families of across the country, WPP India Foundation has been that angel which has opened the door of life and happiness for their child. As we all know, treatment of heart disease in children can be very expensive and beyond the reach of many families.
WPP India Foundation is committed to enabling children and youth achieve their full potential by working in the areas of education, skill development and health. They have been the longest standing CSR partner of Genesis Foundation helping us fight critical heart disease in children and Save Little Hearts across the country.
 The Partnership: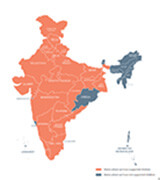 Genesis Foundation (GF), a Heart care Foundation in India, began its journey with the WPP India Foundation in November 2015. This was the first ever corporate partnership for GF. Since then, WPP India Foundation has remained our longest and oldest CSR partner. Together with their support we have been able to reach 646 critically ill children with lifesaving congenital heart defects treatments.
The Impact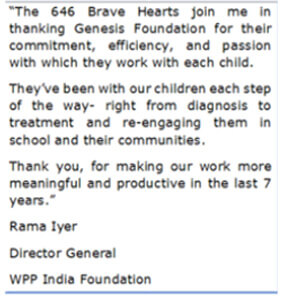 In the last 7 years, with support from the WPP India Foundation, we have been able to support children across the country except for the Northeast. Through every single case under the partnership, we have strived to maintain a gender parity. Out of the 646 children reached, 54% are boys and 46% are girls.
While numbers are important, they only tell part of the story. For the children supported, their lives have been transformed. Many of these children have now been able to go back to school and lead normal lives like their peers. What that has meant for their parents and families is difficult to put in words. Treatment of heart disease in children can be extremely expensive. For many of these families affording the expenses of these life changing treatments would have been a dream. The smiles and moist eyes of the parents when they see their children rebuild their lives is immeasurable.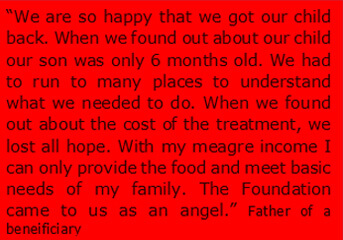 At Genesis Foundation we are proud of the lives that have been transformed through our strong partnership with WPP India Foundation. We celebrate and honour them for placing their trust in us and for their unstinting support. We look forward to continuing to spread the magic and save little hearts and build an India where children have a chance to live and develop irrespective of where they are born.