Bravehearts of the Foundation: Baby of Benacir Banu
November 1, 2019 | Contributed by Simran Sagar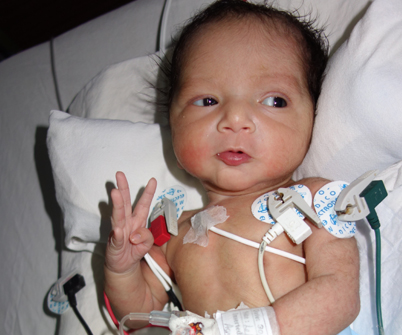 Baby of Benacir is yet another special case that has come to light at our children's health care foundation – GENESIS FOUNDATION.
Mohammed Pahyas and Benacir Banu have been married for five years and always promised each other that whatever life throws at them, they will not be disheartened and fight on together as a team. It hasn't been easy living a life from hand to mouth, but they have never let it weaken their spirits.
Benacir stays at home fulfilling her life as a housewife and looking after her elderly father and mother-in-law in the couple's home in Rajagiri, in the district of Thanjavur. Mohammed Pahyas works long and hard hours as a farmer. Not having a child despite five years of marriage was a constant source of worry for the small family. So, when Benacir received the news that she was pregnant in March 2019, the entire family exploded with joy. Her initial antenatal check-ups were uneventful. However, the joy that had engulfed the family was short-lived as during a routine check-up, Benacir was informed that the baby's heart rate was low and there were chances that he/she might not survive.
This was impossible news to digest. Despite the promises of being a team, and not being disheartened at what life throws at them. This was a real test. The couple sunk into a fearful state as they worried day and night about the possibility of losing this miraculous pregnancy.
Mohammed Pahyas decided to seek another opinion, so the couple met with Dr Sureka, a Consultant Obstetrician in Thanjavur who referred them to Dr Usha Nandhini, Fetal Medicine Specialist at Dr R K Hospital. Benacir first underwent a fetal echo at 29 weeks gestation. The baby was diagnosed to have a congenital complete heart block (CHB). While the normal heart rate of a 29 week fetus is around 120-140 per minute, their baby had one of only 40 per minute. As soon as she heard it amplified on the speaker, her maternal instinct knew that it was going to be bad news. What's worse was the fetus also had fluid around the heart, a condition called pericardial effusion.
One of the major risk factors for fetuses to develop CHB is the presence of auto-immune conditions in the mother (which may frequently not be detected prior to pregnancy). Dr Usha Nandhini arranged for testing for Benacir which identified presence of SS-A antibodies for the mother. The cause for the baby's low heart rate was identified but unfortunately the presence of autoantibodies meant that Benazir's subsequent pregnancies will also carry a risk of fetuses with CHB. It hence became imperative for the family to provide the best possible care for the baby.
In consultation with Dr Mani Ram Krishna, a Pediatric Cardiologist at Amrita Institute of Medical Sciences, who runs an outreach clinic at R.K. Hospital, Benacir was started on oral salbutamol. There was a slow increase in heart rate necessitating frequent increase in the dose of salbutamol to 40 mg per day, the maximum dose possible. Benazir experienced tremors at such high dose of medications but bore with it for the sake of her baby. She was willing to do anything to make sure the little baby growing inside of her would just be okay. Dr Usha Nandhini constantly monitored the baby's progress and the baby's heart rate slowly crept past 50 and the fluid around the heart reduced.
Time went on and with bated breath, Benacir crossed nine months of pregnancy. She knew that her little baby was fated to be there now and this built confidence in the mother that perhaps, everything would be alright. The delivery in a tertiary Pediatric Cardiac Centre was recommended but the couple naturally had no means to afford such care for the delivery. Dr Sureka hence planned for an elective delivery by LSCS in Thanjavur itself.
Oh the family rejoiced despite knowing that there was a long and difficult road ahead as Benacir delivered a baby girl, weighing 2.4kg. Her heart rate was low, 52 per minute and soon after reduced again to 40. Dr Mani Ram hence placed a catheter in the baby's umbilical vessel and started the baby of a special medication which helps to increase the heart rate. But dependant on the medication, every time the dose was reduced her heart rate would plummet again.
The baby girl needed a permanent pacemaker, a device which will stimulate the heart to beat whenever there is a drop. It would have to be placed on the baby's heart through a surgery so early into the baby's arrival. The cost was exorbitant for the family, estimated at Rs 2 Lakhs. On a salary of Rs 6000 per month, it was impossible for Mohammed Pahyas to put together the entire amount. He contributed Rs 50,000 and confessed to Dr Mani Ram that anything more was just not possible. The Doctor reached out to us at the Foundation and we agreed to support the additional funds required for the procedure of the pacemaker with support from our CSR partner – Oracle. She was transported immediately by ambulance to Amrita Institute of Medical Sciences in Kochi. A twelve hour harrowing journey through roads that had been ravaged by the recent monsoons was a complete nightmare. Thankfully the little warrior princess remained stable through the journey. One can never question the strength, despite the dependencies such a little baby can have.
She was prepared for the surgery which started almost immediately.
The pacemaker has been implanted and Benacir and Md Pahyas's first born baby girl is doing really well. She will be discharged in the last week of October and we are proud that we have had the opportunity to be a pivotal role along with the Doctors and hospitals to give this couple the one wish they prayed to turn into reality – a healthy baby.
Five days old.
She is the youngest child supported by us for a pacemaker implantation at GF, a children heart foundation, India. A case we will not be forgetting anytime soon, one we will hold close to our hearts always.
#SaveLittleHearts
Contributed by Simran Sagar