3900 lives given a chance at life
January 13, 2023 | Contributed by Simran Sagar
They say how you start off the year sets the tone for the remainder 365 days!
Today, a cold winters day in Gurgaon, we all wear nice warm, fluffy coats of gratitude on our hearts as in the month of January our Children's Heart Foundation – Genesis Foundation reaches the milestone of having given life a chance to 3900 critically ill children, since the very beginning.
That makes us a 100 away from 4000! And that by no means, is a small number!
Team work makes the dream work and, in this case, there are so many that have come together to aid us in our mission to Save Little Hearts.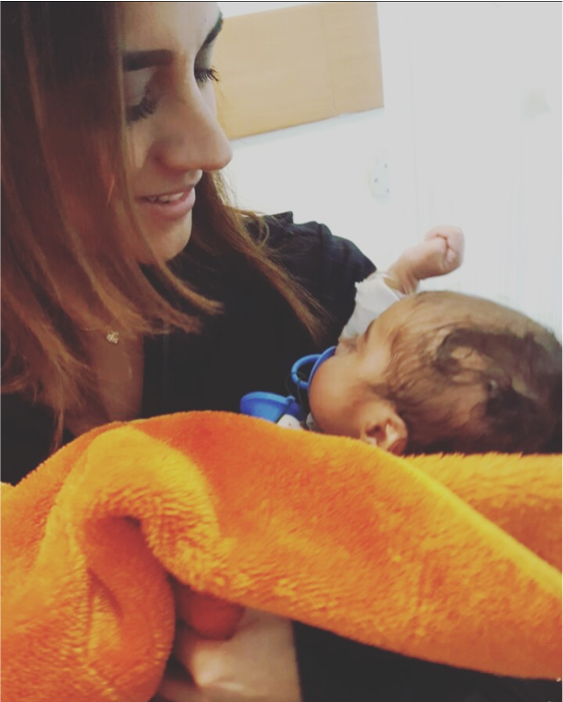 Meeting children supported by the Foundation is one of the most humbling experiences
Our Founder Trustees, Trustees, the Team managing the everyday functions of the Foundation, Hospital Partners, Pediatric Cardiology Departments at each one of these hospitals, Families of beneficiaries, Corporate & Individual Donors, Volunteers and every single being who helps amplify our work either with monetary support or by just being there in whichever way possible – THANK YOU.
The Domino effect, known as a chain reaction, when one event triggers many such similar events… in this case of course, all positive is like the one thought (our Founder Trustees Prema and Jyoti had) that has led to certain processes and connections which has enabled us to reach this far.
My parents took their pain from losing their second-born son and in the form of Genesis Foundation set out on a life mission to support as many children as possible who suffer from critical illness.
I can't say it's about chasing numbers… but the aim has been to raise as many funds as possible ONLY so we can save as many children as possible and provide free heart surgery for child in India. The more kids we support, the better. Obviously – right?
If in the case of Congenital Heart Defects – 200,000-250,000 children are born every year with the disease, every year it just keeps adding on. So, there is no shortage of children to support. But the gap lies in people's awareness about the disease and the criticality of early diagnosis and timely intervention. There are just not enough people from the varied economic strata's that know enough about congenital heart defects and these staggering numbers in our country.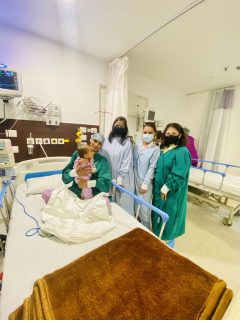 Visiting children with other team members
People think of "heart defects" and think it's just a "heart problem" that people have as adults, perhaps poor lifestyle? Hereditary? Not many know that there are SO many children every year that are BORN with it, no choice of theirs or their families. And they can be SAVED. For the ones that are born into families who struggle to make ends meet, they simply cannot afford it. So that mixed in with lack of awareness as they just don't know anything about the disease – is a dangerous combination.
As the new calendar year begins on a high note, I would say our vision and mission stays the same… continue, to provide free heart surgery for child in India – to Save Little Hearts. However, as a Foundation we want to open more doors, explore more avenues with making an impact in the 'Congenital Heart Defects' landscape of India through advocacy, awareness and policy changes.
To some extent, we have to sit back and think – why are parts of the South doing so much better than other regions of India with battling this congenital disease? Because of literacy levels which are high and therefore awareness is better. In places like Kerala, prenatal screening for congenital heart defects is mandatory and that makes a world of a difference. Therefore, there are plenty of ways we can contribute as an NGO over and above just the treatment of children – to tackle the larger problem.
We will be forging partnerships old and new to achieve this bigger and better than we ever have!
During the COVID pandemic with support from a CSR partner and a hospital partner in the South we contributed towards a Pediatrician Training workshop(helping them identify CHD early), we also provided an Echo machine to a hospital – therefore benefitting their department so they would not have to share the machine with the adult department. Contributing to each thing related to making diagnosis and treatment better and easier is also now part of the dream.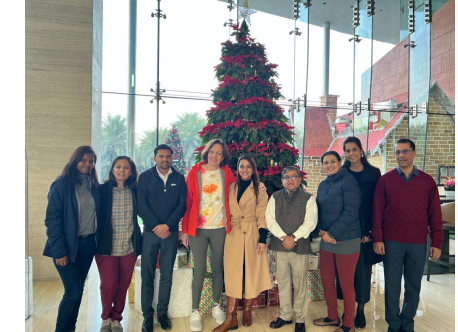 The Genesis Foundation Team
Our little Genesis Foundation Family is small, the ripple effect each one of us is able to bring forth in our own responsibilities is strong and I commend each and every team member in their contribution towards our cause, towards my mother and father's dream to give, give, give – GIVE back to the society. Like I said earlier in my blog – a positive domino effect without the explicit imagery of falling! It's about the connection, how one affects another and therefore, the larger dream.
All in the name of Sameer Sagar.
His legacy lives on in each of those 3900 lives we have saved or done our best to save in our Children's Heart Foundation.