When I Visited Little Angels in the Hospital
September 11, 2023 | Contributed by Kiran Mehta
I recently visited Paras Hospitals in Gurgaon and Amrita Hospital in Faridabad, to meet young children being treated for Congenital Heart Defects, supported by Genesis Foundation, a well-known NGO in Haryana. On both occasions the experience was simply awesome and very pleasant. The care being delivered was flawless and top quality.
It was very heartwarming to see that the children coming from lesser privileged backgrounds are being handled with lot of compassion and sensitivity.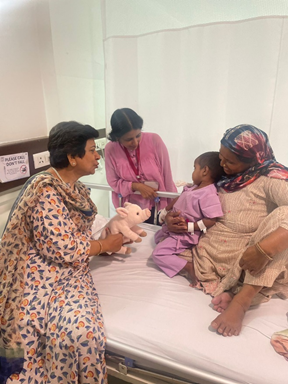 Kiran Mehta Visiting Genesis Foundation supported child at Paras Hospital
As Congenital Heart Disease is a critical disease, requiring strict medical protocols, the interventions for these are being conducted in hospitals well equipped with Pediatric Cardiology, Pediatrician and a NSICU. Such centers are mostly located in Tier 1 & 11 cities. The government hospitals are also treating these cases, but the waiting period is so long that many critically sick children don't survive and yet others live a life of discomfort waiting for their turn.
Sometimes the families of these children have travelled all over the country for affordable treatment and probably exhausted their savings, desperately wishing for a benefactor to come to their mercy. At this juncture, the hospital approaches Genesis Foundation for their support.
The Vision of Genesis Foundation is, "no child should die due to lack of funds for treatment of Congenital Heart Defects. An India where every child lives life to the fullest".
We have a small team of passionate members who are all totally aligned to the vision of the Foundation and want to give to it their best shot at facilitating their treatment them and giving them a chance to life.
We follow a stringent guidelines to process cases as soon as we receive them to ensure that the most deserving children get the treatment thry need. We are able to support the cost of the interventions through a robust network of CSR partners and institutional donors who share our vision. We also have dedicated individual donors who support the cases. We also are able to raise donation for free heart surgery online.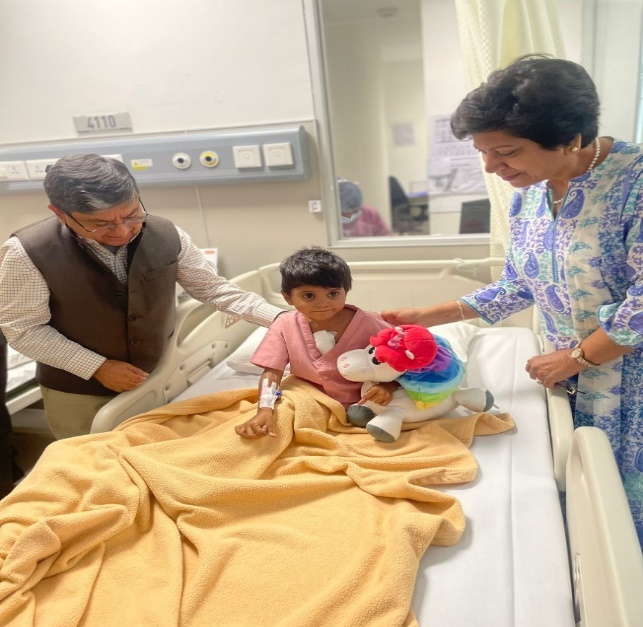 Meeting a CHD survivor at Amrita Hospital, Faridabad
During my visits to the hospitals, I observed that it was the grandparents who had accompanied the children to hospital, perhaps in the traditional joint family homes, the grandparents play a vital role in upbringing the children, while the parents are busy working for their living and household chores.
Upon enquiring, I came to know that the mother was pregnant. One child was suffering from cancer and the other one on his way, all pointing at the prevalent ignorance, and sheer poverty in the rural hinterlands of our country. There are many demons to fight!
There can be nothing more endearing to light up the atmosphere than a child's smile and that is what warmed me when I visited these children. As they were recovering post-surgery, they were beaming with happiness. I came back with conviction in my heart that Genesis Foundation is fulfilling a very pertinent gap between the children suffering from Congenital Heart Defects (CHDs) and available treatment for their critical condition.
All children deserve the best treatment, irrespective of geography or economic status they belong to. I would urge more and more people to join our mission of 'Saving Little Hearts'! though we an NGO in Haryana our operations are spread across the country where we are able to support the medical treatment of children suffering from a critical heart defect throughout the country. We are able to this through out network of 40 hospital partners located across the country.
Join us in our mission to provide free heart surgery to kids suffering from a heart defect by making a donation for free heart surgery online today."