"We are born of love; love is our mother" – Rumi
November 8, 2019 | Contributed by Simran Sagar
At Genesis Foundation, where I have spent the last four years working, we focus on treatment of critically ill children, in the recent years in the area of only congenital heart defects. We believe that for each employee and volunteer at the Foundation, visiting a treated child at the hospital is truly the core of our work. This is the only way to truly connect to our cause and pave our way as change makers.
I started my morning with the intent to see a somewhat happy child and parent being discharged with pockets full of gratitude that all is well again. I was excited to possibly share this joy with the mother and possibly even get a cheeky cuddle from one-and-a-half-year-old Pallavi who looked super cute in the photographs sent by the hospital.
I have always had a soft spot for babies, but our GF kids beam resilience which is unmatchable. Around 10:30am, my colleague and I walked into a room where a screaming Pallavi clad in a hospital robe and a diaper was belting out cries which were completely inconsolable.
Her mother, Rekha was pacing the room trying to pacify her daughter. I noticed that she was pregnant, close to the end of her final trimester and only weeks away from giving birth to her second child. In that fraction of a second where I had noticed this, I was in complete awe of this woman.
What a remarkable mother.
If you're a mother, at some point you might have heard a friend, or a family member tell you "you're such a good mom!" My very existence after having my own child has been labeled this a few times, but this woman, Rekha – she truly stood for everything a mother stands for; a nurturer. There wasn't a complaint, not even a second where she lost her patience with Pallavi. Instead very calmly she repeatedly told us, "I think she's hungry. She is used to having a glass of milk and a biscuit every morning."
So, we arranged for the nurses to help us get some biscuits because Pallavi needed to calm down. Warm milk in a flask had arrived, but the biscuits, which were what she was waiting for most had not. The cries got louder so we took the matter into our own hands. A hungry baby is not a happy baby! We got some from the hospital cafeteria and sat with the mother-daughter duo while Rekha dipped biscuits into the milk in desperation to quieten her daughter.
Rekha got talking and as she talked, her eyes told a different tale from the words that were being spoken. I could see pain in them. I could see the effort being put in to conceal her true feelings, so I convinced her gently, that she was in a safe space. She could let out whatever she was thinking and feeling.
There was silence that engulfed the still air of the hospital room until she broke down crying. She confessed, "I was so scared when they wheeled her in for the surgery. I just didn't know if she would make it. I'm so happy that she is okay. I always wanted a daughter. I have done everything I can for her. I want to educate her; I want her to be something in life and I was worried that none of this would be possible."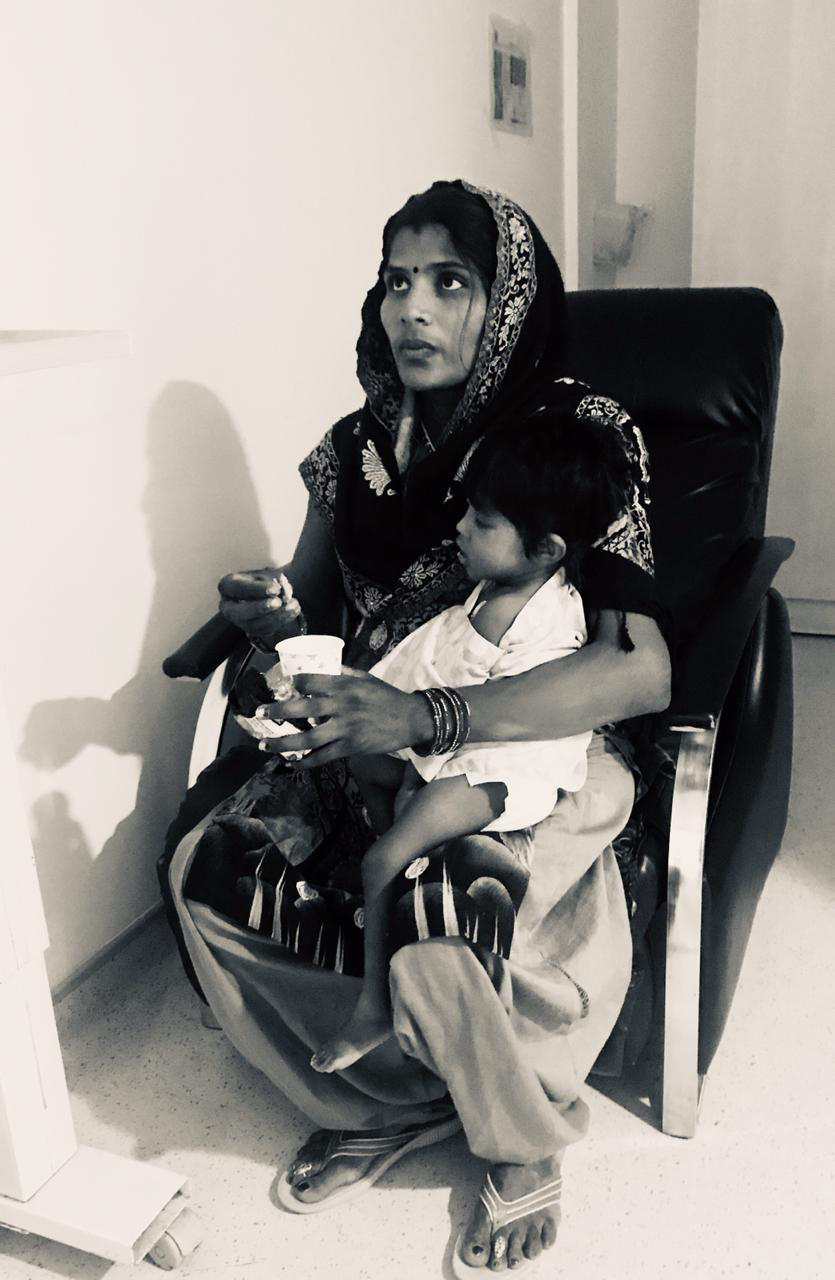 I passed her a tissue. She went quiet again.
Rekha had spent majority of her pregnancy bringing Pallavi alone to hospitals, trying to get a proper diagnosis. Her husband Ramesh is a sweeper and didn't get much time off. What made things worse is the stigma associated with this country that we live in, where a girl child is unfavored and often neglected. Ramesh didn't accompany his wife for a lot of the visits and had not even donated blood until the final day. What truly saved Priyanshi's life apart from the support we were able to offer as an NGO was her mother's fight for her daughter. She spent three nights upright (while heavily pregnant!) in the waiting room of the hospital while her baby was admitted. The social workers at the hospital took a stand and got a resting place organised for her to sleep on her final night. Thank goodness for humanity and the people around us who have not lost the quality of compassion.
Pallavi is originally from Husainka, in Haryana. She had severe failure to thrive, at her age she only weighed 5.5kg. She was diagnosed a few months ago with Tetralogy of Fallot, a type of congenital heart defect and required repair. Both her parents are in their early 20s and all the hopes and dreams they had seen, when they eloped against family wishes had broken. I truly believe that Rekha's strength will carry forward towards her children.
We called to check on her today and Pallavi seemed to have settled a little since coming back home. They are due back at Artemis tomorrow for a follow-up which we ensured they are going for.
To women like Rekha who hold families together, who fight societal norms just to stay true to their heart.
To women like Rekha who set an unforgettable example of what the strength of a woman and mother truly means.
She isn't the first, there are many such women who we meet through the work that we do at the Foundation and to them all – we commend you for fighting for your children's lives despite monetary burdens.
*Please note, names have been changed. For any further information on either donations or treatment of critically ill children under our care or volunteering, please email [email protected]