The Road Less travelled– Prenatal diagnosis of congenital heart defects in India – My Personal Experience.
November 25, 2022 | Contributed by Dr Balu Vaidyanathan
I was lucky to be born into a family which had very strong roots in my chosen profession; hence I never needed to seek or find inspiration from far away. I started my medical career in 1988 from the Government Medical College, Kottayam in Central Kerala where both my parents were working as senior faculty. My exposure to congenital heart disease treatment was limited and most of this was around discussion of cases for the pediatrics exam. Certainly, there was not even a whisper about prenatal diagnoses of heart defects. After my internship, after a herculean effort in clearing the post-graduate entrance hurdle, I found myself in the exalted temple of medical learning in India, the All India Institute of Medical Sciences, New Delhi for my MD in Pediatrics.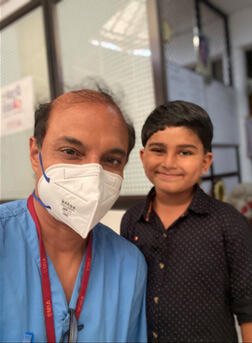 Here, I came into more direct contact with the specialties of treatment for congenital heart defects and cardiac surgery. However, neonatal heart surgery was still a major Achilles heel and there was no exposure to prenatal diagnosis of heart defects. Post MD, I worked as a fellow in Pediatric Cardiology at Amrita Institute of Medical Sciences, Kochi where I trained under my mentor and long-term colleague (still continuing), Prof. Krishnakumar. This is the time when I consolidated my future career in congenital heart disease treatment. This resulted in the procurement of a DM seat in cardiology in the prestigious Sree Chithra Thirumal Institute ( SCTIMST) in Trivandrum for a 3-year training in Cardiology (including pediatric). However, even during my DM, there was no exposure to my current passion of fetal echocardiography. I joined AIMS again after my DM as a junior faculty in 2004 and started pursuing an active academic career in treatment for congenital heart defects.
The real turnaround in my career happened in 2007 when I got selected for the prestigious commonwealth fellowship in the UK. It was during this fellowship, by sheer serendipity that I started my first formal training in fetal echocardiography under stalwarts like Prof Sharland and Prof Simpson. During this training, I realized the value of prenatal diagnosis to improve outcomes for neonates with critical heart defects and this inspired me to return to AIMS and initiate a dedicated fetal cardiology service in 2008. The road was less traveled and I faced a lot of resistance from colleagues from other specialties initially. Protocols for fetal heart screening were infrequently followed during anomaly scans and it took a decade long effort in building awareness and capacity building in Kerala to change the scenario. We partnered with various clinical societies (Obstetrics, radiology, cardiology) and we were supported by NGOs like Children's Heart Link USA. We conducted more than 75 hands-on training workshops and gave > 300 awareness lectures in Kerala India and other Asian countries like Maldives.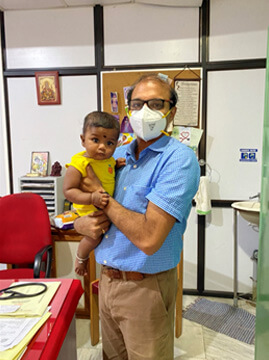 In 2017, the government of Kerala initiated the Hridyam Project for the treatment of congenital heart defects. As a part of this project, we initiated a series of hands-on training programs on fetal heart screening in Kerala supported by the National health Mission of Kerala. More than 600 obstetricians and radiologists were trained in fetal heart screening through these workshops. We created an in-utero network for referral of suspected fetal CHD cases to pediatric cardiac centers and pioneered the concept of prenatal diagnosis and planned delivery of critical CHDs in LMICs. We could prove the "dual benefit" of the strategy of prenatal diagnosis and planned delivery in improving outcomes after neonatal cardiac surgery along with reducing the healthcare costs by earlier conduct of surgery and reducing the ICU stay. Our results were published through a series of peer reviewed papers and case reports in various national and international journals, thus providing the evidence for the benefit of this strategy. Recognizing these contributions, I was recently awarded the prestigious Kairali TV channel's "Best Doctor award Kerala for the private sector,2022".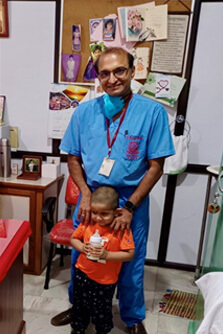 My association with the Genesis Foundation has been long. The Foundation has supported the treatment of congenital heart defects of several critical neonates with correctable CHD, including the prenatally diagnosed ones. There are several challenges for the field of prenatal diagnosis in CHD in India. This needs to be more widely practiced in a larger setting following proper protocols. There is a need for more extensive training and awareness building, especially in areas with limited tertiary pediatric care. Systems for in-utero referral to tertiary facilities need to be established and more importantly funding support for neonatal care need to be offered for expectant families, encouraging them to pursue pediatric cardiac care after the birth of the baby. NGOs like the Genesis Foundation can play an important role in building awareness about fetal heart screening, capacity building of doctors and providing the financial support to families for the care of the baby after birth.
Dr Balu Vaidyanathan
Professor, Pediatric Cardiology
Head, Fetal Cardiology division
Amrita Institute of Medical Sciences
Kochi, Kerala, India