The Healer's Journal: The curse and privilege of being a pediatric cardiac surgeon
October 18, 2021 | Contributed by Dr Abhijeet Naik
Is it possible to feel absolute elation and complete despair in a matter of moments? How does one cope with a roller coaster of varying emotions in a matter of minutes?
Welcome to the world of a pediatric cardiac surgeon, where your peaks of glory can soon sink into an abyss of frustrations, and where your triumphs are contrasted with your travails of failure.
But believe me, speaking as a pediatric cardiac surgeon, there is no greater joy or satisfaction in life that can match what I get to accomplish each day working with a children heart foundation, India.
Our test
The greatest challenge that we face in pediatric cardiology is trying to match our lofty ideals with the starkness of reality because we love to provide a perfect life for all the children that visit us and seek our assistance!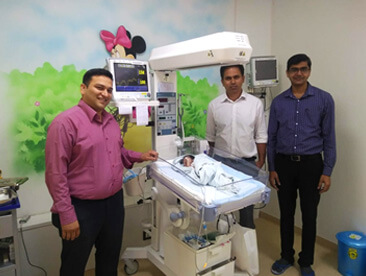 Dr Abhijeet Naik with his colleagues Dr Srinivas Thambe and Dr Rahul Saraf
But an even greater responsibility as a pediatric cardiac surgeon, is to try and offer the best care and quality of life not only to the baby, but also provide moral support to the parents and the immediate family. So, in a way, we not only provide technical medical assistance, but double up as a pillar of support to all the families who seek our help.
Mostly, we are forbearers of good news, bringing joy and happiness to the whole family, but sometimes we're not. And there can be nothing more disheartening and numbing than bearing the news of a child's death to the parents. Honestly I hate those moments!
So in a way, we are acting not only as doctors but also as friends, philosophers and guides in our chosen vocation.
A day in my life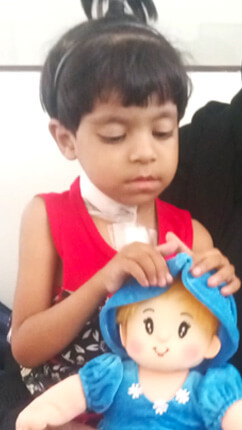 A child post-surgery being checked
before discharge
Just the other day, a little baby was brought to our outpatient department (OPD) in a state of shock and unresponsive state. My team and I had to literally move at a supersonic speed to make sure that we could save this child. This little one had an obstructed supra cardiac TAPVC with multilevel obstruction and had barely any blood pressure when we shifted the baby to the operation theatre.
(I think it's called an operation theatre for a reason, as all the gamut of emotions and events that the room witnesses in a matter of a few hours cannot be matched by any fictional account).
We were fighting against time and trying to keep the Grimm Reaper at bay.
When I spoke to the parents, I did not have much hope and they could sense this. All they said was, "Please doctor, do your best, we will accept whatever happens."
Their belief in me, gave me hope. On that Saturday night, I had planned a dinner with my friends and family much in advance. But, I had to miss it as we needed to start the surgery.
Miraculously, after four hours of struggle, the baby came out with great haemodynamic and was taken off the ventilator support and discharged within seven days. The parents thanked me profusely and said that they knew their child was going to pull through. Maybe, it was parental instinct or they knew something that I didn't!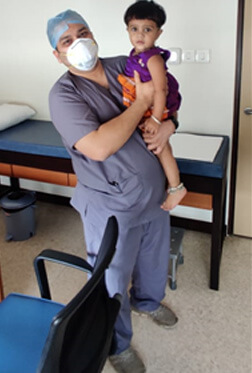 Dr Abhijeet Naik with his little patient
Another time, when I operated on a Ventricular Septal Defect case with no complications and absolutely no issues, that set of parents had complained endlessly about the scar that was a result of the surgery. I could only smile, as I have often noticed that once things are sorted, people have a tendency to forget the original troubles that they started with.
I may be superstitious, but in my limited experience as a pediatric cardiac surgeon, I have noticed that the kids whose parents have a child-like faith and trust, often do well in-spite of all the problems that they may face.
So even though I may sometimes curse myself for becoming a pediatric cardiac surgeon, it will always remain a great blessing and a privilege to be one, especially associated with a children's heart foundation, India.
I will gladly choose the roller coaster ride of emotions over the tyranny of the mundane, any day of my life.
​​With over 17 years of experience, Dr. Abhijeet Naik has been practicing as a pediatric and congenital cardiac surgeon exclusively. Working with our hospital partner, Jupiter Hospital, Pune he has transformed the lives of innumerable children.