The Healer's Journal: A Humble Beginning
May 28, 2022 | Contributed by Dr Vijayakumar Raju
Born in Kallakurichi, Tamil Nadu, my journey of becoming a pediatric cardiologist was driven by the need to serve the children of my country with world-class cardiac facilities.
I come from a lower-middle class family and my parents were farmers and uneducated. This meant they encouraged me right from the beginning to excel at studies which I did under the Tamil language medium. Then I went on to complete my MBBS at Tirunelveli Medical College. During my course, I obtained distinctions in various subjects and a gold medal in the final year General Surgery exam. This also paved the way for my post-graduate studies as I took up the same subject. I believe that as surgeons, we have the power to transform a life by addressing curable problems with sound knowledge and skills, in comparison to general medicine.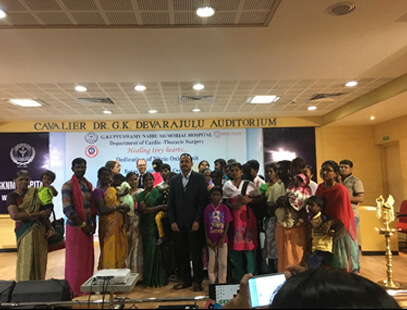 Later learning all the basics of general surgery principles from great surgeons from the prestigious institute of Christian Medical College, I became attracted to cardiothoracic surgery. In fact, I was the best outgoing student from CMC Vellore in general surgery. During my training in cardiothoracic surgery, I completed my thesis on in children. My thesis and I were awarded the university gold medal in 2008 for cardiothoracic surgery.
Post this, I moved to GKNM hospital, Coimbatore, Tamil Nadu. It is here, that all my surgical skills since GKNM is a frontline care giver in the fields of adult cardiology and adult cardiothoracic surgery. But there was no one to deliver the same kind of care to babies and children because pediatric cardiac surgery demands more knowledge, very finite surgical skills, and long working hours and carries a higher surgical risk. There was no one willing to take up this specialty.
Studying in USA
Dr. P. Chandrasekar, who is the current chair of the Department of Cardiovascular Surgery at GKNM, became a major motivator for me to pursue this field. I had my mind set on getting trained from the best, so I prepared for my United States Medical Licensing Exam (USMLE) in 2010. The USMLE is a very difficult and costly examination, and it consists of three steps. For each step, one must pay around 1500 USD which is over Rs 116,000 in India. The third step of the examination can be done only in the USA. Despite lots of difficulties, I cleared my USMLE with a 99 percentile in all three steps of the examination in 2011.
Dr. Chandrasekar helped me in obtaining a fellowship training at the MAYO Clinic, Rochester, Minnesota, USA in the years 2011–2013. I had great exposure during my fellowship, and I published nine original articles during my fellowship training at Mayo. I have presented papers in all the big surgical forums in the USA (STS, ATS, CHSS, STSA, WTSA) and received the best paper award in CHSS. From there, I went to Boston Children's for one more year of training in the year 2013-2014.
My stay is the USA was one of the best learning opportunities I had, to understand complex in depth practically, including heart and heart lung transplantation. Moreover, I had the chance to work with two consecutive AATS presidents, Dr Hartzell Schaff and Dr Pedro Delnido.
During these three years of fellowship training in the USA, I had acquired enough knowledge and skill to manage all types of congenital heart disease, but my heart was in India, to serve our children. Hence, I came back to India in June 2014 and rejoined GKNM as a consultant paediatric cardio thoracic surgeon under the leadership of Dr. Muralidharan.
Challenges with starting my practice
After starting my career as a dedicated paediatric cardio thoracic surgeon, I had many difficulties initially, since there were a few people who had knowledge about paediatric and congenital heart disease.
My first job was to build a team. With support from Dr. Chandrasekar, I was able to do that, but the next challenge was getting patients to GKNM. I visited all the pediatricians, cardiologists, and government hospitals in and around Coimbatore on a regular basis to refer patients to me. I also visited various cities like Madurai, Trichy, and Tirunelveli, to spread the word on-ground. To help with awareness, I gave multiple talks at as many local body meetings as possible, to establish the importance of early referral of children born with heart defects.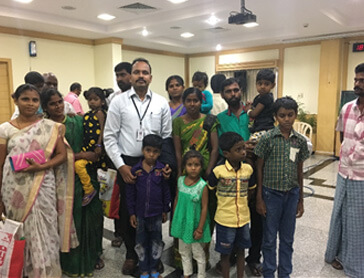 Over a period of three years, the referrals improved but most of my patients are from underprivileged backgrounds. Then I had the chance to get associated with Genesis Foundation and. hear about the Genesis foundation and their support for children from poor socio-economic backgrounds with congenital heart disease. Since 2019, I've been a partner with the Genesis Foundation. I am very grateful for the partnership with Genesis Foundation. With the help of the Genesis foundation, now i can help lots of needy children with congenital heart disease in and around Coimbatore.
Dr Vijayakumar Raju is the Pediatric and Congenital Heart Surgery Director at our hospital partner GKNM Hospital, Coimbatore. With over 21 years His expertise lies in Neonatal cardiac surgery, Complex Congenital Heart surgery, Valve repairs, Redo cardiac surgeries, ECMO and Heart transplantation.