Saving Little Hearts
February 10, 2023 | Contributed by Preeti Kumar
"Saving little Hearts" – may sound as just a phrase to some, but to many others, who have had a glimpse of the work we do – saving little hearts, in a moment, opens up a whole world for us – saving little hearts is about giving life a chance, of giving children born with a defect a chance to heal, a chance to live their dreams and of giving parents and families the unparalleled joy of "saving" their child. It is about restoring faith in humanity where an innocent child at risk of death or long-term development implications due to a defect he is born with is given a chance at life.
Since 2007, as a heart care foundation in India we have been working to provide medical support to children whose families cannot afford the treatment. Words fail to express the exasperation that we see on parents when they are struggling to raise money to fund their child's treatment because they have been told that if their child is given timely treatment, he/she will have the opportunity to live like other children his/her age. Which parent would not move heaven and earth to be able to do that?  And yet, there are thousands of parents who, inspite of being willing to do anything and everything, are unable to.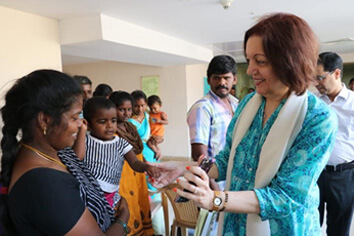 Our Founder Trustee, Prema Sagar, meeting a child supported by us and his mother at a partner hospital
Congenital heart defects are defects in the heart of a baby present from birth. They are the leading birth defects and one of the leading contributors to infant mortality. Children are born with the defect meaning that their heart is not able to function the way it should. Every year over 200,000 children are born with this defect in the country of which 70,000 are critical defects. They need to be treated within the first year for the child to survive. In other cases the defects often tend to impact the growth and development of the child.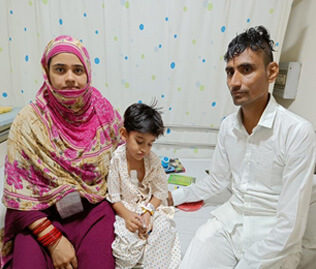 Parents of a child supported by us after his intervention
With improvements in medical facilities, most children born with these defects can lead near normal lives, given they are diagnosed on time and given timely treatment. Sounds simple and yet it is a huge challenge, despite being one of the leading birth defects, the awareness about this disease is not that much leading to a delayed diagnosis and hence intervention.
As a heart care foundation in India, we have been working to build awareness about the defects, it's symptoms and the steps to be taken if there is a diagnosis. We do this through screening camps that we organize along with our partner hospitals in different parts of the country.
Along with this we also support the financial costs of the treatment. Depending on the type of defect, the average cost of a CHD treatment is between Rs 1.5-5 lakhs, making it out of reach for most people. For families whose monthly income is not more than Rs 20,000 procuring these kinds of funds is next to impossible.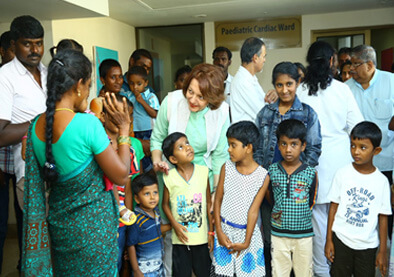 Our Founder Trustee, Prema Sagar, with children supported by the Foundation. We strive to give every child born with a heart defect a chance to live as #HardilDhadaknachahe
And yet they do not want to give up on their child and this is where we are able to make the difference. With support from corporate donations to non-profits like ours and individual donations we can raise funds that enable us to help children born with a CHD and the family.
We have supported more than 3900 children since our inception, and we continue to keep reaching more and more children. For us life precedes everything, and no child should be denied access to a treatment that can save his life just because the family did not have the funds- at the end of the day, everyone wants a chance at life. To dream to live as #HarDilDhadaknaChahe.