My First Experience of Visiting a Child at a Hospital
October 23, 2023 | Contributed by Rubiya Bano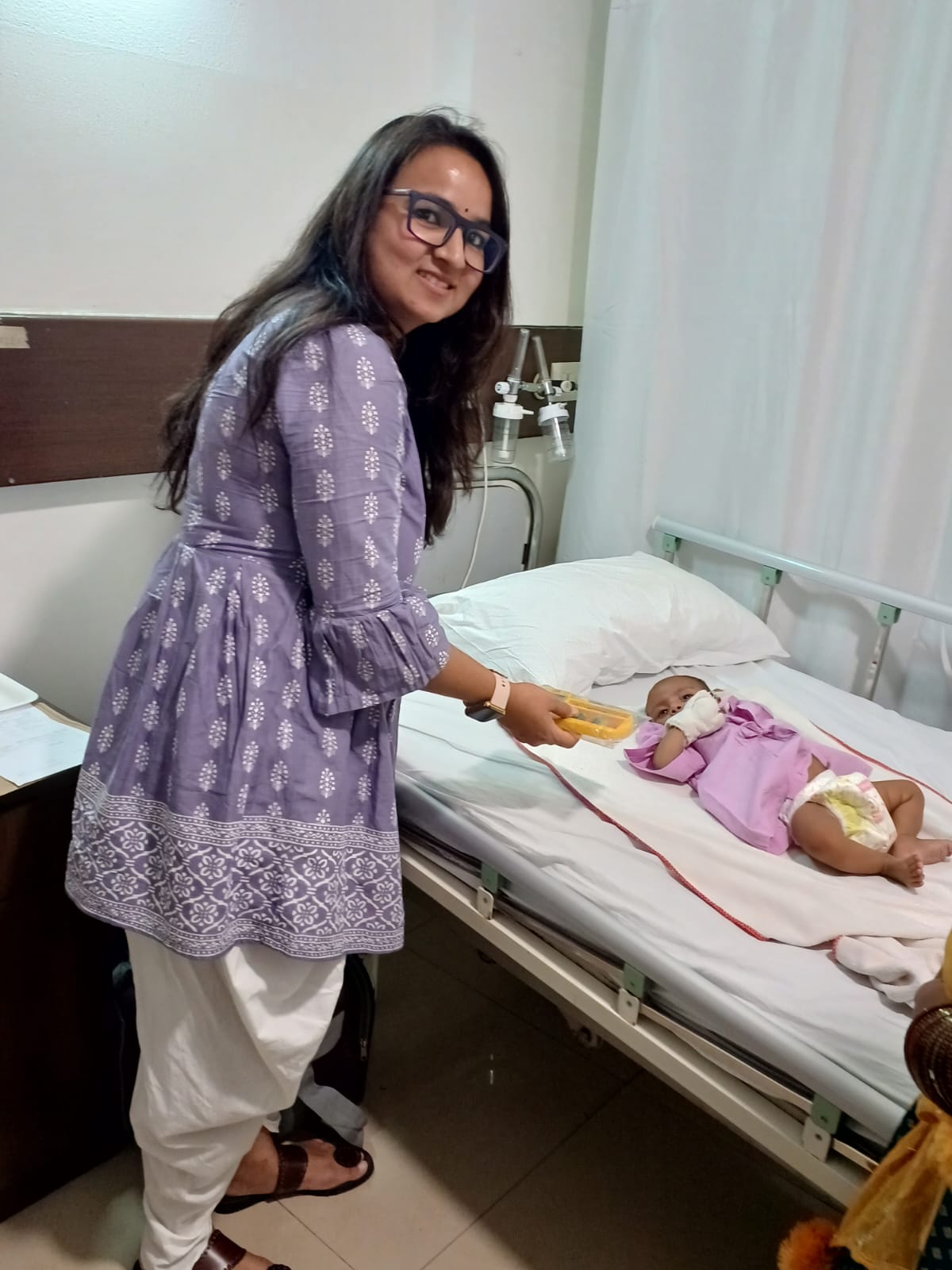 Meeting the child at my first hospital visit
I will share my experience about how my first hospital visit went. It was a journey filled with reflections and internal dialogue. Below, I am writing down how I felt as Rubiya, the person and Rubiya, project manager at Genesis Foundation, the best NGOs in Haryana.
Project Manager: Today, I have to visit a child who underwent Congenital Heart Defect (CHD) surgery at our partner hospital in Gurugram.
Rubiya: A flood of emotions and personal memories rushed back to me as I recalled the time I spent at the hospital for nine long months, taking care of my sister 15 years ago and many more since.
Project Manager: I must prepare myself for the visit and make sure I know what to do. I should consult my colleagues who can provide the best guidance.
Rubiya: Anxiety continues to grip me.
Project Manager: Upon arriving at the office, I was informed that my colleagues, Arti and Rahul, would be accompanying me.
Rubiya: I took a deep breath, as having someone by your side can be very comforting, especially in such situations.
Project Manager: I went through the details of the child, scribbled down notes, and prepared for my introduction to the doctors and social workers.
Rubiya: I was still nervous and anxious, feeling a whirlwind of mixed emotions.
Project Manager: All I could think about was meeting the doctor and the child, remembering my checklist for the visit.
Rubiya: A part of me could appreciate the hospital corridor, which was illuminated with a soft, sterile glow from overhead fluorescent lights, creating a clinical and calming ambiance.
It was a complex blend of emotions, expertise, and human connection, where lives are saved, comfort is given, and the resilience of the human spirit shines through even in the face of illness and adversity.
Project Manager: I accompanied the cordial social worker and my reassuring colleagues to visit these little hearts.
Rubiya: As I met one of these little hearts, I melted into a single entity. The boundaries that separated me as two different entities faded away. I was just a human being lost in the smile of the brave heart in front of me.
My first hospital visit was a transformative experience for me. I realized the profound role Genesis Foundation is playing in supporting children suffering from a Congenital Heart Defect (CHD). They are able to do this through funds they raise from corporate donations to charity, individual donations and fundraising events. Little did I know that over 2,000,000 children are born with CHD every year, but despite this large number, there is not proportionate amount of research, awareness, and support available for these children. It was heartening to see two of these little hearts in front of me, smiling.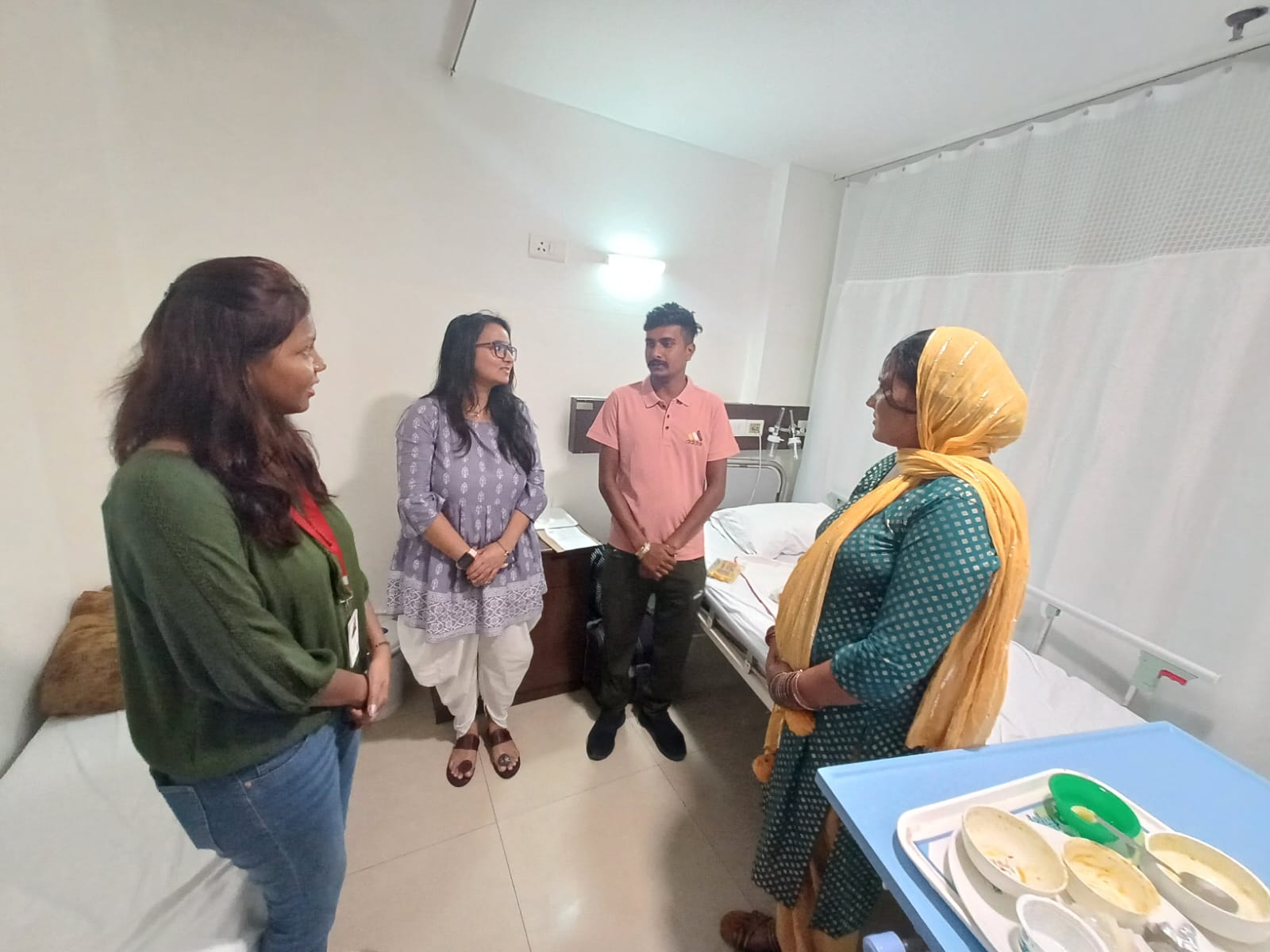 The mothers had sighs of relief, embracing their children with warmth and love
Growing up, my first encounter with CHD was through Bollywood movies and TV serials, where one or another character had a "hole in the heart" (Dil mai Chhed). This tragedy for anyone would either lead to early deaths or leave poor families burdened with debts from moneylenders to afford the costly treatment. Now, I could actually experience how important it is to have financial assistance to undergo these expensive surgeries.
We at Genesis are immensely grateful for the consistent support from corporate donations to charity, which has made the dream of saving these little hearts a reality.
I could perfectly resonate with our project's title – HOPE. After interacting with the families of these little hearts, they shared how hope was their constant companion. At every step and in every conversation with the team members at Genesis Foundation, the doctors, or the social workers at the hospital, hope was a constant driving force for these families. It acted as a beacon of light in their darkest times.
The families could only express gratitude for the work that  Genesis Foundation was doing for underprivileged families while following the principle of inclusivity. As I gave toys to the children, their sparkling eyes and million-dollar smiles were impossible to miss. Seeing them move and extend their little hands towards me was overwhelming.
At that very moment, I felt like I was doing what I truly loved. I couldn't stop thinking that if seeing these two brave little hearts had overwhelmed and touched me so deeply, then the journey of being a companion to 4000+ little hearts must be incredibly fulfilling.
I felt fortunate to be associated with one of the best NGO in Haryana working in this not-so-explored domain of Congenital Heart Defects. At Genesis Foundation, the values of empathy and compassion are upheld both in letter and spirit.
If you would like to visit a child at a hospital and experience the magic of interacting with these brave hearts call us at + 91 96506 03438