My Experience of visiting a child at a hospital
July 28, 2023 | Contributed by Preeti Kumar
The one thing that I absolutely love about my work at the Foundation is the chance to meet so many children and their families. As an NGO for heart treatment in India, we support the treatment of hundreds of children suffering from a congenital heart defect across the country. Where possible, we never miss a chance to meet these little kids and their families when they are at the hospital for a treatment.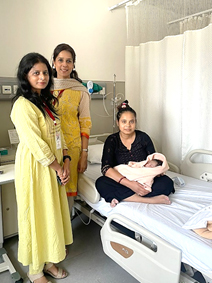 During my visit to meet a little child after a procedure
For me, this is an added benefit of working for one of the children heart foundations in India. As had I not been here, I would never be able to interact with families and kids who come from backgrounds very different from my own and from regions where ordinarily I would never get a chance to visit and engage with such a diverse cross section of people.
Each visit fills me with a strange sense of calm – knowing that one more child has been treated, has got the chance to breathe, to play and run and do everything that kids his/her age do. As a mother to 2 children myself, I cannot even imagine the emotional trauma the parents of our kids go through. At first just hearing and coming to terms with the fact that their child has a defect in the heart can throw any parent into a turmoil. On top of that not having the information, the where withdrawal of knowing what do next, is something I wish no parent has to go through. If that is not enough most of the parents of the children supported by the Foundation, then have to deal with the challenges of not having the money to treat their child – not being able pay for a life giving treatment for your child is a situation where absolutely no parent should ever to be in.
At the Foundation we never miss a chance to meet the kids we support
Most recently I met this little boy from a village in Haryana. He was diagnosed with a congenital heart defect at a screening camp we conducted in Bathinda with our hospital partner Paras Hospitals. When I walked in to see the child, he was lying down next to his grandmother and immediately jumped to her lap thinking that we like the doctors had come to poke him around with needles! At first, he refused to open up, his guards high and then slowly as we tried to play with a little pig that we took for him we started seeing the smile on his face, that sparkle in his eyes and the little giggles that came from him. Moments like these make us all working for one of the   biggest Children Heart Foundations in India feel so complete. The smile and sparkle in that child's eyes and in the eyes of the grandmother make us realise that there is nothing more important than an individual being able to live – and when that individual is a child it takes a different meaning all together.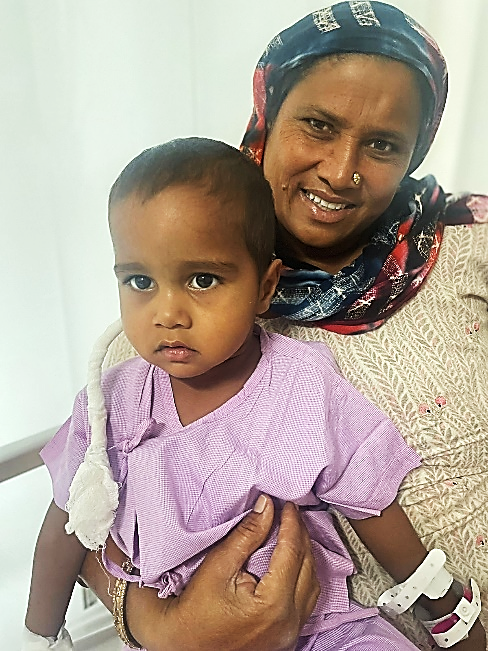 I met this little boy who did not want to leave this grandmother's lap
While interacting with the grandmother and uncle of the child, we learnt that they both had got this little hero for the treatment to Gurugram. The parents both are uneducated and could not have gone through the ordeal of getting through the processes involved in the hospital by themselves. The parents are daily labourers and financing the travel and stay of so many family members was a challenge. Hence the uncle and grandmother got the little child for treatment.
These are stories of resilience, stories of love and stories of determination. Where the families will do everything in their power to give their little child a chance to win the battle of life. The emotions that one goes through during such visits are hard to put into words. It fills one with a sense of humility, gratitude for what we have, gratitude for that one child who has been healed, a sense of purpose that in some way we are a part of a mission to Save Little Hearts. A mission which brings smiles to children and their families and fills their lives with hope and purpose.
You can be a part of this mission and feel the magic the smiles of these healed hearts create. To support a child. visit a child at a hospital or volunteer your time to work for a NGO for heart treatment in India call us at +91 9650603438.
Help us Save Little hearts.