My experience of Pediatric Cardiology in India
May 9, 2023 | Contributed by Puneet Khakhar
Having spent 2 weeks with Genesis Foundation at the G. Kuppuswamy Naidu Memorial (GKNM)Hospital in Coimbatore, I have already seen vast differences in child heart treatment in comparison to my experience of pediatric cardiology in the UK. There are numerous barriers to treatment which creates a difficult situation for doctors, families and most importantly the patients themselves.
The standout difference I have seen is the sheer number of patients who have congenital heart conditions. Each week I have been able to observe around 10 surgeries, simultaneously patients are being treated in the cardiac catheter labs and there are hundreds of children being assessed in the outpatient department. During 2019/2020 in the UK, there were 8287 procedures undertaken in children, whilst in India there are an estimated 200,000 plus children born with a congenital heart condition every year.
The core team of doctors at GKNM consists of 1 Surgeon and 2 Pediatric Cardiologists which means that between them they have an immense workload.  In the UK there is a much larger consultant body who can share the care of the patient and are also less stretched in terms of resource management. In the UK there is 1 pediatric cardiologist per 307,000 people whereas in India there is 1 per 4,500,000. This also means that patients in India do not have easy access to child heart treatment, some patients at GKNM are having to travel from 200km away to be seen by a specialist.
The fundamental issue that patients face in India is the cost of treatment – I have witnessed this first-hand in clinics where not only are parents worried about their child, but their biggest concern is how they will gather the funds for life-saving treatment. The GDP per capita in India is $2,300 USD and the majority of the treatments cost $2000 – $6000 USD. Heart Foundation India like Genesis Foundation is helping support many such children.  Many of the parents I have met have low-paying jobs such as being farmers or school bus drivers – this puts them in a predicament where they are balancing the life of their child against significant financial debt. In the UK we have a much higher GDP per capita of $46,500 USD and we are extremely fortunate that the NHS provides treatment free at the point of care, this means that parents and their families can rightly focus on the wellbeing of their child.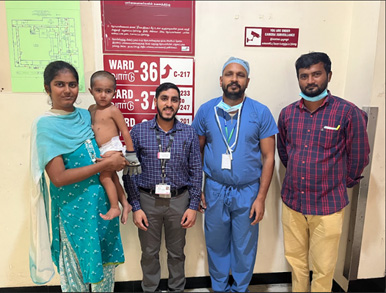 With Dr VijayKumar and the family whose baby received an intervention for a heart defect.
The majority of pregnant women also do not undergo any antenatal scans or tests which means that the patients are not diagnosed with their conditions until birth (where they could die without immediate treatment) or whenever they present in later life with symptoms. In The UK, at 20 weeks of pregnancy, the mother is offered an anomaly scan which is utilised to identify any congenital defects. This allows for better management of the situation and for the parents to understand the diagnosis before the birth. This also provides an ability for extra support to be provided at delivery to create a better prognosis for the child. Unfortunately, these scans are not attainable for large amounts of the Indian population. This also accounts for many rare and severe conditions I have seen during my 2 weeks including Ebstein's anomaly.
Due to the above factors, I have seen patients presenting late, some between the ages of 5-10 and even some as adults. The undiagnosed children complain of symptoms such as shortness of breath when exercising (they struggle to keep up with their peers) and have been noticed to not put on weight as expected. When undergoing investigations, they are seen to have progression of their disease which puts them at a high risk of complications and mortality if they undergo any interventions such as surgery, this means that their life expectancy is greatly reduced as they are not suitable for treatment. It was heart-breaking to see a child in this situation and knowing that they may not make it past the age of 20.
Unfortunately, many hospitals also do not have expensive machines such as ECMO (Extracorporeal membrane oxygenation), this a treatment which is used to pump oxygenated blood around a critically ill patient to give them the best chance of survival. This unfortunately means that patients with serious conditions and those who suffer post-operative complications are at higher risk of mortality.
Despite all the above issues, in these 2 weeks, I have seen unparalleled levels of effort being put into the treatment of these patients by the doctors, nurses and entire teams. I have first-hand witnessed the dedication and remarkable care that Dr Vijayakumar, Director, Center for Pediatric Congenital Heart disease at GKNM provides for every child, this has been truly inspiring for me as I begin my career.  The work he does ultimately results in patients surviving and having a heavily improved quality of life – something that should be the birth right of every person.
Many of the patients I have seen being operated on were only able to access that treatment due to the Genesis Foundation, a heart foundation India,  and all those that donate to them. A standout case was a 3-day-old baby with Transposition of the Great Arteries from an underprivileged family whose emergency operation was fully funded by the Genesis Foundation – it was devastating to hear that many families in a similar situation would allow their child to die due to not being able to generate the costs for treatment. This is just 1 example of the 4000+ lives saved by the heart foundation India, Genesis Foundation and the opportunity created for these children to go and achieve their goals and dreams despite being born with a congenital heart defect.