Meeting Kanika: An unexpected experience
January 19, 2022 | Contributed by Monika Soutiyal
As an organisation, Tech Connect has been associated with Genesis Foundation for a while now, but I never had the opportunity to understand the work of the children's heart Foundation first hand, until now. An eye-opening meeting, I felt overwhelmed when I recently met little Kanika.
An 8-year-old girl from Chamba district in Himachal Pradesh. Her father is a farmer. She was admitted in the hospital for an open-heart surgery because of the hole present in between the upper chamber & lower chambers of the heart.
Visiting the Hospital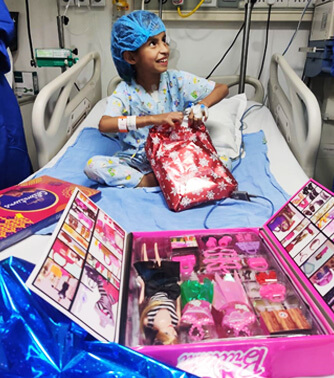 When were informed that we could meet Kanika at Artemis Hospital in Gurugram, I had pictured a very shy girl who would be quiet, with dull eyes filled with pain and sadness because she was unwell. But to my absolute surprise when I met her, she was a total opposite.
A lively girl with twinkling eyes and a beautiful smile on her innocent face, her energy felt so positive and vibrant. There was no way one could tell that this little one had just undergone a surgery. She told us all about her friends back home and how she was excited about recovering and playing them. She tells me 'I couldn't play with them earlier because of my heart, but now after I heal the doctors have said I can run also.'
It was then that I realised the impact this surgery was going to have on her life. The simple childhood pleasure of being able to play with your friends; she can have it now because of the children heart treatment she had received.
We had brought her a Barbie doll set with some chocolates and while she excitedly opened it, she also talked about not wanting to share it with her two elder sisters. All the while, she exuded such happiness that it could make anyone smile. In fact, even the hospital staff told us about how brave she had been despite her age, and she happily cooperated during the surgery.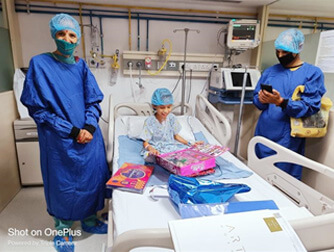 We also met her family as her parents went on to tell us how happy they were to see us. I was touched by them opening about the struggle they've had to face with Kanika's recurrent respiratory tract infections, breathlessness and trying to go from one doctor to another. They also expressed their gratitude to Genesis Foundation for helping their daughter get a healthy chance at life.
Apart from that, I need to applaud the paediatric care unit where she was admitted. With such a positive environment, the hospital staff was very cooperative & efficient in handling the little kids, along with ensuring that all the Covid-19 precautions were being taken care of.

My Takeaway
Meeting Kanika truly gave me immense satisfaction and activated that feeling of contentment. I am absolutely sure that I am going to do more such visits in future, meeting these children, understanding their stories and dreams. And not only that, I want to encourage more of my colleagues to experience the happiness I felt meeting Kanika.
This interaction will always remain close to my heart.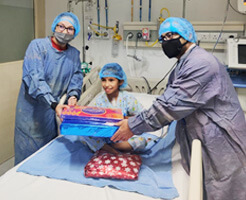 I felt a sense of pride being connected to the children's heart Foundation, seeing the team support children like her, providing them with quality medical care. As I learn more about the process of children heart treatment, I feel grateful to be able to sensitise myself and a few colleagues along with me about this disease.
I would like to congratulate the whole Genesis Foundation Team for the work they are doing and wish them even more power!