Healer's Journal – The journey within
May 1, 2023 | Contributed by Dr Amitabha Chattopadhyay
Like many wise people say, the world was not that easy during our times …it's true that as a Pediatric Cardiologist, I was lucky to see the evolution of the science in our country over the past two decades.
With nearly 2,00,000 children being born with congenital heart diseases (CHDs) in India every year, heart disorders in children and it's blazing trails can be found in every nook and corner of the country, provided one recognises it – a daunting task.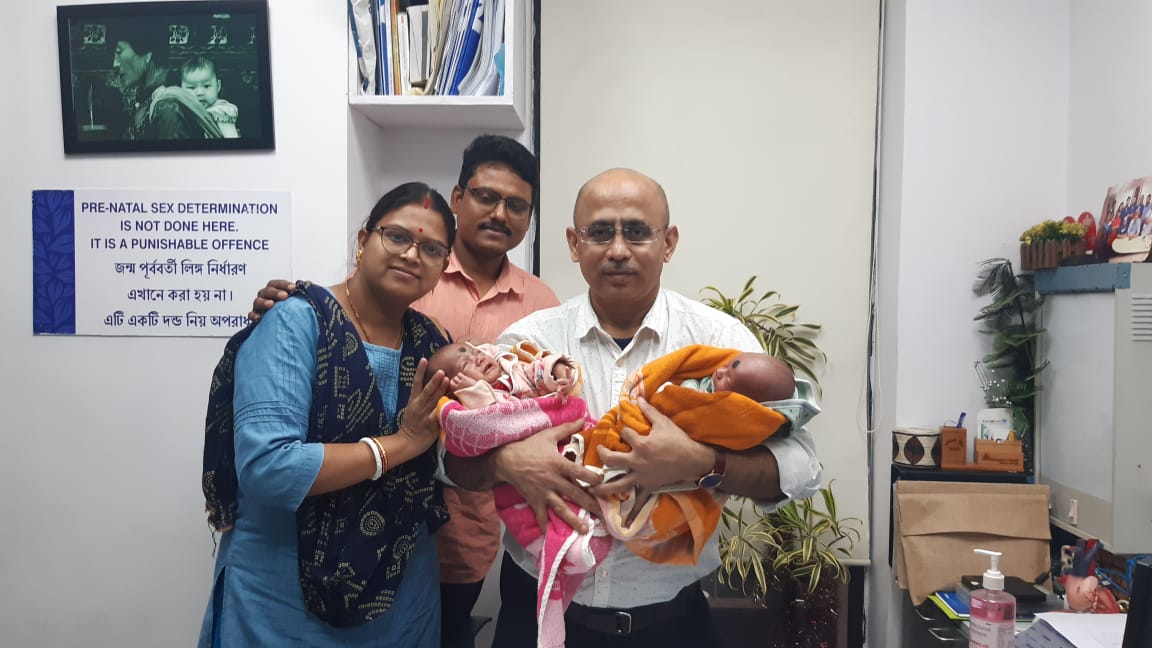 Dr Chattopadhyay with one of the babies he treated
With facilities for recognition and identification, both on clinical grounds and with investigations such as echocardiogram, ECG, chest X ray …not being present everywhere, many of these children die a premature death, without receiving any child heart treatment. However, the situation has improved considerably with an increase in the regular  screening for CHDs at all levels, awareness amongst the pediatricians to suspect and  recognise children with possible CHDs and the parents to seek help whenever they can see any red flags.
The next two hurdles to cross to address heart disorders in children are of substantial importance, especially in our cultural background and socio-economic situation. The acceptance, that the child has a congenital heart disease is a challenge for most families. Initially there is a denial, a sensation of guilt for the parents for the failure to give birth to a "perfect" child , and the helplessness regarding the possible treatment and financial obligations , which are often long drawn and may involve dedication throughout the life. Till now, the government sector caters to a certain amount of interventions / surgeries, while the rest is being done by the corporate sector. While the government sector is overwhelmed with their load of patients, a child heart treatment at a private set up may still be out of reach for the vast majority of the people.
There are several government schemes which have enabled plenty of children to undergo the treatment at several public private partnership ventures. A huge role is played by several NGOs and corporates through Corporate Social Responsibility(CSR), which supports the treatment costs for  some children.
The challenge remains to reaffirm and convince the parents that the child has a CHD and needs treatment, the results of which is encouraging in every state now. To channelise the parents towards a centre where the treatment may be carried out and also to arrange for its cost continues to remain a challenge. Medical insurance for congenital heart diseases has not been fully implemented in our country as of now, hence the parents and relatives mostly end up selling their land and other belongings to finance the treatment, surgery or interventions. Several parents even would opt to have another child rather than treat the child with the defect as this would entail spending all their savings.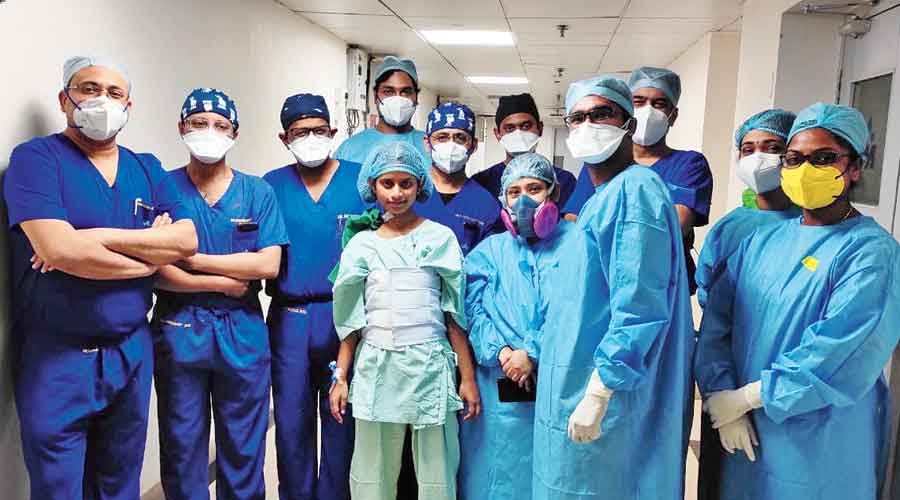 Dr Chattopadhyay and his team after successfully treating a girl
Several parents would ask if it is a single operation or intervention, which will permanently cure the child. However, though the majority of cardiac conditions are cured with one surgery / intervention, some may need a staged repair spanning over a few years' time. They need follow up at regular intervals. Some heart diseases affecting children may be acquired in nature and need urgent treatment. Viral infections affecting the heart, causing dysfunction, bacterial infections needing long term treatment , disorders of heart rhythm …all need appropriate care. When these children grow up, they may become parents as well.
Today, Pediatric Cardiology encompasses a wide range of heart disorders in children which have an answer. They may be treated by surgery, by interventional techniques – working with catheters and wires through the tiny vessels of the body and with the help of medicines.
We can even diagnose a baby with CHD inside the mother's womb with the help of fetal echocardiogram, thus the delivery and the treatment of the baby may be started soon after birth.
The journey of Pediatric Cardiology has come a full circle. If we can see further, that is because we have been standing on the shoulders of our predecessors , who have developed the science with their passion , without the help of extraordinary gadgets .
Let all of us join our hands in the fight against this group of diseases, with our conjoined efforts and awareness, we are sure to overcome it's threat.
Dr Amitabha Chattopadhyay
Senior Consultant & Clinical Lead
Department of Pediatric Cardiac Sciences
Narayana Superspeciality Hospital, Howrah