Celebrating Our Girls
October 10, 2023 | Contributed by Preeti Kumar
In a world that often seems to tilt the scales unfairly against them, girls in India have proven time and again that they have the strength and resilience to fight back and live their dreams. Though we are an NGO in Haryana, our work is spread throughout the country and we meet girls coming from different states, districts- each with it's own set of cultures and societal norms.
This day of the Girl Child, we are happy to share with your stories of our superheroes, our girls who have defied the condition they were born with and today are going out there to live their dream. These are stories which reinstate the underlying ethos of our work – that every child is a story waiting to unfold – irrespective of their gender, geographical situation or socio-economic status.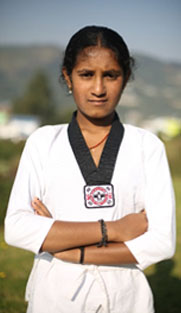 The story of every child is a story waiting to unfold
In many parts of India, gender biases have long deprived girls of opportunities and access to health care is no exception. In fact, in the case of severe cases like congenital heart defects, this takes on a different meaning. The harsh reality is that some families, due to deep rooted societal norms or financial constraints, are compelled to prioritise the medical needs of their sons over their daughters. Many families shy away from getting their daughters treated for the fear that the scar on the heart will limits their daughter's chances of finding a match in marriage.
And it is here where we along with the support of our partner hospitals located across the country are trying to make a difference. We are committed to level the playing field and ensure that every child regardless of their gender receives the care they deserve. We firmly believe that every single child deserves a right to make their heart hole again – a girl as much as boy.
One such story of courage is of Vandy. Her family had come to us several years ago looking for financial support for her heart defect. Her family did not earn a lot and not having the funds to treat their child, did not know how to get her treated. We were able to support her treatment with funds we received from corporate donations to charity. Today, Vandy is a vivacious girl quick to sing and beak into a dance wherever she gets an opportunity. For us what was the ultimate seal of gratification for our work, was an invitation we received from her to attend the inauguration of an NGO she has set up to support children around her locality. Healed from her heart defect, she is now flying and living her dreams to give back to society.
Samarya is another girl we had the opportunity to support. Her parents were not sure of raising the fund to treat her as girls in their families get marries and become home makers and hence not really yielding any economic result. However after some counselling, Samarya was treated. Today when you meet Samayra she is no longer confined to the boundaries of her home due to her condition, instead she is exploring life's wonders, she is determined to become a doctor one day to give back what she received.
The path is not always simple, though. It's about long nights spent in hospital rooms, tears shed in the face of uncertainty, and the drive to overcome the odds. It's about the strength and bravery that come from these young people, reminding us all of the potential that every girl possesses. It's about families that support their daughters through thick and thin, overcoming social obstacles to make sure their kids receive the care they require
Its about giving these girls the wings to fly, the dreams to aspire to, and the confidence to shatter the glass ceilings that may stand in their way. Its about nurturing a generation of young women who are unafraid to dream big, work hard and achieve their goals.
As an NGO in Haryana, today as we look back at the incredible journeys of the many girls we have supported, we are filled with hope and gratitude. We see the future leaders, doctors, and change makers in these girls are we are committed to supporting their dreams. We reaffirm our commitment to support every heart irrespective of the gender and social circumstance. We envision a world where every child has an equal chance at life – irrespective of a girl or boy.

On this girl child day, let us come together to celebrate the strength, resilience and boundless potential of every girl. Let us pledge to continue to break down barriers that hold them back and to create a where every girl regardless of her circumstances rises to her full potential, together we can make a difference, one heart beat at a time and one girl at a time.