Bravehearts of the Foundation: Tamannaya
November 24, 2018 | Contributed by R Srivatsan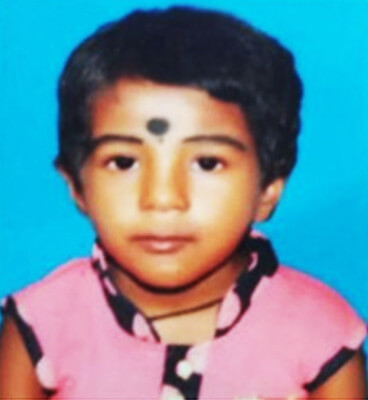 Three-year-old Tamannaya was born on a hot summers day, 5th June in Kozhikode, Kerala. The doctors weighed her at 3kg straight after birth, and her parents rejoiced as their second daughter was welcomed into this world. Her elder sister Sanmaya is seven years old and was eagerly awaiting for the arrival of her younger sibling. Their parents Lineesh and Sujitha struggled on a daily basis. Lineesh worked hard as a daily wage worker and brought home an annual income of Rs 48,000 (USD 657) while Sujitha stays at home to look after their now, two children.
As much as they struggled financially, there was no shortage of love. They were a happy family and they were enjoying having a little one in the house to muse over. However, when Tamannaya was six months old everything began to fall apart. She got diagnosed with pneumonia and was admitted for two long weeks in Calicut Medical College. It was then, that the doctors identified a hole in her heart. Sujitha and Lineesh recall their hearts being broken at this point – "how could everything change so fast? Everything seemed okay? We thought it was just a cold, or a flu of some sort." Upon counselling, the doctors advised them to wait as they wanted to see if the hole would close without intervention.
Tamannaya was put under close observation with Dr Shine Kumar, who ran a regular outreach clinic at Kozhikode Amrita Ashram. The parents ensured on their part that they didn't miss a single appointment and kept a close watch on their little one.
During a routine check-up with Dr Shine Kumar – on 9th September 2018, both parents were sat down and counselled as the only option left now for the hole in the heart to be closed was with the use of a device. Dr Kumar assured both of them repeatedly that it would all turn out okay, and this was non-invasive – an open-heart surgery was luckily not required. The cost of the surgery was monumental for Lineesh and Sujitha and another reason to naturally panic. As they just couldn't find a way to put together the funds required to get their youngest daughter treated. The entire cost had been estimated at Rs 1,50,000 (USD 2056) and was scheduled for the third week of October. With support from special donors through our Life Project, we were able to financially support this case and provide relief to both the parents, and of course save the life of their little one.
Tamannaya was operated on in October 2018 as scheduled and is now at home with her family doing much better.