Bravehearts of the Foundation: Deepa
August 24, 2018 | Contributed by R Srivatsan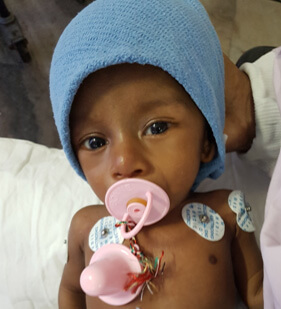 A three-month-old baby boy was born in the district of Tirunelvelli, in Tamil Nadu on 13th April 2018, weighing only 2kg. He is the first born to the couple who were counting down to his arrival.
Their dreams of meeting their baby for the first time were shattered, when they were faced with seeing him struggle in ICU for three days due to poor weight gain and pre-term delivery.
It took a few days, but the family were finally sent off, with their newborn son swaddled in their arms and they were hopeful that the worst was behind them.
However, three weeks later – the baby was brought to the hospital for a routine check-up, where a murmur was detected, the doctor prescribed a detailed Echo Cardiography, which confirmed a Congenital Hearts Defect. Both parents were shattered, they were once again faced with the fear of losing their child. The doctor had referred them to Amrita Institute of Medical Sciences, in Kochi for further management.
The baby's father was in a fix, his name is Muthukumaresan and he is a casual worker, who works hard to bring home Rs 5000 per month, while his wife is a home maker.
Both parents however did the best to their capacity to make their way to Kochi to consult with Dr Mahesh K, who immediately admitted the little one for close observation as he was showing respiratory distress and sweating. After all the investigations, the diagnosis was clear – the little one was suffering from Type II Truncus Arteriosus, where both the right pulmonary artery and left were originating from the aorta separately. He also had a large truncal route with mild leakage of the truncal valve, as well as a very large outflow Ventricular Septal Defect (VSD).
The priority was to stabilise the baby, and then to later plan for the complete surgical repair.
When it was time for surgery to finally take place, this was what was done. Under cardiopulmonary bypass and antegrade cardioplegic arrest, both the right and left pulmonary artery are excised from the aorta and then the aorta was reconstructed. The large VSD was then closed with a patch and both pulmonary arteries were then joined together to create a pulmonary confluence. After this, a size 12 conduit was then anastomosed between the right ventricle and the reconstructed pulmonary artery. It was successful. The parents could finally breathe a sigh of relief. However, post operation, these children are prone for cardiac failure so the next 48 hours were critical as the child was weaned off inotropic supports.
The baby slowly recovered at ICU and we were relieved that we were able to part of this little angel's recovery where we could bring hope to both parents as a silver lining was finally present.
The funds the parents required for surgery were with thanks to our CSR partner – WPP India CSR Foundation.