Bravehearts of the Foundation: Amritha
August 6, 2018 | Contributed by R Srivatsan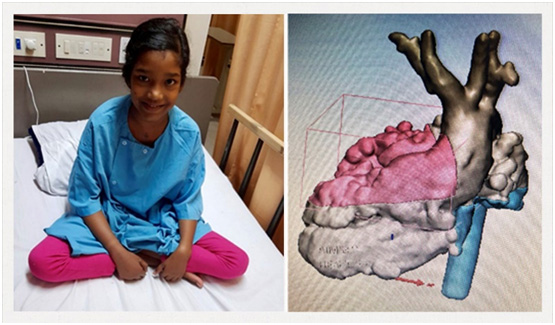 Amritha is an eleven-year-old girl from Thrissur district in Kerala. She was born on the 7th of March 2007 in a low-income Malayali family, with an older sister, Athulya. Her father is the only earning member of her family, making ends meet by working as a driver. Her parents were extremely happy to welcome her into their small family, but their joy soon turned to worry as they noticed their infant daughter turning blue and breathless while feeding and crying. They were devastated when doctors at AIMS diagnosed a complex cyanotic CHD that was very difficult to treat and needed multiple major heart surgeries.
She had a very rare heart condition where her heart was on the right side (dextrocardia) instead of being on the left. All chambers of heart were in an extremely unusual location – the ventricles being one-on-top-of-the-other (superio-inferior) instead of being left-and-right, both great arteries arose from her superiorly positioned right-ventricle (double outlet right ventricle), there were two large holes (ventricular septal defects), and her pulmonary artery (which carries impure blood to lungs) was severely obstructed. As a result she had low oxygen levels in her circulating blood.
Her unusual and complex condition meant that she would need a series of heart operations – both expensive and complex. Her parents did not have the means to fund her treatment.
With financial support from Amritanandamayi Math and AIMS, she underwent her emergency first stage operation in 2007 (BT Shunt) , and subsequently a second palliative operation in 2010 (Glenn Shunt). These surgeries allowed her to survive her early childhood, but were only meant as temporary palliation. She again became progressively more breathless and blue over the years.
However, due to the complex nature of her surgery and the expenses and logistical problems involved, further operations were delayed. Finally, technology came to her rescue as Doctors at AIMS used 3D Printing technology to create a 3D replica of her heart that allowed them to better understand her rare complex problems. Using the 3D model, doctors at AIMS were able to meticulously plan her surgery. The surgery would however involve significant costs and the family did not have the resources (nearly Rs 3,00,00).
Genesis Foundation came forward and agreed to fund a significant proportion of the expenses of the child's surgery – and this enabled the family to take the tough decision to go ahead with this extremely difficult operation. The expenses were borne out of Genesis Foundation's CSR partnership with WPP India CSR Foundation
Amritha was finally operated at AIMS on the 1st of July 2018, by AIMS pediatric CVTS team led by the world-famous surgeon Dr Mohan Reddy from UCSF, USA. The surgery was a success and she is now recovering well.
Her case is a fine example of teamwork and collaboration between doctors and Genesis Foundation, and also an example of how technological advances like 3D printing can be used to help patients.