Bravehearts of the Foundation: Baby of Priya
June 9, 2020 | Contributed by Simran Sagar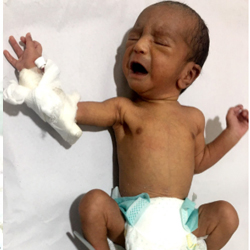 Mrs Priya, 25-years-old, is a B.Sc. nurse by profession. She was born and brought up in Arani, near Vellore. She herself had suffered from a congenital heart defect, a large atrial septal defect and had undergone surgical closure for it in 2008 in Chennai with support from the State Government Insurance Scheme.
Her family wanted her to become a nurse as it would give her employment opportunities which would in turn help her support her family. So, she completed her B.Sc. nursing and also did a post B.Sc. nursing course. She then fell in love and married the love of her life – Mani. A few months later they found out she was pregnant and they were elated. But this joy was short-lived, as they discovered that the baby's heart rate was low at 6 months of gestation. Further investigations also showed that the mother had systemic lupus erythematosus (SLE). In such cases children born are more prone to heart blocks. Both Mani and Priya were told that the baby's chances of survival were slim so the couple weren't referred to a specialist for management due to the mortality rate. She delivered her first born but due to the heart defect the baby passed away after birth.
The family decided to move to Chennai due to better work prospects. Priya conceived again and naturally she felt a lot of anxiety throughout her pregnancy. She underwent an antenatal scan during her 5th month at Miot Hospital, in Chennai itself. The scan revealed that her baby had a complete heart block with a heart rate in the range of 45-50/beats per minute. A normal baby in the mother's womb has a heart rate of 150 beats per minute. Her worst nightmare was being relived again but Priya's intuition told her to hold onto the pregnancy despite having the option to let it go. Mani was supportive of his wife's decision and they both decided to hold onto faith.
Mani is a construction labourer by profession, he got an opportunity in Odisha. There was no choice as money was a necessity, so he left for that while Priya went to Ariyalur, a town in Tamil Nadu to her in-laws. A friend of hers had referred her to Dr Tirupurasundari, a senior obstetrician in Thanjavur. She went for a consultation and examination where she was told that her baby's growth was less than normal and was further referred to Dr Usha Nandhini, a fetal medicine specialist at RK Nursing Home.
She took an appointment with Dr Nandhini who assessed the baby in the womb through an ultrasound. The baby was noted to have intra-uterine growth restriction. The weight, head and abdomen size was very small. The baby also had severe oligohydramnios, a condition where the fluid around the baby is much lesser than usual. To add to it all, the baby was also premature.
Dr Usha Nandhini and Dr Mani Ram Krishna (Pediatric Cardiologist) at RK Hospital decided to deliver the baby immediately to offer the best chance of survival for the baby. Priya delivered a baby girl on 23rd May 2020, weighing as little as 1.6kg. Her heart rate at birth was 43 beats per minute.
An umbilical venous catheter was placed and a special medicine, Isoprenaline, was initiated to increase the heart rate. Although the heart rate improved transiently, it decreased as soon as the dose of medicine was decreased. It became apparent that the baby may not survive without the insertion of a pacemaker – an artificial device which can stimulate the heart and ensure that the heart beats at a higher rate.
The challenges faced included putting a pacemaker in a premature baby whose weight was low, arranging finances for the procedure and the social situation where the father was in a different state and had not even seen his newborn girl.
Dr Mani Ram contacted Dr Vijay Kumar, congenital cardiac surgeon at GKNM Hospital, Coimbatore, a partner of Genesis Foundation who immediately agreed placing the pacemaker in the small baby. The first step during a global pandemic was to test the baby for COVID-19. Thankfully, the results came out negative. Dr Mani Ram helped the family in getting the baby transported to GKNM Hospital in Coimbatore. The baby was admitted in the ICU immediately. Mani, the baby's father earns Rs 6000 per month. Dr Vijayakumar approached Genesis Foundation for financial support. With support from their CSR partner – HT Parekh Foundation they were able to commit to saving Priya and Mani's baby. Genesis Foundation had reached out to Medtronic India and told them about the case, and they agreed to provide a pacemaker free of cost in support of saving little hearts with the Foundation.
The baby underwent successful implantation of the pacemaker on 28th May and got discharged on 1st June 2020. The couple are elated that together as a community we were able to come together and save their baby's life.