Bravehearts fight through Covid-19 & CHD
July 9, 2021 | Contributed by Monisa Nadeem
From Delta plus to Kappa, with highly communicable and new variants of Covid-19 spreading, the risk for contacting the disease also goes up. As an NGO, trying to provide heart treatment for under privileged children, we're feeling the effect of this ongoing pandemic each day. With reduced funding, families unwilling to travel, children testing positive for Covid-19, our work has now become tougher than ever. But it's also become more crucial than ever, because Congenital Heart Defects don't go away during a pandemic, right?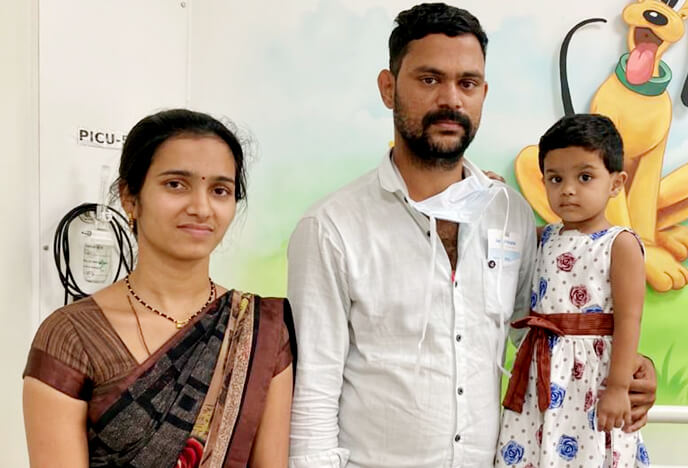 Oviwith her parents Pooja and Daneshwar Dahibhate
Currently we're operating on full capacity, providing heart treatment for under privileged children with critical heart defects. Not only that, there are some children who've braved both Covid & heart defects, like Ovi and Lipi.
Nearly three-year-old, Ovi Dnyaneshwar Dahibhate, is the daughter of Pooja Dnyaneshwar Dahibhate and Daneshwar Vasant Dahibhate, who reside in Pune, Maharashtra. Born on 14th June 2018, she's their only daughter and the apple of their eyes. But a week after her birth, she got a high fever and was breathless. So the doctor conducted an Echo test, and found a murmur in her heart. Suggesting an open-heart surgery when Ovi would be a little more grown-up, the doctor gave some medicines and asked the parents to follow-up at periodic six-month intervals.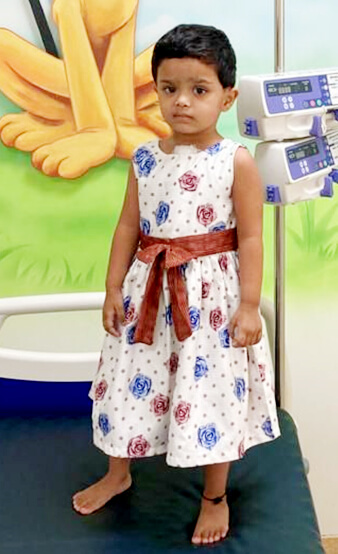 Shy little Ovion a follow-up after the surgery
Right before her third birthday, once again Ovistarted to feel breathless so one of Daneshwar's friend advised the family to take Ovi to Jupiter Hospital in Pune for evaluation. It was here that she was diagnosed with Tetralogy of Fallot (TOF) with Severe Pulmonary Stenosis. TOF is a type of congenital heart defect where there is a hole in between the lower chambers of the heart, along with a narrowing of the pulmonary valve. She required an open-heart surgery, but before that could happen, a mandatory Covid-19 test was carried out, where she tested positive.
Once again, little Ovi's treatment got delayed as she was Covid positive. Only after a month, once she tested negative, could she be operated with support from our CSR partner Pernod Ricard India Foundation.
Nine months old D Lipi also had to go through a similar situation. Born at a government hospital in Tiruchirappalli on September 7, 2020, she is the only daughter to her mother Josephine Pavithra B, who is a housewife and father, Deepan Prabakaran A, who works as a daily labourer in a factory.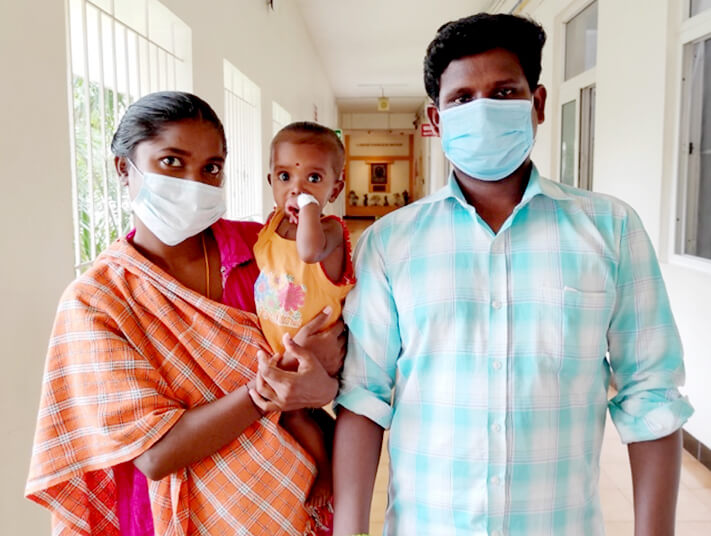 Lipi with her parents
Josephine Pavithra B and Deepan Prabakaran A
In the first week of June, when Lipi's fever with cough and breathing problems did not subside for a few weeks, her parents took her to a government hospital. For stabilising the child, the doctors wanted to admit her, but unfortunately she tested positive for Covid-19. Since her parents tested negative, they were given a separate room in the hospital. After 15 days, when Lipi tested negative for Covid, she was evaluated with a heart murmur. Since the doctors suspected a congenital heart defect, she was referred to Dr Mani Ram Krishna, a Pediatric Cardiologist in Thanjavaur for further treatment.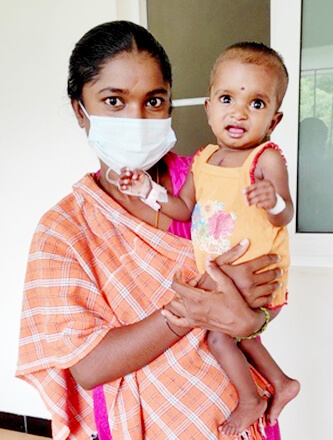 Lipi with her mother on a follow-up after the surgery
Dr Mani Ram Krishna performed an Echo, and the diagnosis was Total Anomalous Pulmonary Venous Connection or more commonly known as TAPVC. It is a condition in which all four pulmonary veins from the lungs terminate at the right chambers, instead of the left, leading to an increased flow of blood to the lungs, thus increasing the lung pressure. Since Lipi needed an open-heart surgery, he referred the family to G Kuppuswamy Naidu Memorial (GKNM) Hospital in Coimbatore. In need for financial aid, the hospital sought our help and through our CSR partner- Napino Auto & Electronics, the surgery was supported.
Both Ovi and Lipi were discharged in a healthy condition and are doing well now. Their resilience to fight Covid and a heart defect reminds me of that quote by Babe Ruth, "You just can't beat the person who never gives up." At a difficult time like this, their struggle and overcoming is a lesson on life for all of us!