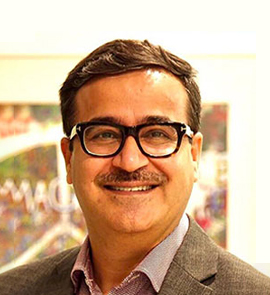 SANJAY ARORA
Sanjay Arora, is the Director of ANTS Digital with over 20 years of experience of working on multifaceted projects across agency and corporations, with a strong Marketing, Digital and Integrated Communications background.

Sanjay's last assignment was with Genesis BCW, a WPP company as the Chief Client Officer, wherein he was responsible for the top 20 key client relationships amongst, Consumer Technology, Corporate and Finance as well as the Government & Citizenship Division.

As a part of some of the marquee projects that he has worked on, with government at the Centre and State levels are - creating the social media and communication strategy for the government of India with the Ministry of Information and Broadcasting in the year 2017-18, worked closely as a communication specialist and media advisor to the Hon'ble Ex Chief Minister of Andhra Pradesh, Nara Chandrababu Naidu, in the year 2018-19. Hecreated and deployed a corporate reputation programme for the Ministry of Finance with Shri Rajiv Kumar, Former Secretary Finance, Former Chairman of Public Enterprise Selection Board (PESB) and currently the Election Commissioner of India.