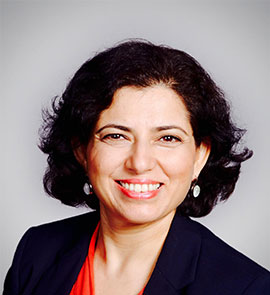 DR DEEPA KACHROO TIKU
A PhD in Biotechnology and a Registered Patent Agent, Dr. Deepa Kachroo Tiku, is a partner at K&S Partners. She has been a practitioner of patent law since 2004,with a specialisation in a variety of Life Sciences Patents. She advises both domestic as well as international clients in varied areas of Indian patent laws and practices.

She is a named inventor in total of 21 granted patents worldwide and has several publications and articles to her credit. With her unique blend of science and rich legal experience, she is also considered as a go-to person for handling and advising on complex patent matters in India.

Being a regular speaker at various IP fora, she serves as a member of the National Biotechnology Committee of CII, the premier Chamber of Commerce in India.
Amongst her achievements and honours are; Distinguished Practitioners in Intellectual Property, The World's Leading Patent Professional, Most Influential Woman in Biotech Patent Law in India.