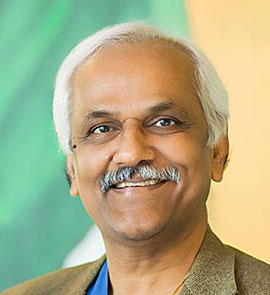 DR V MOHAN REDDY
| | |
| --- | --- |
| QUALIFICATION | MD |
| DESIGNATION | PROFESSOR OF SURGERY CHIEF, DIVISION OF PEDIATRIC CARDIOTHORACIC SURGERY CO-DIRECTOR, UCSF PEDIATRIC HEART CENTER |
| INSTITUTE | UCSF BENIOFF CHILDREN'S HOSPITAL - SAN FRANCISCO |
Achievements :
V Mohan Reddy, MD, is Chief of the Division of Pediatric Cardiothoracic Surgery at UCSF and Co-Director of the Pediatric Heart Center at the UCSF Benioff Children's Hospital - San Francisco.
Dr. Reddy earned his master's degree from the All India Institute of Medical Science (AIIMS) in New Delhi and his medical degree from Kakatiya Medical College in Warngal, India. He completed general surgical and cardiothoracic and vascular surgical residencies in India and then came to the United States, where he served for a year as Chief Pediatric Heart Surgery Resident at Boston Children's Hospital. Dr. Reddy then went on to a clinical fellowship in pediatric cardiovascular surgery at Miami Children's Hospital and a combined clinical and research fellowship in pediatric cardiac surgery here at UCSF. After completing that fellowship, he was appointed to the Pediatric Cardiothoracic Surgery faculty and remained here until 2001.
Previously, Dr. Reddy was Chief of Pediatric Cardiac Surgery at Lucile Packard Children's Hospital and Associate Professor of Cardiothoracic Surgery at the Stanford School of Medicine, where he performed pioneering, successful cardiac surgeries on premature and extremely low birth weight neonates previously thought to be inoperable.
Dr. Reddy's research and clinical interests focus on complex neonatal repairs, including on premature and extremely low birth weight babies; fetal heart surgery; and cerebral protection during heart surgery. Since 2003, he has been an active volunteer surgeon with Children's HeartLink, an international non-profit that provides complex cardiac care to children in remote regions around the world, with yearly surgical clinics in India and China. He is a member of many professional societies, including the American Association for Thoracic Surgeons, the American Heart Association, and the Society of Thoracic Surgeons. He serves on the editorial boards of the journals Pediatric Cardiology and Cardiology in the Young and has published more than 150 peer-reviewed articles.